Dateline: April 2016
Nancy and Barry both love to explore different cultures and their history, their arts and their natural beauty. This passion has led us to all seven continents and more than seventy-five countries. When we travel we tend to stay a while in order to get a good feel for the area and people.
2016 has brought us to Estonia, Latvia, Lithuania and Finland with a trip to Russia as well. During 2015, we toured UAE, Oman, Nepal, Bhutan and Bangladesh before living in Czech Republic with visits to Slovakia, Ukraine, Poland, Germany and France. In 2014, we spent a half year traveling all over India, then visited Singapore, Brunei, Malaysia and Indonesia.
We started this blog during our 2011 – 2012 trip, a 10 week discovery of southeast Asia – the extraordinary people and places of Laos, Vietnam, Myanmar, Cambodia and Thailand. We then visited New Zealand for six months until mid-January 2012, followed by a stay in Australia for nine months. As we moved back to New Zealand in November 2013, we've enjoyed a side trip to the Philippines.
In the near future, we plan to visit several countries in both Africa and South America. Then, who knows? There are so many places to see and so little time.
This is our first attempt at a travel blog. It is a work in progress…as are we. Stay tuned.
Where we've been:

Visited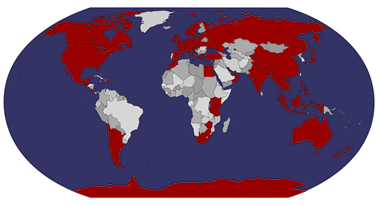 Map Legend: 28%, 76 of 263 Territories

Maroon