Halfway to Spain from Lisbon, we explored some of the best Neolithic sites around – an ancient way to get stoned.
It had been a long, long time since we did a tourist visit anywhere. Though we were out of the habit, we resolved to take an extended birthday celebration trip into the Alentejo region of Portugal. This is the home of three of our favorite products – wine, corks and olives – as well as thousands of years of history represented by towns that flourished in the middle ages.
To start with, we got stoned. In a Neolithic manner anyway. About 125 kilometers east of Lisbon, halfway to Spain, we explored some of the best stone age sites around. The most fascinating was an elliptical ring of stones oriented to the sun and moon on a hillside some 6 to 8000 years ago, and used for ritualistic purposes.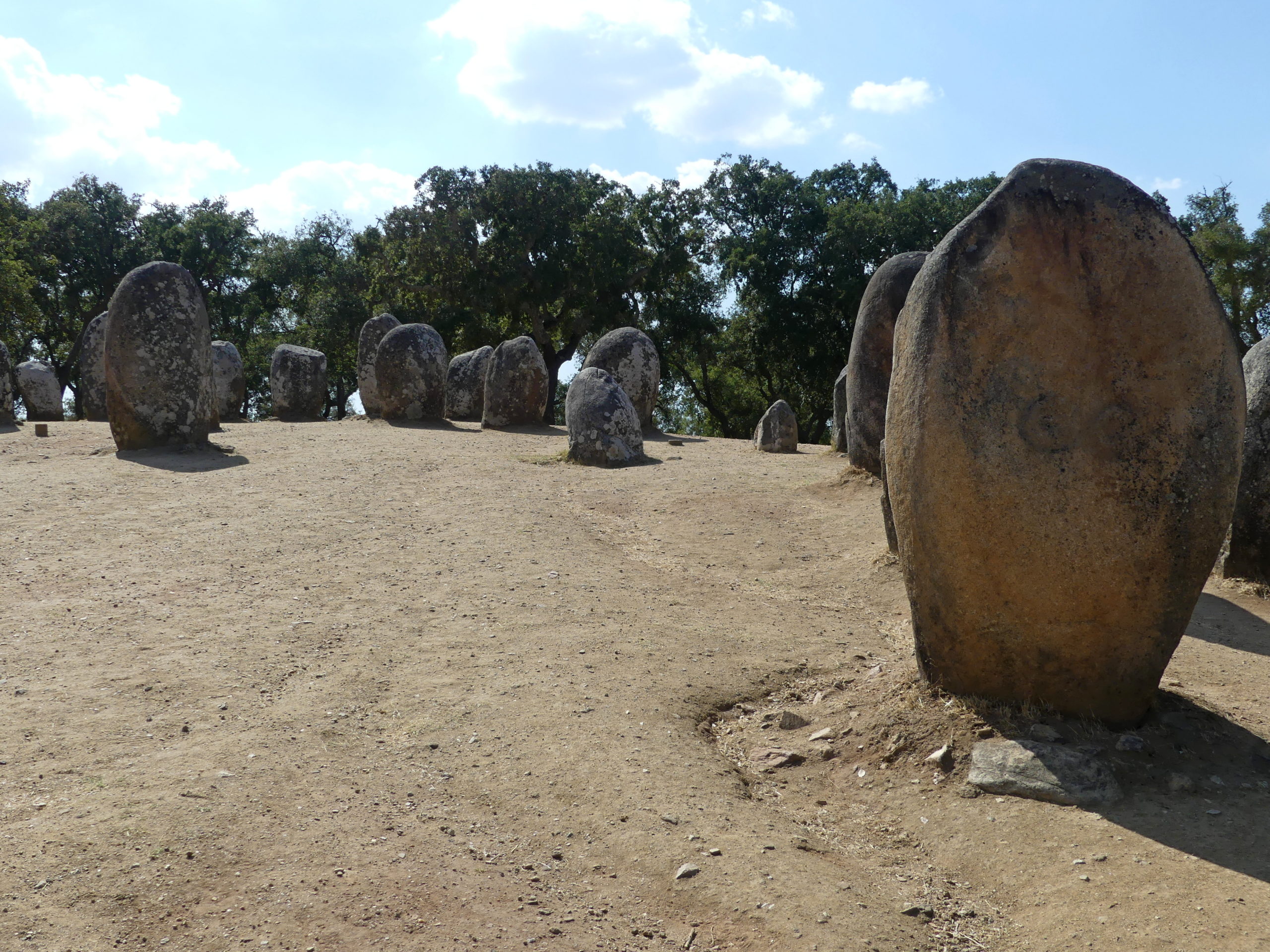 Known by the tongue-twisting name of the Cromeleques de Almendras, the stones measured a meter or two in height. Some, like the nearest above on the right with the circles, still bear mysterious cursive inscriptions on their surfaces including faint geometric and anthropomorphic carvings, as well as the handles of herder's sticks.
This was the upper quadrant of the ritualistic circle. The stones had been found lying on the ground in the 1960s, but were raised up and restored to what seemed to be their original positions in subsequent decades.
And a broader perspective on the elliptical formation of the Cromeleques.

Even in strong daylight, this mini-Stonehenge evoked numinous thoughts in us.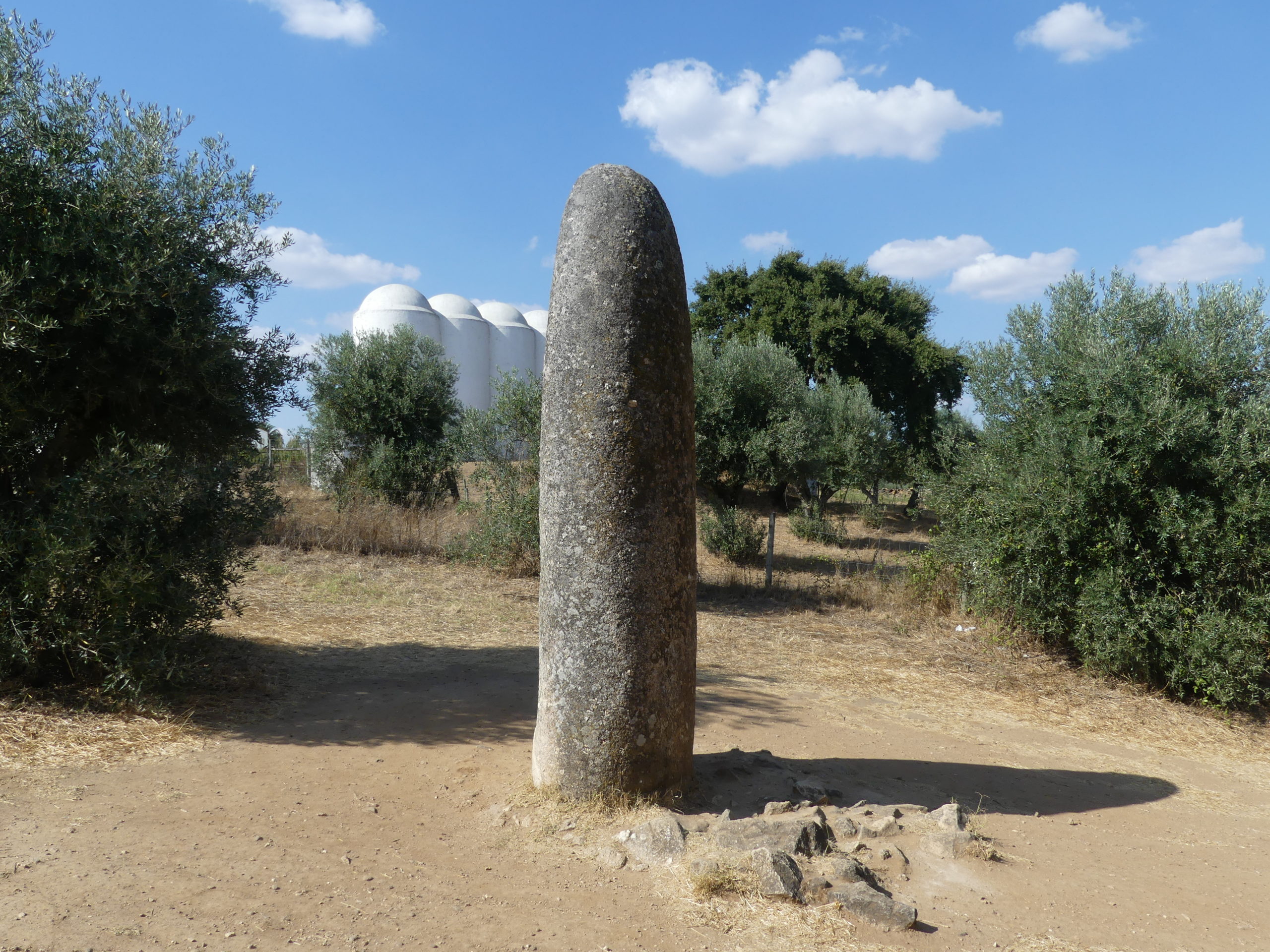 A kilometer away from the Cromeleques, this nearly three meter high, crescent-topped plinth – or menhir – kept vigil, lonely except for those white silos. The silos, we think, were storing the acorns of holm oaks, a special food source for the tasty Iberian pigs raised around here.
Equally impressive was the burial chamber, or dolmen, of Zambujeiro, one of what were likely many burial chambers in the region. We had seen similar ones in the center of South Korea and in Colombia.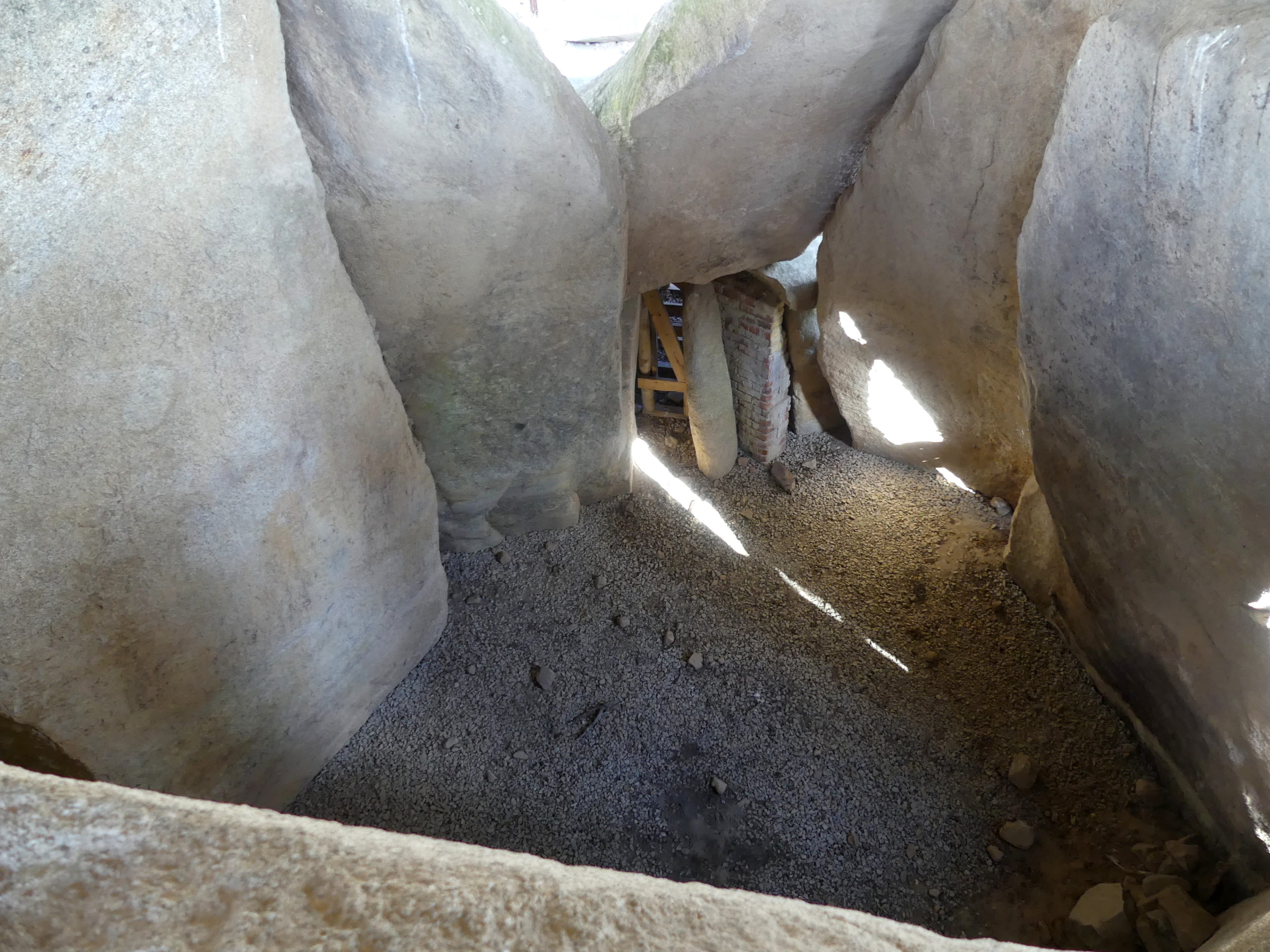 The dolmen was constructed of huge stones erected in a tight circle and once topped by a massive roof capstone. The chamber was once topped by a massive capstone. That had been dragged over the support stones while they were intentionally buried within a hill of dirt. Then the dirt was removed leaving the cap hovering mysteriously over the support stones.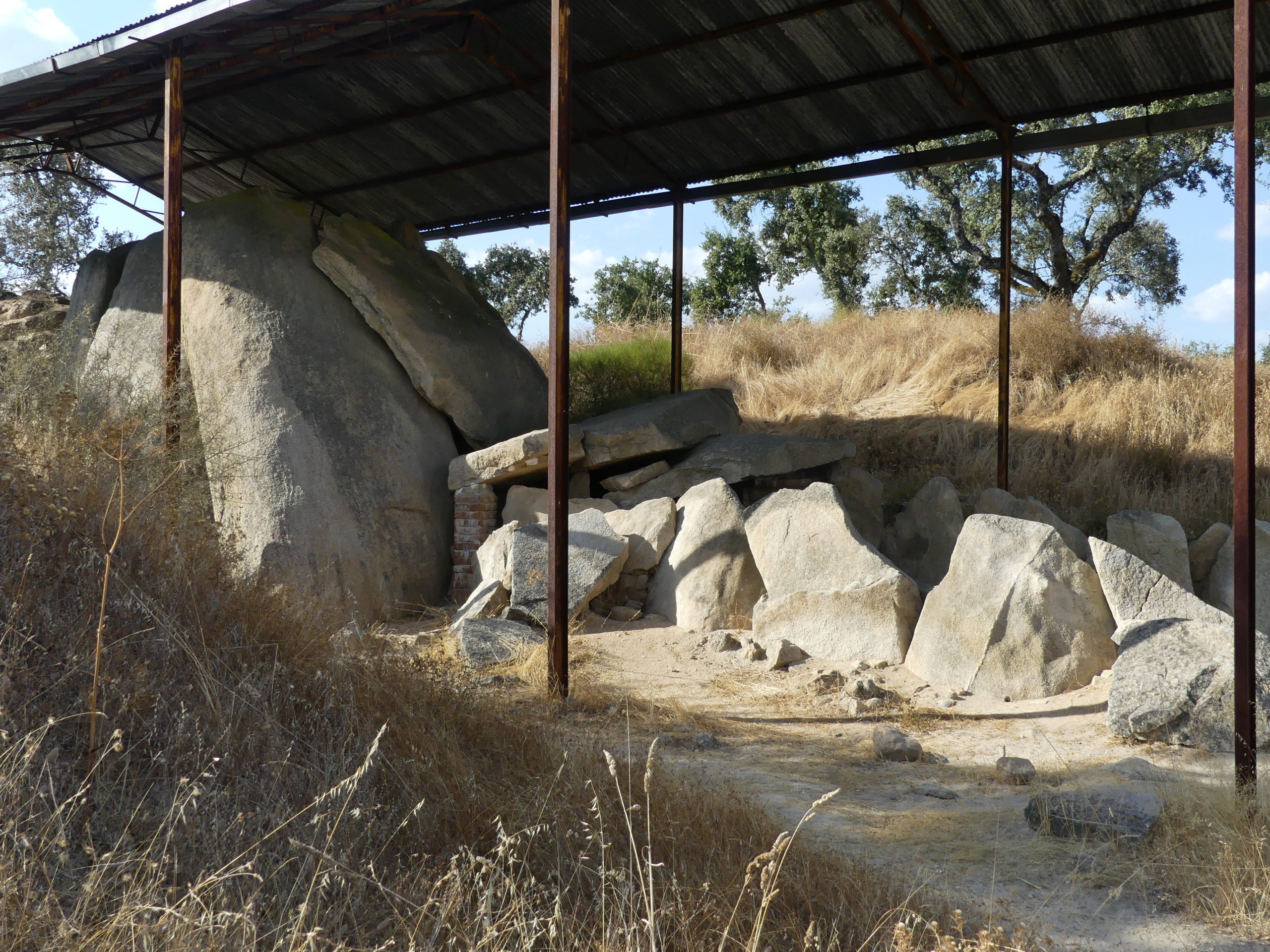 Smaller stones lined a passageway (at the right), which ended at the large encircling stones of the main chamber (on the left).
Discovered only recently within a dirt mound, this dolmen yielded a huge archeological treasure of funerary implements now on display at the Museum of Evora, our next stop.
(To enlarge any picture above, click on it. Also, for more pictures from Portugal, CLICK HERE to view the slideshow at the end of the itinerary page.)