We are not new to Portugal. We are, however, new to making a life here for a year or two. So we face the usual start-up questions and dilemmas. Where do we go to buy a signal extender for wi-fi? Where's the nearest park to wander? What is the best produce market near us? How do we set up messaging with Vodafone? And on and on, what at times seems an endless weaving of little to-dos.
During our first month at our apartment, this host of minor tasks has been mixed in with a few big things and a few disappointments. We shipped four bags from the US, with the help of friends there to remotely pack for us, which turned into a rushed response to obscure requirements by customs – a process that consumed days of managing. Nancy started dealing with knee problems that have required hours of physical therapy. With all this happening, we needed to defer the start of Portuguese lessons.
Amid the work, we also discovered a lush tapestry of plusses in the neighborhood we chose: a very helpful parish council (Junta de Freguesia), a bounty of no fewer than four natural food markets (biomercados) within a 10 minute walk to supplement the daily farmer's market, several city bike stations for extra mobility, and countless cafes and restaurants fortunately still open after all the coronavirus difficulties.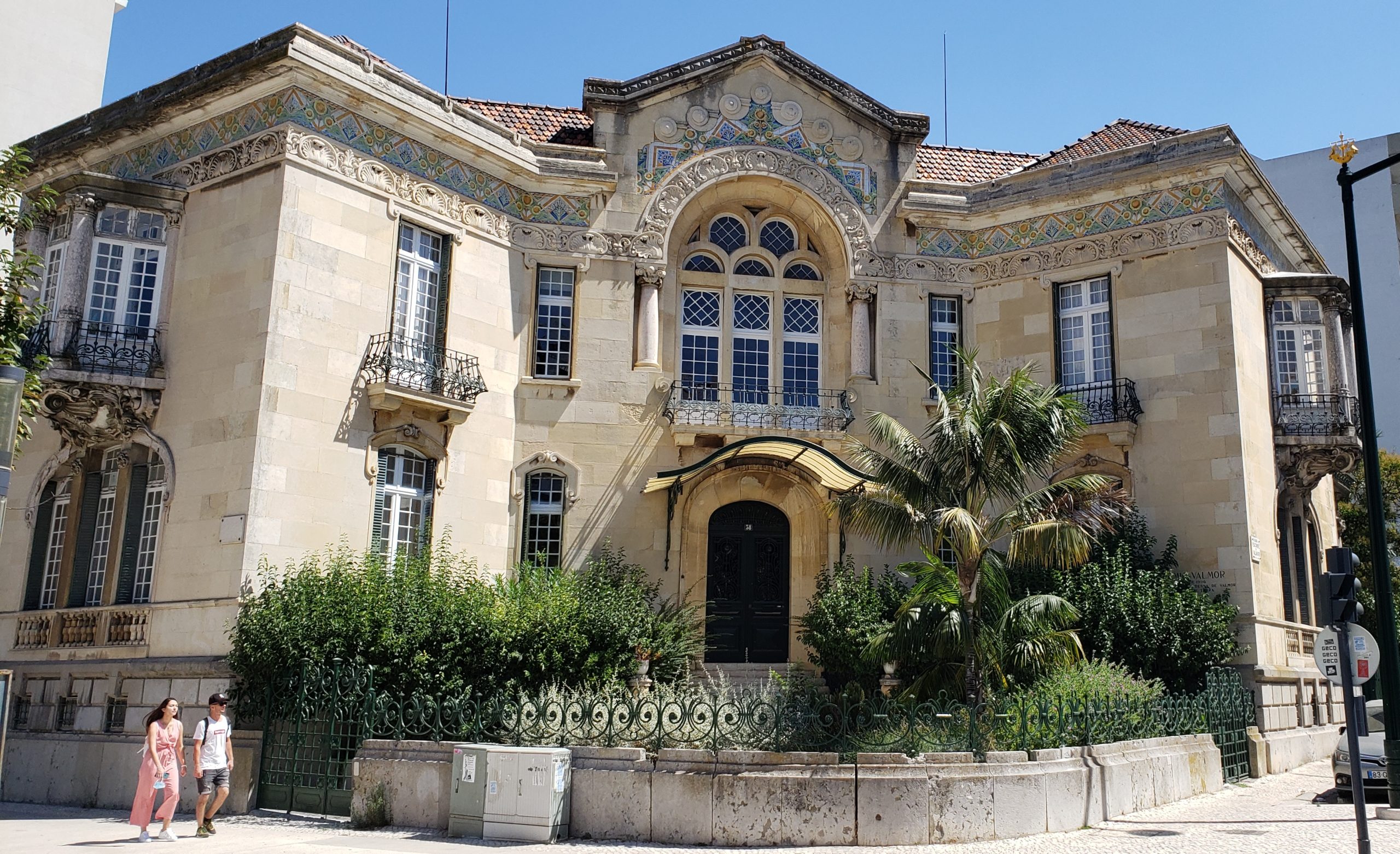 Not to mention the beauty of the neighborhood's neo-baroque and deco buildings lining our boulevard-like streets alongside 100 year old villas. And, fortunately, another big plus across the country overall, as new virus cases have dropped between merely 100 and 200 daily.
Best of all is how lucky we have been, in troubled times like these, to knit ourselves into the lives of other people somewhat more experienced in the country, and to be embraced by them socially.
In our last post we honored the people we spent so much time with in Amman due to covid-19 – those we now call family. Now that we've finally reached Lisbon, we're so pleased to start building a Portuguese family.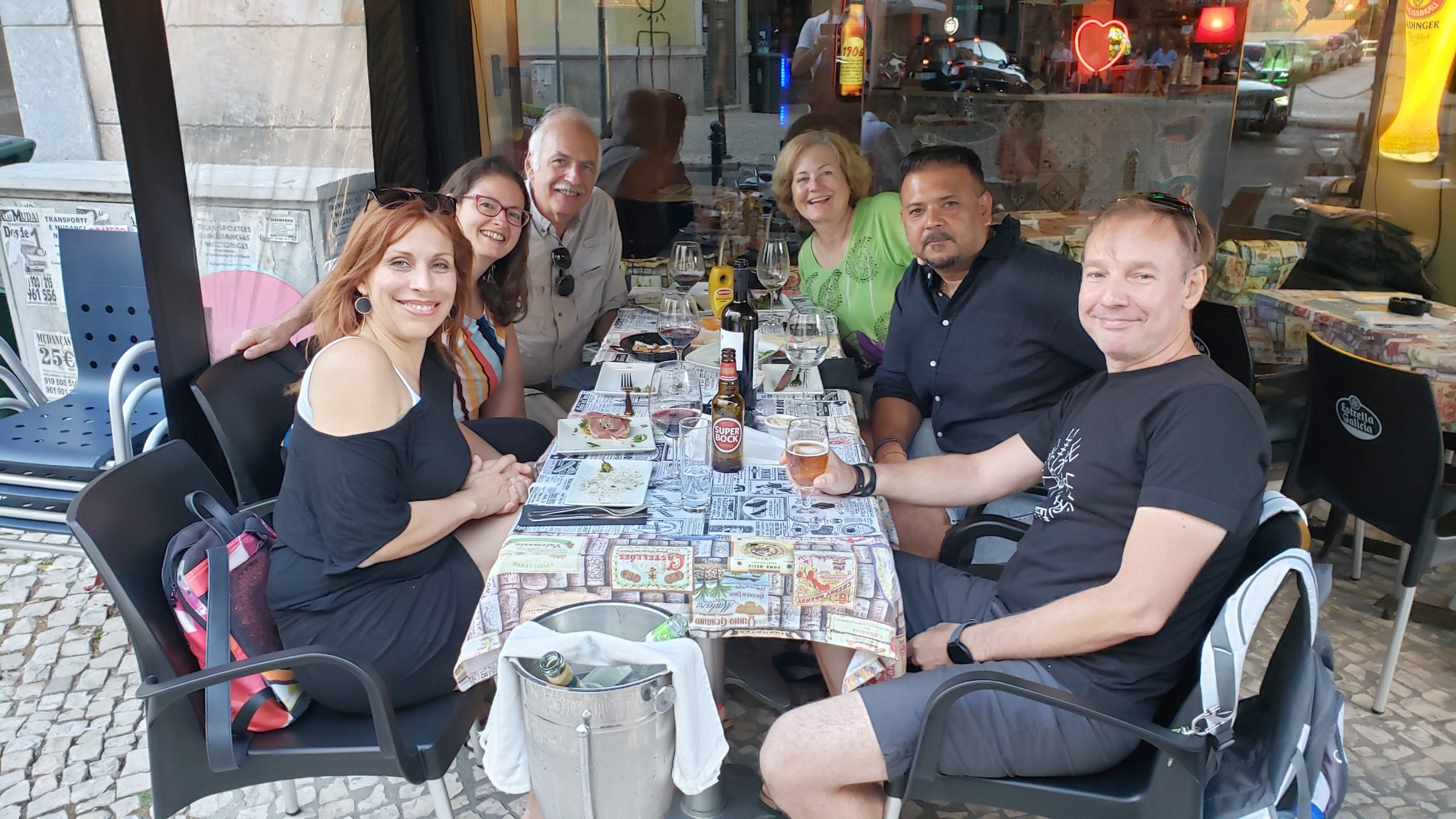 Our personal community has expanded to a dozen or so. With eight of them we are regularly wining and dining, al fresco. They have graciously accepted our language limitations while the knee is mending and are pleased to guide us to needed resources.
Even more casual contacts have acted like family members.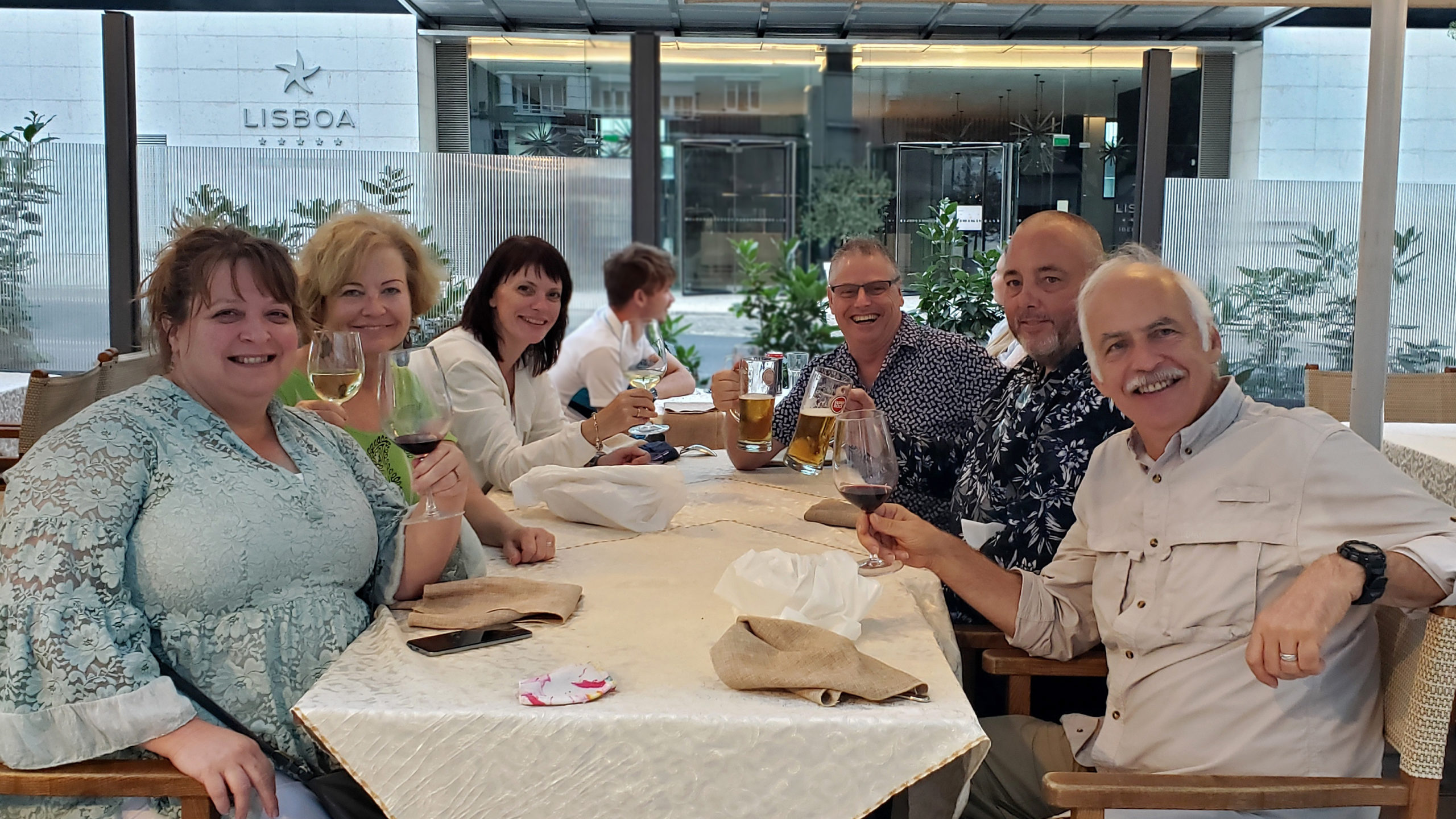 We found our apartment by getting back in touch with our long-time Airbnb host, who helped us find some appropriate neighborhoods for a long-term place. We re-connected with a RE/MAX agent, whom we met last year as a one-time Uber driver. He took on the responsibility of finding just the right apartment for us. And we've newly connected with our current landlords. This engaging couple far outdid our expectations by supplying us with so much new furniture to make us comfortable…and then, over a lovely meal of Portuguese mezze and wine in the city's 17th century main plaza, quickly became good friends and guides to the country.
Once we settled in the apartment, we made a regular habit of visiting a tiny cafe in the plaza of our building for regular afternoon tea (err, something stronger please…). Over the shushing spray of the fountains that we also hear from our den, the café's remarkable chefs have adopted us for conversation, language training, and local insights. Also, across the street, we've frequented the nearby "Chinese Market," a kind of dollar store for any household item you could want. There we've had a giddy time with the Chinese-Portuguese owner, exchanging greetings and making requests in a polyglot of Portuguese, English and Mandarin (who knew that "luosidao" meant screwdriver?). We have also found our go-to produce and spice sellers among the stalls at the large local mercado.
Some of their suggestions, however, fail to reach the second round of approval. One stationer, for example, while coaching Barry on pronunciation, suggested he find a "charming young woman" – solely to teach him Portuguese, of course.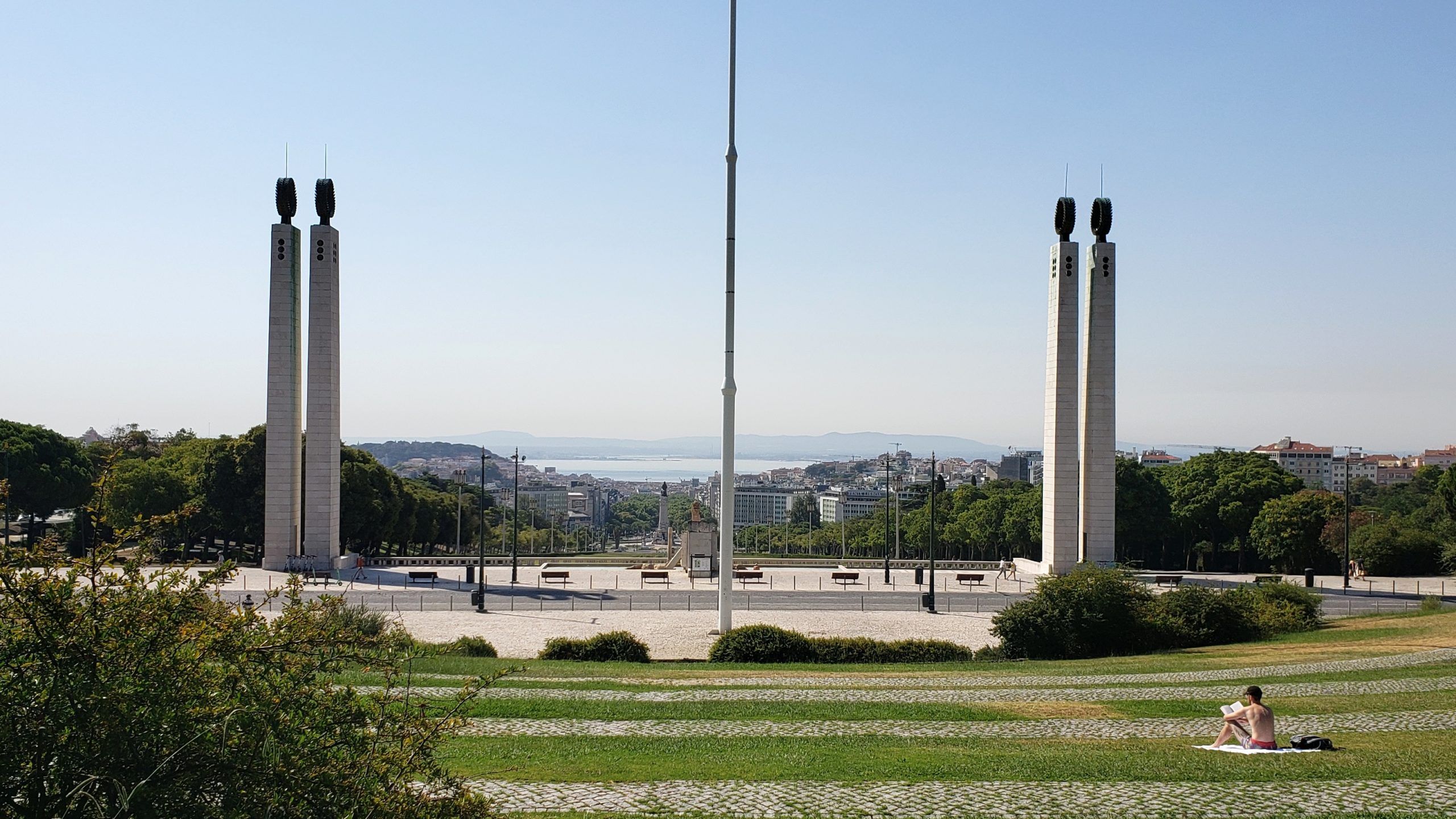 Despite a lot of such shopping, we have managed to take long walks around charming Lisbon, past café-filed streets and within several large neighborhood parks. Soon we will dare to work out in a local gym and regularly swim in a nearby pool.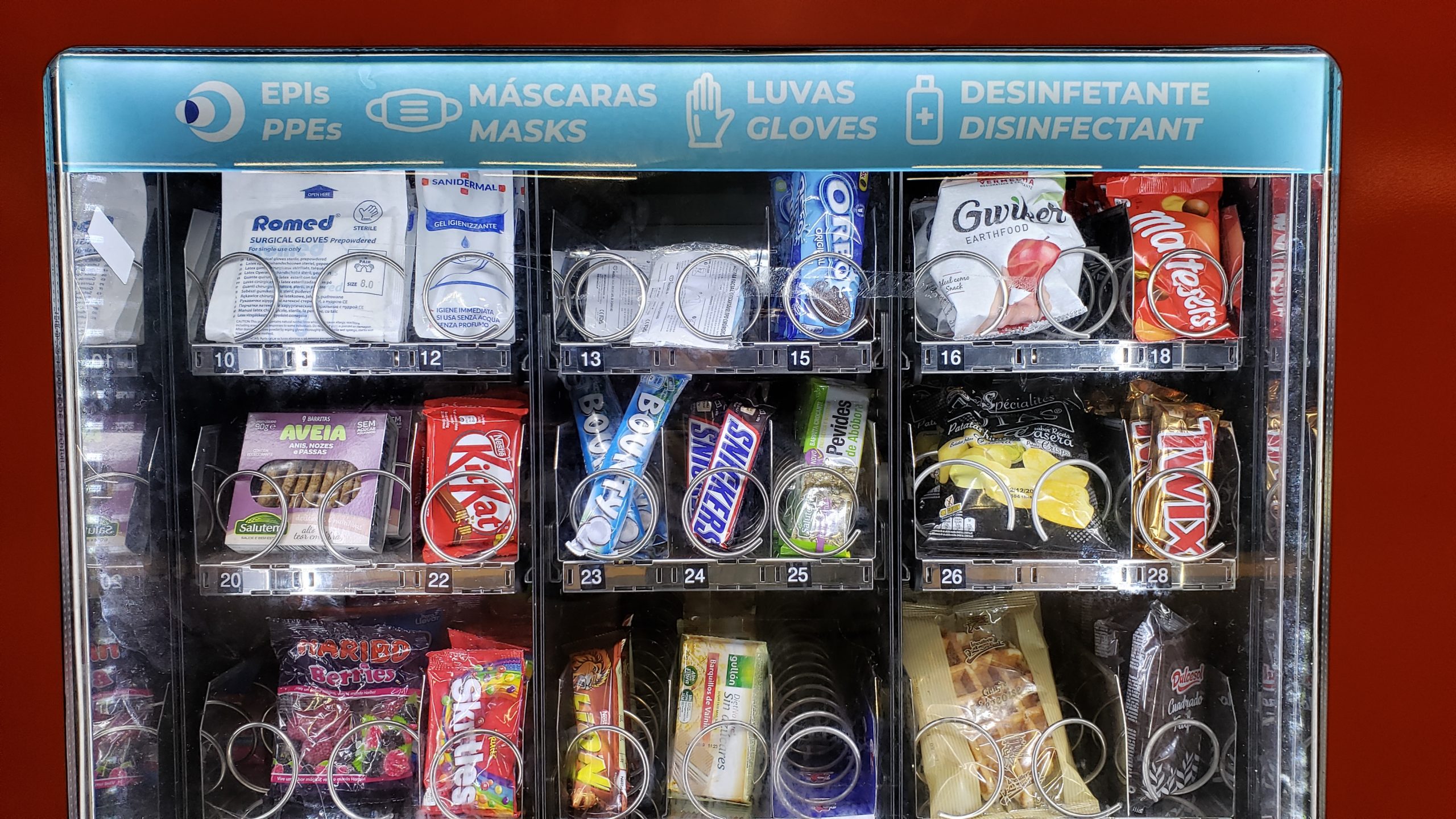 We have some concern about safety: unlike Jordan, which all but eliminated the virus, Portugal keeps recording a persistent, low number of cases (about 300 daily in a population of 10 million). These cases are mostly on the far outskirts of Lisbon.
But, generally, Portuguese do take widespread precautions and wear masks. Europe overall seems to have the virus under control, but it just doesn't really go away.
During the year or more that we planned to stay in Lisbon, we had aimed to explore more of the natural and historical glories of the Iberian Peninsula and beyond. We had hoped our kin would visit us, along with many of our expanding coterie of international friends. Those dreams must wait now until more complete virus control.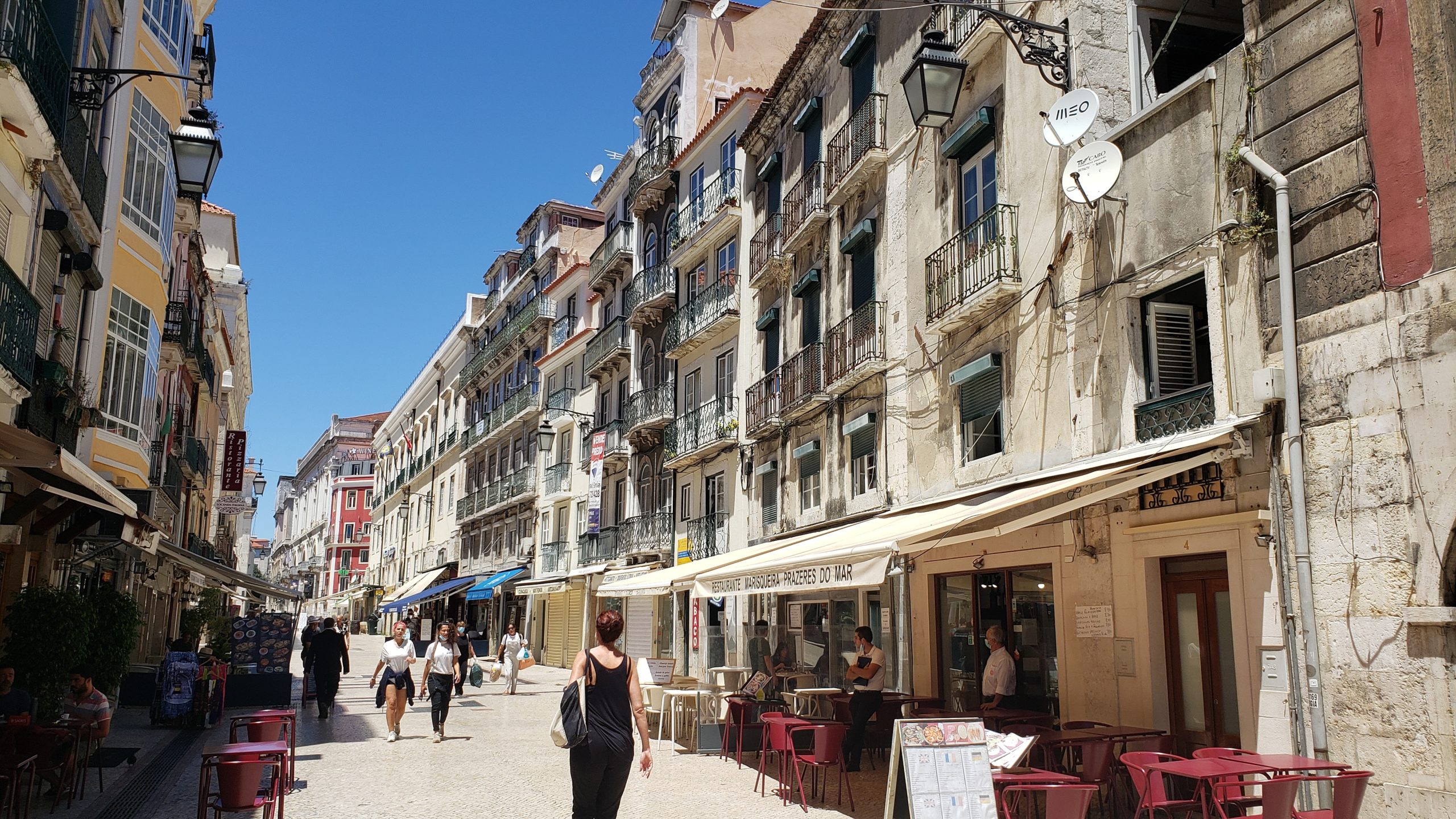 In the meantime, we see already that the wait will be quite pleasant indeed – settled pleasurably in our apartment, continually charmed by Portugal, and in the embrace of our Lisbon friends.
(To enlarge any picture above, click on it. Also, for more pictures from Portugal, CLICK HERE to view the slideshow at the end of the itinerary page.)