Week 5 of Jordan lockdown…Ramadan Mubarak!
We've accepted that we will probably remain in Amman for the next month. We are certainly pleased to stay here that long, but we do regret missing the full experience of the holy month of Ramadan, which began on Friday.
Normally this is a time of great faith and festivity. The days fill with fasting, prayer and study, while the nights fill with family gatherings for extended evening meals (or iftar) and with neighborly street celebrations after the daily fast is broken. The grandest night is the last, the festival of Eidh-al-Fitr. But all of this is quite different now with the pandemic, as the mosques are closed, curfew starts at 6pm and large gatherings are prohibited.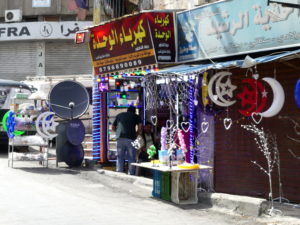 At least we have learned much more about Ramadan, which commemorates the revelation of the Quran and other Islamic scripture. Defined as the period between the two crescent moons of the 9th month of the Islamic calendar – and popularly celebrated by hanging decorations of the moon and star of Islam – Ramadan is a month of fasting from daybreak to sunset. Muslims mark the beginning and end of the daily fast with special prayer periods, but many pray during the day as well.
The fasting and prayer constitute a kind of purification as well as rededication to the principles of Islam. The strictures on abstinence cover not just food or any kind of liquid during the day, but also sexual relations, tobacco, or any sinful action throughout the month.
These are the rites of self-discipline and self-control, a righteous effort to liberate the spirit from worldly matters. That's why people display the traditional Ramadan lanterns (or fanous), to spread symbolically the light of hope and heaven against the darkness. In addition to the familial, social, and prayerful gatherings of the month, this is also a time for expanding acts of charity on behalf of the less fortunate.
At the start of Ramadan, Prime Minister Razazz praised his fellow citizens for how well they have demonstrated these same qualities of discipline, dedication and moral behavior during the pandemic lockdown.
He also encouraged them to persist in these behaviors, despite missing the normal social traditions of Ramadan, as the country moves toward recovery, resilience and self-reliance in the future. "Our success," he said, "depends on our continued commitment, partnership and complementarity among us, as a team, and by our desire to overcome difficulties, and most importantly, we maintain the flame of optimism that will illuminate the path of the future." A powerful fanous.