Beyond walking and boating around Amsterdam, we dived into several museums, including the Rijksmuseum and the splendid van Gogh collection. And for something completely different, a stellar performance by Hugh Jackman at the city's Ziggo Dome.
REMBRANDT
Amsterdam and its museums are currently celebrating the 350th anniversary of Rembrandt's death. So, during our visit, we could see not only Rembrandt's house for about two decades, but the Rijksmuseum's display of their complete collection of Rembrandts – 22 paintings and 300 engravings.
Though we knew much about Rembrandt's artistic achievement, we learned quite a bit about his remarkable ability and technical skill in engraving. At the house, we marveled at a live demonstration of his innovative methods. And then there were all the results on display.
Here is one such masterpiece from the height of Rembrandt's technical and artistic ability, a Biblical scene (Annunciation to the Shepherds) rendered with great drama of the moment and attention to detail. The resplendent angel causes a panic on the ground, People and animals run amok, while the herders are torn between revelation and the pragmatic need to keep the herd together.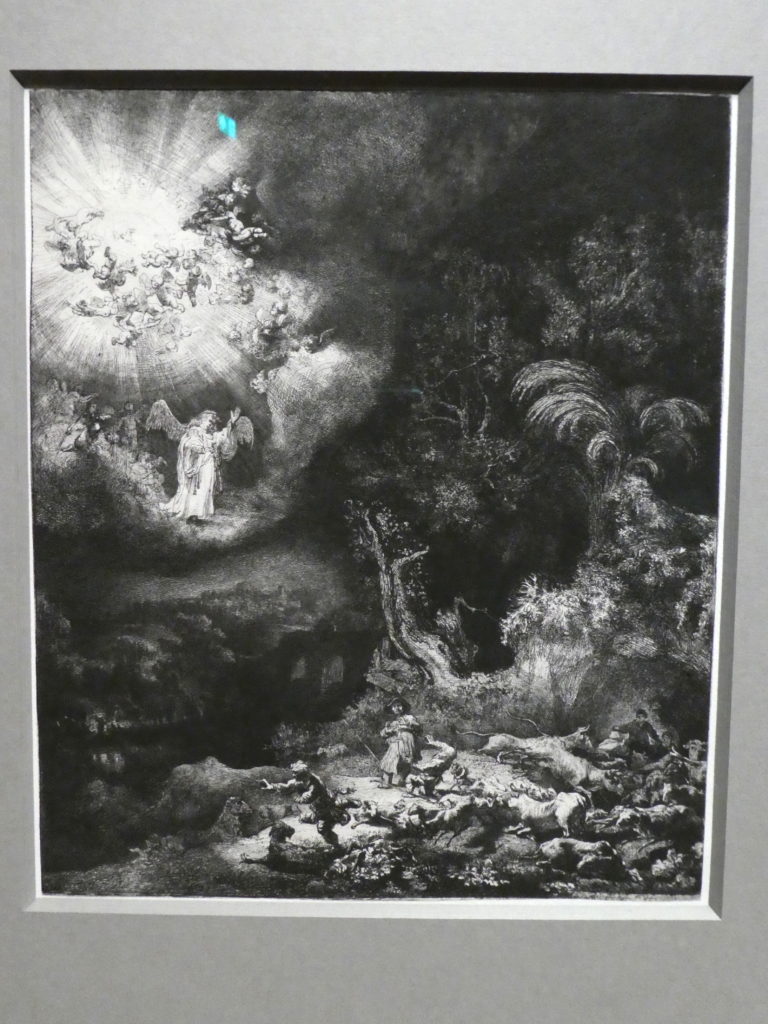 Rembrandt used himself as a subject or model throughout his life, with countless paintings and engravings. At the special Rijksmuseum show, a glowing yet shadowy self-portrait of himself as a young man faced this very different portrait of himself as an aged St. Paul the apostle. His forehead glows with revelation, but his expression demonstrates a wry understanding of the trials of this world.
Rembrandt regularly wandered both the streets and outskirts of Amsterdam, sketching figures, buildings and ideas for engravings. One of our favorite landscapes was this delicately but subtly rendered windmill, deceptively simple. For example, a small figure of a worker carries a bag up a tiny ladder on the base of the mill. (Sorry for the reflection of the ceiling lights, but we did love this windmill.)
Rembrandt's Mona Lisa, so to speak, the epicentre for most museum-goers at the Rijksmuseum, is "The Night Watch." It is a rich, multi-levelled work of action caught in a vivid moment, one that rewards the effort of looking. Too many visitors elbow up to it, however take a photo or selfie, and move on. Rembrandt, some say, photo-bombed his own painting: his eye peeks out in the middle.
This is a kind of interactive version of the Night Watch painting, done as sculptures in a central plaza of Amsterdam. Here the primary characters from the painting literally stand out, under the watchful eye of Rembrandt's statue. Selfies and group photos are so much easier.
The entry hall and reception room of Rembrandt's house at the ground level was very atmospheric. Here Rembrandt could welcome buyers and patrons, not only for his work but as a dealer for other artists' paintings (mainly what's on the walls now). The elaborate cabinet is original. The current visitors in this room are listening to the nifty audio guide, not music on their phones.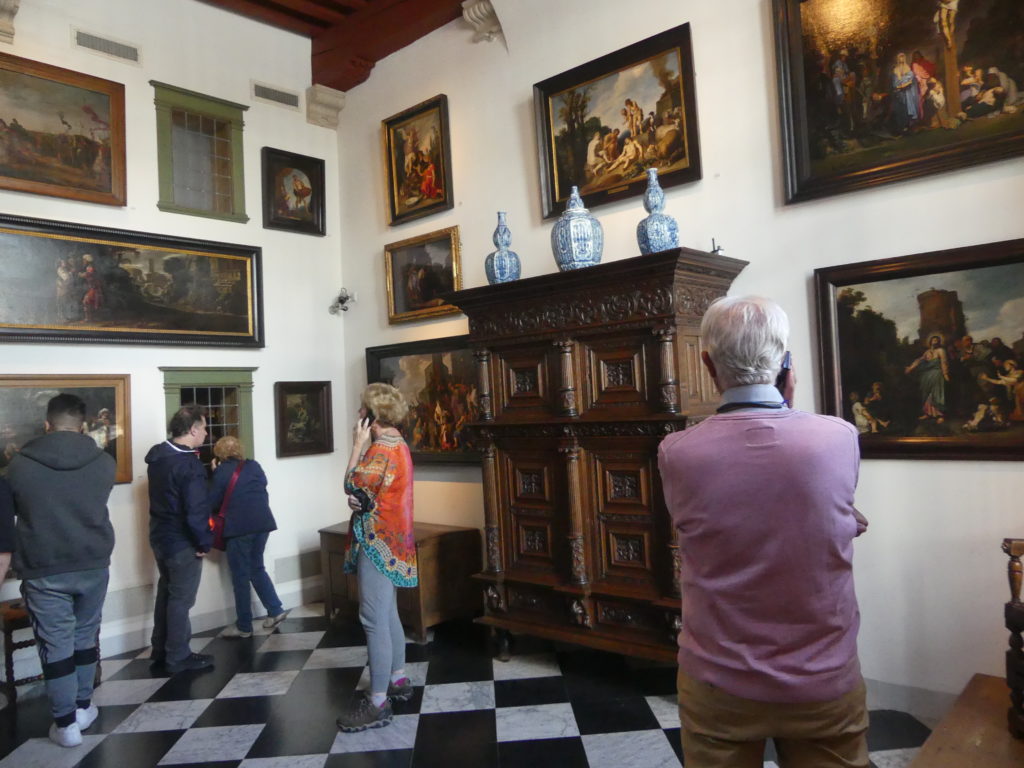 Three levels up from the ground floor, above the second level for his living space, Rembrandt worked in this studio. In a nearby room, Rembrandt kept a collection of natural and man-made objects (from seashells to stuffed animals to classical sculptures…even an armadillo). These were static models to incorporate in his work, and for his students to use. One more level up was the space for his students to learn from him, practicing their craft – a good side business for the master.
Rembrandt's back office adjacent to the entry hall. Here he and his wife kept the accounts, and managed the business of a famed artist.
And below another famous engraving by Rembrandt, this one of himself and his wife, as a muse, both dressed theatrically in older costumes. Here he deployed different styles for the two of them. It reminded us of Picasso's drawings on like themes.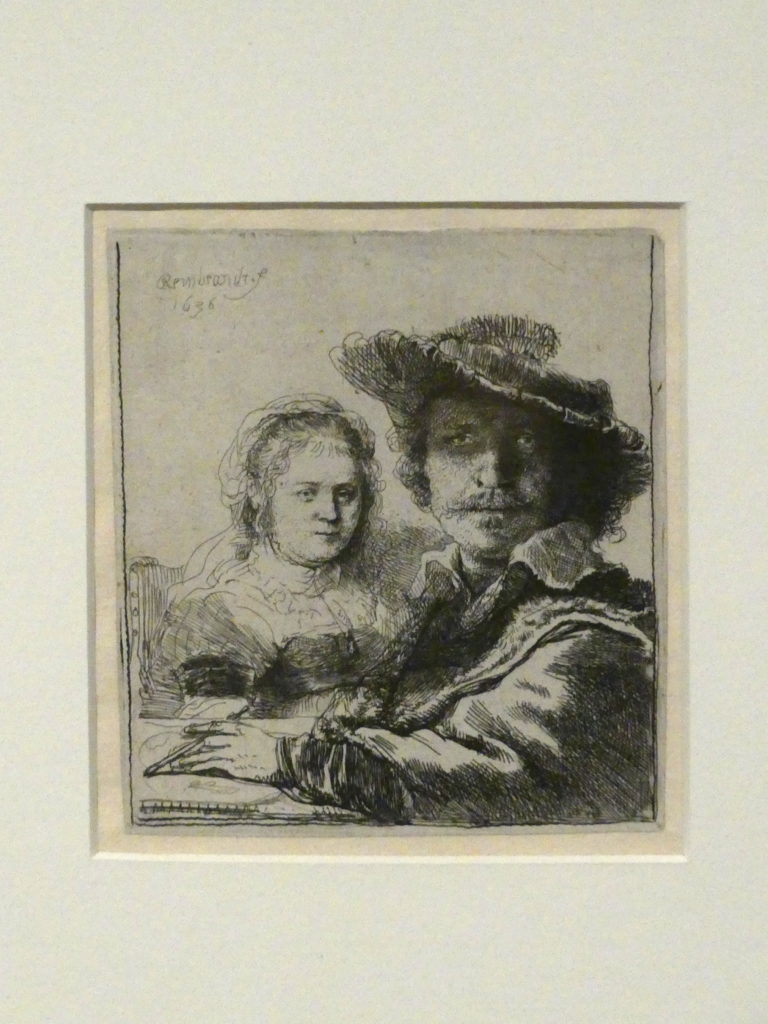 JACKMAN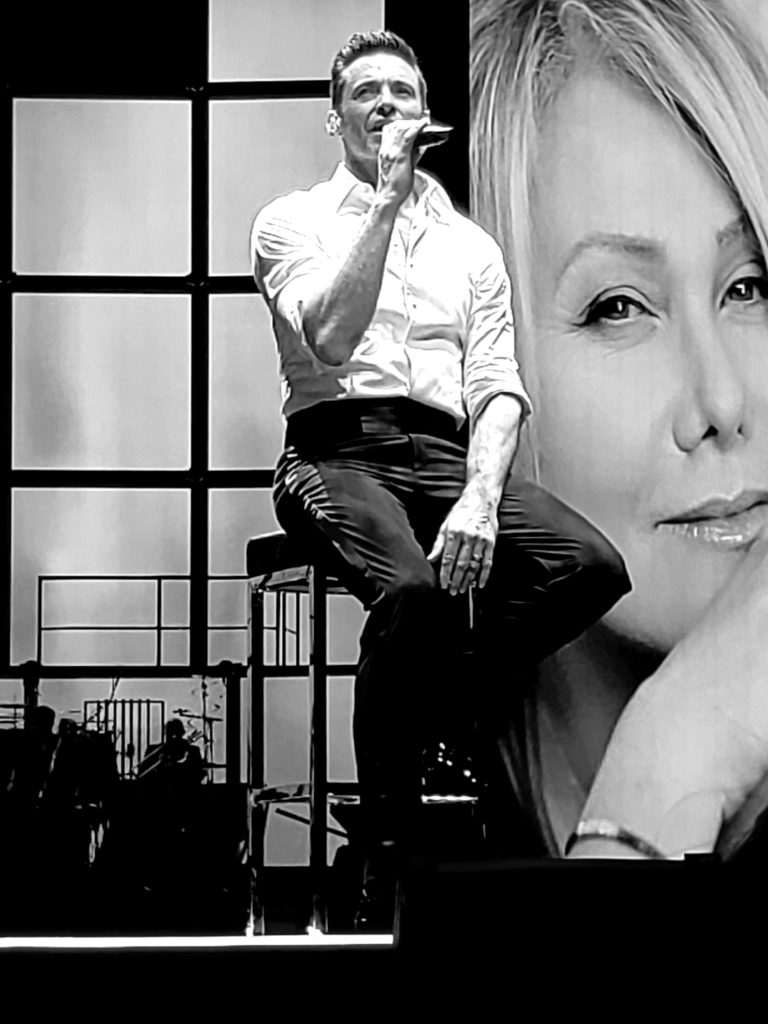 One night, Hugh Jackman put on a show in Amsterdam at a venue for 15,000 people and still connected with every one of them.
He was at times very personal and honest, putting his heart into ballads about his country and people.
The show was surprisingly electrifying, with sparkling musical numbers straight out of Broadway. And he was funny in his tribute to his fellow Aussie, the flamboyant Peter Allen.
The man can sing and dance, even doing some tap dance by the end. It was quite a show!
(To enlarge any picture above, click on it. Also, for more pictures from Netherlands, CLICK HERE to view the slideshow at the itinerary page.)