Amsterdam by foot, as many of you know, displays a charming cityscape of brick buildings in various hues of red and various harmonious styles dating back to the 17th century. The central city was endlessly entertaining as we walked the lanes and canal-side streets.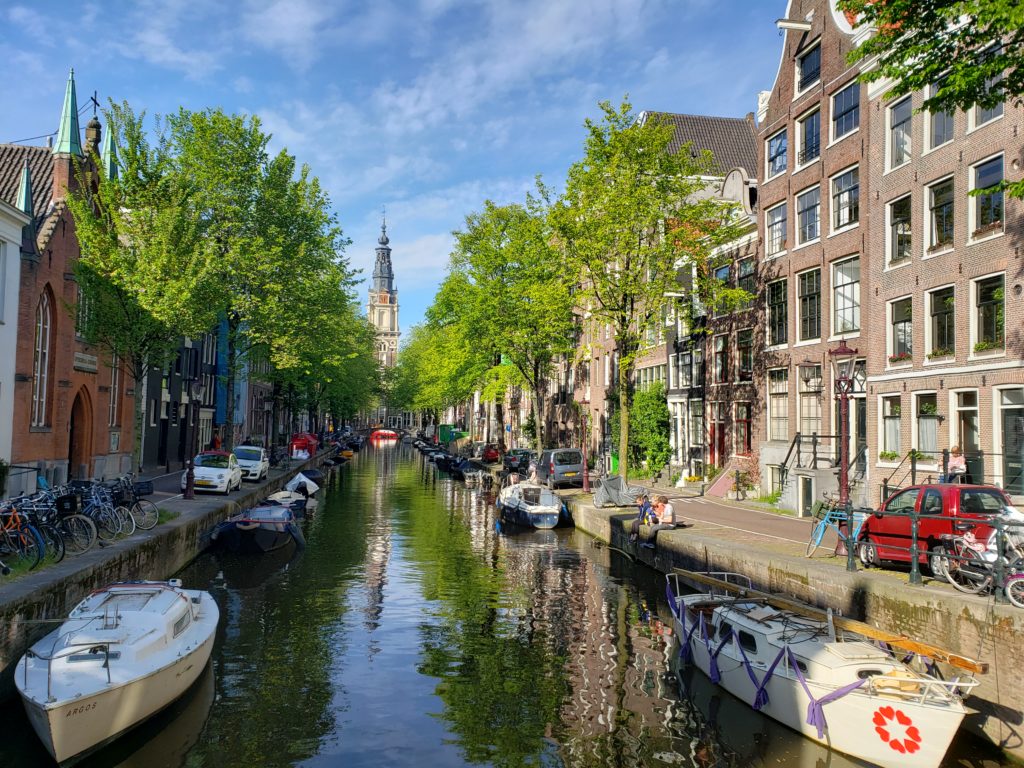 But it was just as much fun cruising on a boat through the narrow waterways. It's astonishing that anyone can hire a boat to putter along these canals, what with all the tour boats and other traffic. But many people do it – at 5 kilometers per hour max.
One of the most notable canals with a line-up of six stone bridges in view.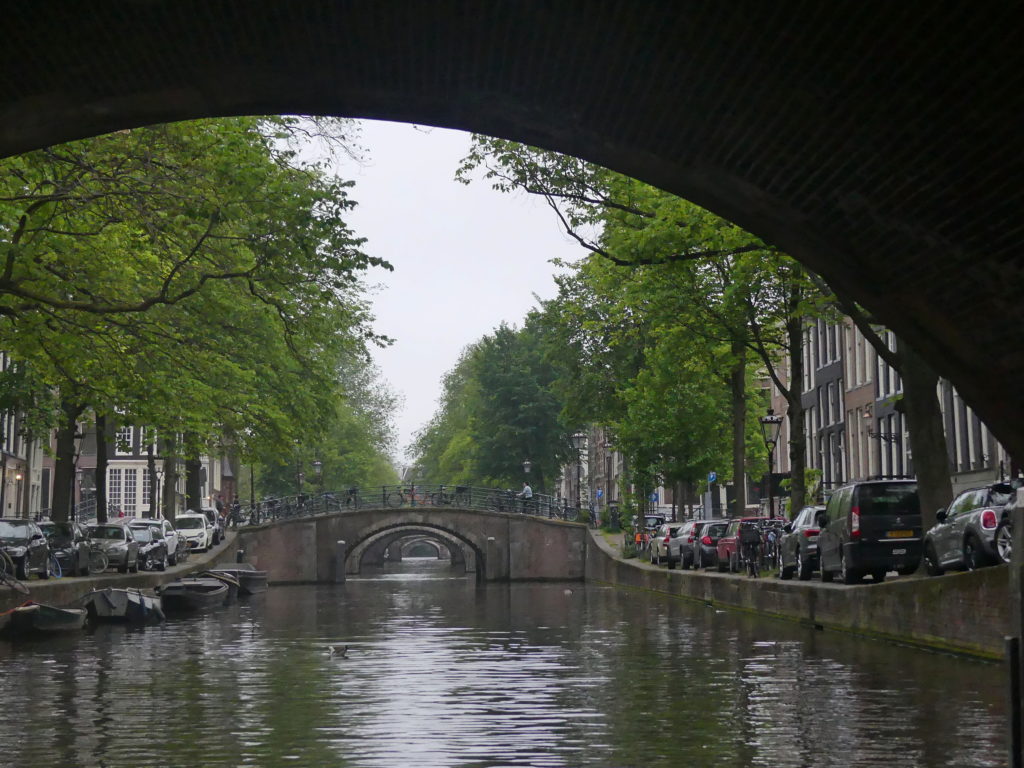 On the canals on an overcast evening, but still fun as building lights started to come on
Most of the canals head straight and connect at right angles. Toward the port, one canal, lined by typical brick buildings, turns dramatically. And a "ground"-level deck here (on the left) looks quite appealing for watching passing boats.
Canals, old houses and bicycles. Bike lanes or convenient side streets run everywhere in Amsterdam, so young and old cycle from place to place on similar upright bicycles. And they go fast, so pedestrians must be very, very cautious when crossing any street. We decided not to cycle in town because of the constant bike traffic: it's not easy for a novice while one figures out the unwritten rules and how to find the right directions. We were told you can even cycle to the airport, though it's not the most direct routing.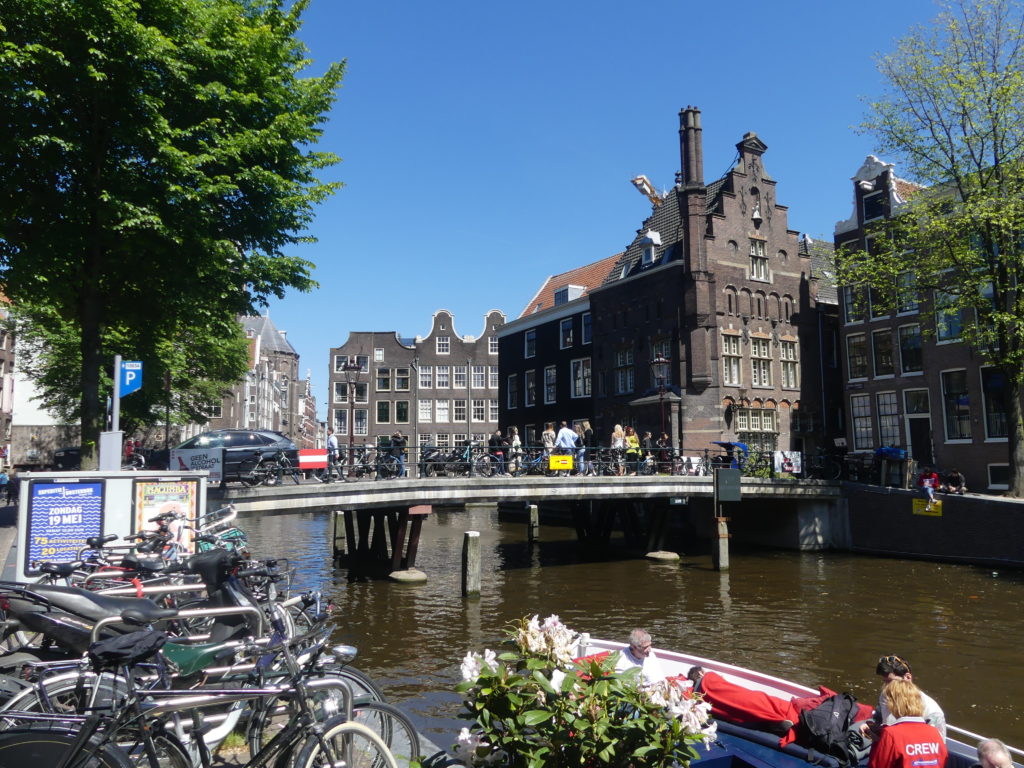 Houseboats of various shapes and sizes line this canal. These apartments on water are very popular and reportedly as safe as staying at a hotel. Yet we couldn't find one to rent during the busy spring season. Many of the houseboats have windows without shades, open visually to the passing boats. The decorum in Amsterdam is not looking at what is going on inside. In general, moreover, Dutch decorum means allowing drug use like marijuana or licensed prostitution as long as it's kept discreet.
The oldest houseboat in Amsterdam. It is still occupied by Amsterdamers, but it can't be moved from its place as it no longer fits under adjacent bridges.
The buildings at this corner are all askew, leaning forward or to the side. The houses were originally set onto scores of timbers hammered by hand into the underwater soil. Over time many of the timbers began to lean and the houses tilted with them.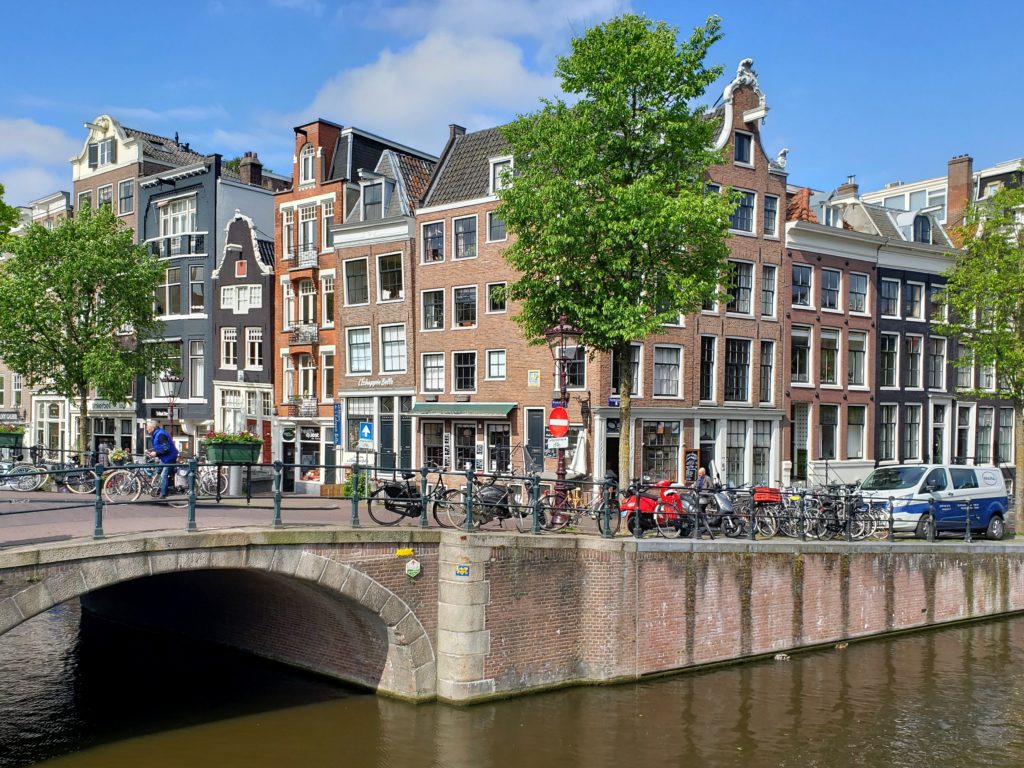 To preserve the city's character, engineers aim to keep them standing with as much of the original facades as possible – and that can mean leaning. And, if you're wondering, floors are levelled inside.
With canals running everywhere, you need a lot of bridges to cross them. In addition to the old, immobile stone bridges, others allow the passage of taller vessels by various raising systems. This winch type dates back to the 17th century. Rembrandt sketched and engraved them in his cityscapes. We were stopped during one walk at an open bridge through which a huge crane passed.
(To enlarge any picture above, click on it. Also, for more pictures from Netherlands, CLICK HERE to view the slideshow at the itinerary page.)