Two diminutive tribal lands, eSwatini (Swaziland) and Lesotho, have persisted as independent countries within the country of South Africa. Though poor, they offer much of interest to visitors.
Lesotho
The Kingdom of Lesotho High perches on a mountain plateau in the midst of eastern South Africa along the Drakensberg escarpment (click here to see the article). Lesotho (pronounced Le-soo-too) is a tiny country a few hundred kilometers in diameter. The landscape is stark and life-style difficult as the land-locked country sits about 3000 meters (10000 feet) above sea level.
Though there are good roads to reach the country, we climbed to Lesotho the hard way through UNESCO World Heritage Sani Pass. It's a steep, rugged route through gorgeous cliffs, mountains and ravines.
Here we are about halfway up Sani Pass after officially exiting South Africa, with Lesotho plateau in the distance
Lesotho had been the traditional home of the Basotho people, independent since the British left its old colonial lands here.
The residents are mostly shepherds, moving their flocks across the highlands or living in round stone homes that reminded us of Mongolian gers/yurts.
We visited a local Christian church and met the pastor, whose flock consists of Basotho shepherds. He told us that he used to serve spirits as a bartender before he began serving the spirits of his few dozen parishioners instead. It was a good line.
And tourists are not neglected. We stopped in what is officially considered the highest pub in all of Africa. Here you are expected to drink the local lager, Maluti. We also tried a pretty good minestrone soup with extraordinary fresh baked bread.
Eswatini (Swaziland)
Eswatini (formerly known as Swaziland, or the land of the Swati people) is a larger jewel tucked within South Africa. It is the only absolute monarchy remaining on the continent.
As we learned in our stay here, the royal culture and rituals of this unique place are based on Swati tribal traditions, such as polygamy (the king has 14 wives, a far cry from his father who had 34) and a dominant role for the queen mother in managing matters. Every year, in a week long festival, the king takes another wife, one chosen by his mother.
King Mswati III seems to be a respected figure, and even advertisers like KFC chicken, which is quite popular in eSwatini and South Africa, don't hesitate to borrow some luster.
But the country has faced severe problems including poverty and extensive HIV infection rates. The average age at death is just 37, so the population is very young. Sugar cane production and textiles for trade, mostly with South Africa, are major elements of the economy, along with subsistence agriculture and natural resource development (such as the extensive pine forests we passed).
The traditional village consists of a set of thatched, beehive shaped huts divided by fencing, all with sharply delineated sections and functions. These include a bachelor quarters, residential area for women, the medicine man's clinic, the kitchen and the beer making hut. The style of fencing identifies the usages so a visitor from any part of the country knows where to go to find the kitchen and bar.
One of the most important is the hut for the head chief's mother, a matriarchal figure in a village – as in the country as a whole. The skull over this entrance commemorates the good times of a past festival. This particular hut is really a showpiece in a cultural village. The entrances in real villages are only knee-high – for protection and to ensure a bow of respect on the way in – but this one let us enter the hut easily. Men traditionally enter and exit first to make sure there are no dangers about.
Despite the traditional village culture of beehive huts, more and more of the Swatis live in westernized houses, especially as they move to larger towns and villages. Most of the country is Christian, though old tribal practices and beliefs flavor their worship.
Back at the cultural village and the dance demonstration…We don't go to many of these, but the one at Mantenga, eSwatini, was particularly good and also gave us a chance to learn more about the unique Swati culture at the beehive hut village.
Drums, and a bit of whistling, are the only musical accompaniment for the 4-beat, call-and-response chanting that characterizes the music. The solo singers, like this striking Swati woman, had fine voices.
This was one of the smoothest male dancers in the dance. The male and female dancers incorporate a dramatic, over the head, high kick into their dancing, which we could not recall seeing in other ethnic dances. The reason was not clear, but one Swati visitor in the audience said that all of "us" start doing this kick in school – "it's just what we do."
We also learned that wood-carving had long been part of the country's artistic heritage. We had difficulty finding a small spoon to represent eSwatini (Swaziland) for Nancy's global collection of around 250 spoons. The only ones we found were generic or from South Africa. So we asked this artisanal craft carver to make one for us. He put aside his other work (and his lunch) to etch 'eSwatini' in a spoon made of jacaranda wood.
eSwatini Parks and landscape
eSwatini lies between the famous Kruger game reserve and Johannesburg. eSwatini's game reserves allow a visitor to view so many animals up close, and without the crowds common at more famous areas.
Hlane
At Hlane (pronounced a bit like Shlane), we were as close as these pictures suggest.
Young impala practiced their jousting skills for us. The typical tale about these antelope is that their rear ends show the McDonald's M, for they are the omnipresent fast food for predators.
A male elephant munched his dinner at sunset in front of us. He had only one tusk, probably the result of a fight against another male. Elephant culture is fascinating. For example, generally the principal male of a herd keeps the young males disciplined by teaching them how to behave. Otherwise, the young ones become "hooligans," threatening people and vehicles for no reason.
We spent a charming half hour with a pride of lions, two males and two females. They yawned, they stretched, they snarled, they snoozed, they groomed – as one of the females kept watch on us. We had to restrain ourselves from posting dozens of charming photos. But you can make do with this…When one of the males awoke at dusk, he snuggled with the ever alert female.
At an intersection, this white rhino had the right of way, but blocked our road for a while. Its name derives from a bit of a linguistic mistake, as this rhino has a "wide" mouth instead of the narrow one of the nearly extinct black rhino.
In the morning, we had driven around Hlane park looking for more white rhinos. When we spotted them, we hopped out of our vehicle and walked as close as 20 meters (yards) to view them. That was a bit scary at first as the rhinos were armed with large pointy horns and our guide was armed with only a stout stick. Fortunately, the rhinos stayed alert to us, but were more shy and indifferent than threatening. We probably saw a dozen in all, including a mother and two year old.
Eswatini even offered us the classic African sunset at Hlane.
Mlilwane
To the western end of eSwatini near the capital of Mbabane, Mlilwane National Park nestles in a lovely grassland valley fringed by green carpeted mountains.
This valley is one of the prettiest examples of eSwatini's landscape.
The peaked mountain to the right was named "Execution Hill" because, in the distant past, those convicted of capital crimes were thrown off its cliff face as punishment. We could just enjoy it.
There are no predators here, so as long we steered clear of the crocodiles, we could walk for hours amid the antelope, zebra, warthogs, monkeys and birds. They even visited us at our tent home. Several zebra wandered through the day before.
An African darter – not a snake, but a bird with a snake-like neck. In a pond at Mlilwane, we saw this one carrying a prized catch past a quiet, bemused turtle.
The blesbok antelope is endemic to South Africa and eSwatini, appearing nowhere else in Africa. The animal's "blessing" is that white spot between its arcing horns.
One of our favorite antelopes is the nyala, identifiable by its vertical striping and other white marks as well as its swept-back horns.
The blu wildebeest, or gnu, is a large impressive presence in the grasslands. We saw several herds here and in other locations. We may not have thought they were charming, but they don't deserve to be one of the so-called "big 5 uglies" of Africa.
South Africans and Swatis know how wonderful the wildlife reserves here are, even when there is no special reason to visit.
We happened to be at Mlilane during the annual mountain bike races, ranging from the serious 65 kilometer technical course to the much shorter family ride. Here are some of the easy-going participants, with the lovely valley in the background. The race official advised them that animals have the right of way. And how to deal with threatening warthogs or hippos: bike faster than the person near you.
Elsewhere in eSwatini
Across the country, we also found a picturesque landscape, with highland plains to the east and gentle mountains around scooped-out valleys to the west – in addition to those splendid reserves for viewing wildlife.
An unusual double channel made the Mantenga waterfall a charmer.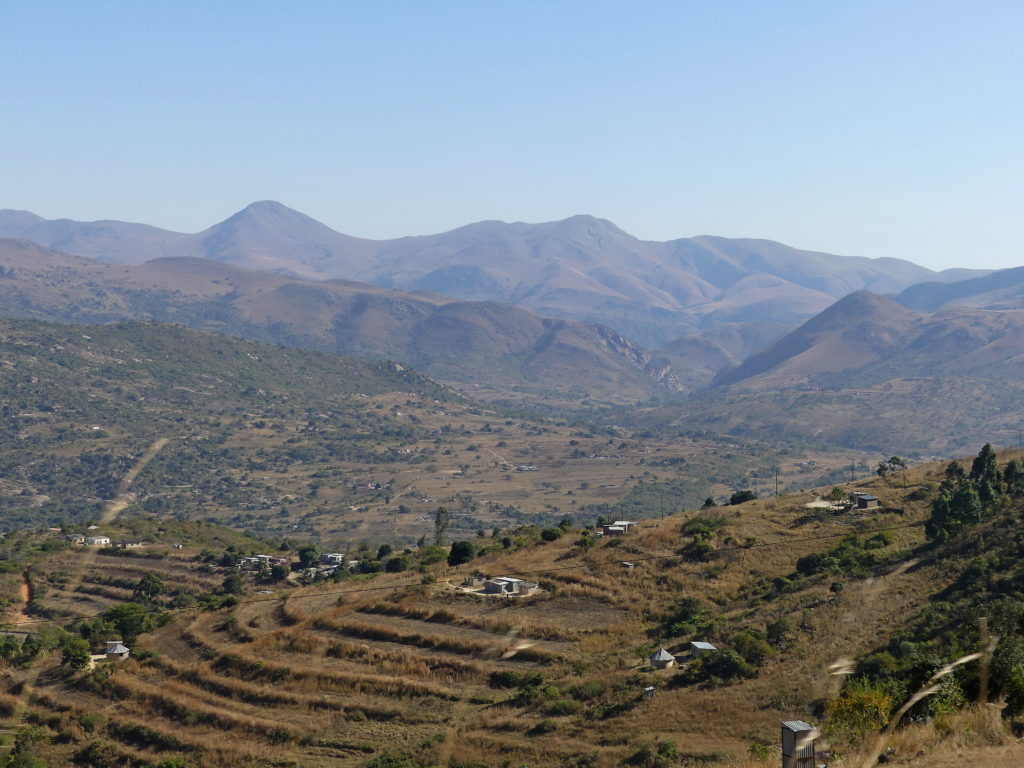 A view back along the Ezulwini Valley dotted with farm residences and villages.
(Also, for these and other pictures from South Africa, CLICK HERE to view the slideshow at the end of the itinerary page.)