In the northeast, we drove hundreds of kilometers amid the mountains, hills and valley – no road was the same and each of them presented either glorious vistas or atmospheric landscapes. In the west, amid the Saxon wood churches, unusual houses and small farms unrolled as we wound through the hills. In the central section, Transylvania, most of the hilly landscape has been tamed by farmers also. Yet, occasionally, dark forests recalled the Bavarian woods and their Teutonic legends, while mountain ranges erupted suddenly from the valleys to surprise us.
Typical wooden gate near Maramures at the entrance to a family home or farm, a Saxon tradition.
Old styles of home decoration with elegantly carved detail merge with new fashion to adorn many village houses.
Farmhouse in Moldavia, walled by a wood fence, somewhat like the fortified villages of the past.
Turda Canyon in Transylvania, looked lovely from the river valley through which we walked.
But looking back at the valley from the top of our climb was exhilarating…even though climbing meant an unexpected scramble through dark Transylvanian woods on a steep slippery trail.
A small farm glowed at the back of our lovely pensiunea, or Romanian guest house, a place from which we visited the west's wooden churches. Though it rained a few days, the wet brought out the colors at sunset so much more intensely.
And so much else…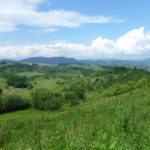 (Also, for more pictures from Romania, CLICK HERE to view the slideshow at the end of the itinerary page.)