In brief: As with their written language, Koreans pack a lot into a small space…but also understand the need for opening things up as well.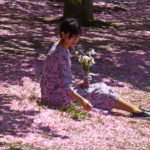 Start with the written language: every word is made up of several syllables, each of which consists of a number of characters compacted together, and even joined physically for readability or ease of writing.
Deciphering these, for us, led us to see a correspondence between the written language and the culture: how Korea compacts people and their many needs tightly into its landscape.
Country and city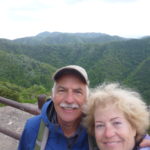 By tradition, Korean hills are mostly left uninhabited, free of any buildings except religious structures and Buddhist monuments. And the peninsula features abundant hills. Driving the highways or speeding along in the high-speed trains, you pass through valleys stuffed with apartment buildings and farms. Then suddenly you are threading thickly wooded hills, with just grass and woods.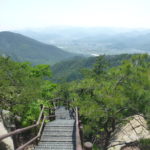 Adjoining even the most populous cities are large swaths of nature, forests that cover the hills rising from their midst, as in Seoul or other large cities. You can even take a city bus to reach them, hop off and start hiking – a very popular sport here which seems to require that people dress in the best gear.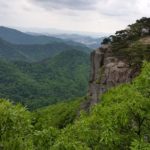 The stair-step paths turn tough trails into relatively simple climbs/descents like this section in Namsan Mt. at the edge of Gyeongju, which is sprinkled with Buddhist statuary and rock-face reliefs.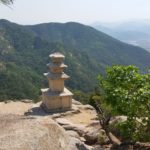 When the hills aren't enough for recreation, towns often dedicate otherwise unusable land along a stream or old railway as open space parkland where residents can walk, bike, fish and so on.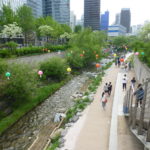 In Seoul, the low-lying park along Cheonggyecheon Stream, dating from the Joseon era, lets you walk for 11 kilometers (about 6.5 miles) under 22 city bridges. It's the below-level equivalent of the "high-line" park in NYC. At street level, you'd be in the noisy heart of Seoul; down there, it's a peaceful haven with trees, waterfalls, terraced seating and rock-hopping options to cross the water.
Seoul itself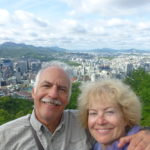 In other ways, Seoul is the epitome of Korean culture. It's an old city that is also very new, with most of the buildings dating from the 1950s after the destruction of the Korean War. Since then, western investment and local industriousness have built a very prosperous city and country.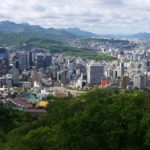 About 11 million of South Korea's 50 million people live here. It's a very densely populated and economically bustling city with an appealing mix of western and eastern culture.
Yet it's also well stocked with parkland and those relatively unspoiled hills abutting the busy streets and high-rise apartments. Some of the streets are wide to accommodate transport, but mostly they are narrow, especially the older districts.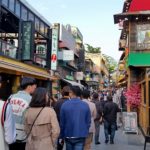 Itaewon district, for example, is one of the hots spots for nightlife in central Seoul. Its three-story buildings are stuffed with western-style bars and restaurants opening onto the narrow streets. People-watching is delightful, with an unending stream of thousands and thousands of young Koreans (as well as foreigners) flowing through the lanes. It's evident, moreover, how popular such places have become for locals. A place to sit outdoors or on a rooftop in Seoul is not common culturally. Here you can feel the influence of the long-lasting American military presence in the country. We enjoyed a street-level table with a dozen drinking buddies: American soldiers, ex-military men, and corporate expats working for western pharmaceutical and electronics companies.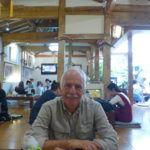 The neighborhood of Insadong, quite popular with locals as well as foreigners, is warren-like, with many mysterious passageways, narrow lanes and hidden courtyards. Its restaurant-filled lanes are a lot more appealing and quieter than the touristy new main streets cutting through the section. The old buildings of our favorite set of linked courtyards had somehow turned into a complex multi-level mall packed with stores and food places around every turn.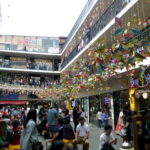 Here we found the "Poo Museum," marked by a sign with a friendly pile of poo. The long line to enter, filled with families and young children, climbed a staircase to the second floor doorway beneath a large naked butt. Locals told us that kids could learn about bodily functions here. We didn't explore what the restaurant on the ground floor offered.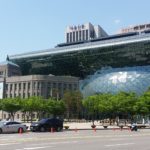 The hills might have been devoted to sacred matters, but any other wide open spaces were reserved for the wealthy and powerful. It's mainly at their palaces that you have expansiveness – huge courtyards and broad lanes – a strong contrast to the lifestyle of the other city dwellers. [see otherarticle]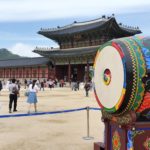 As befits a culture that likes to be snug, the transport system in Korea is a marvel. High speed rail connects Seoul to the farthest cities, some 600 to 800 kilometers away (400 to 500 miles) in a bit over 2 hours. Inter-city express buses run frequently and comfortably between those cities and seemingly every other town.
Local buses in Seoul and Korea's other cities criss-cross the towns themselves, even carrying people like us to tourist sites in the countryside. We used the system extensively for three week, at a much lower cost than driving would have been. Yet we could easily have driven along the sleek rapid motorways and the impeccable local roads that also tie towns together.
We even managed to unpack and decipher some Korean words along the way.
(Also, for more pictures from Korea, CLICK HERE to view the slideshow at the end of the itinerary page.)