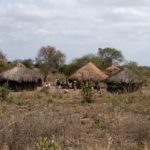 National route N1, the principal and just about the only highway through Mozambique, curls north from the coasts of the south toward the highlands in the west before again cutting back to the coast. There it delivers you to the old colonial port of Mozambique Island (Ilha de Mocambique) and the delightful island waters of the Quirimbas Archipelago further north.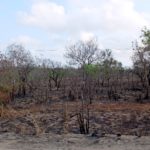 Much of the terrain of the interior along the N1 is flat scrubland, with a sandy soil inimical to farming crops. Villages are generally small and scattered, poor from the lowest form of subsistence farming. The most abundant crop it seems is charcoal, wood chunks roasted by open burning of the landscape and then heat-drying the charred pieces of trees before stuffing them into meter high sacks. These are on sale at roadside stalls or in the big towns.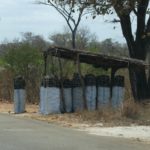 Live fires are frequent alongside the road, not to prepare the land for replanting as in other places, but merely to harvest the available trees. At least, nearer the coast, fruits like bananas and oranges can thrive, a somewhat more marketable crop.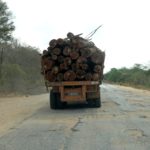 Dominating the road and the preponderant vehicles are the semi-trailer trucks. The biggest of these carry huge, individually labelled logs out of unburned forests, which are sadly not replanted. Between the fires and the logging, trees seem to be disappearing rapidly. The other large vehicles here are red bare-bones intercity busses that race wildly from village to village.
There are other challenges in driving Mozambique's N1. The pull-over lanes are often thick with villagers using the highway to walk to and fro, from small village to market town, as is typical in Africa. Amid the colorful procession are churchgoers dressed in suits and prints, families trooping with 20 liter water canisters to and from the local well, mothers carrying goods or salable items like sticks and a baby slung to their backs, men pedaling or pushing heavily-laden cycles about. Everyone with business yet to do in the nearest town or recently concluded is on the road.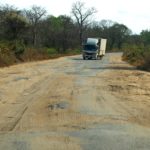 We crammed 1500 kilometers of driving into two days, a challenge that really should be scheduled for three full days. For the biggest problem with driving the N1 is the damage caused by the busses and trucks as they pound the roads. Their assault on the surface, a thin layer of asphalt laid on the porous and malleable sand, excavates holes everywhere, vehicle-threatening sand pits that often slow all traffic to a crawl.
The first leg had plenty of these, so from mid-morning to nightfall of the first day we made just under 500 kilometers in 7 hours. We figured that was a fairly respectable rate despite the potholes, what with 60kph limits in the many towns in that section and police radar to back it up. Our driver was caught at 69kph on one of those but pleaded pathetically enough that he was let go. That was one of many police check-points during the whole 1500 kilometers, and half a dozen more on the way north to Quirimbas; but their main purpose seemed to be checking papers and collecting small bribes.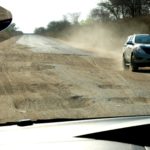 The second leg, from Gorongosa to Caia starting at 5am on day 2, was a mere 250 kilometers, but it required 5 hours to complete as it was the worst patch of road we had seen in Africa since the 10 kph rutted route we experienced in northern Madagascar. Fortunately, we could average around 50kph because the road alternated between those 10kph potholes and astonishingly smooth 100kph sections. What the heck happened to road maintenance our driver, and we, often lamented?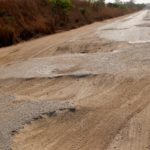 Children optimistically tossed a bit of sand into a few of these innumerable holes, hoping for a small payment for their service. In a few spots, local villagers apparently had organized some sand-filling out of pity for travelers and truckers. More frequently, piles of dirt sat idly by the car-swallowing holes.
Yet this deplorably maintained central section was oddly the most interesting, featuring a non-stop flow of village entrepreneurs along with those sand-shifting children.
At the small villages, we would pass the usual market stands, with decoratively arranged produce – small pyramids of tomatoes laid out next to small clusters of onions or oranges. Others hawked canned and bottled drinks and biscuits mainly to attract the weary truckers as well as the jolted passengers on the buses.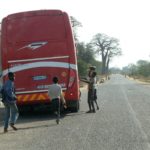 At the bus stops, a throng of young men and women would race over with some produce or munchies like peanuts to ease the burden of their passage. The fastest or pushiest win the scramble. As we slowed at intersections or fueling stations, hawkers would offer similar options. One town seemed to be the capital of cashews, as every vendor had them.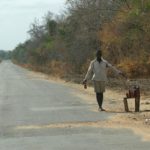 The variety of other items on offer along the N1, especially where the potholes slowed us, was impressive. Some sections featured half-liter bottles of honey and large pots of garlic; other sections offered stacks of sugar cane or those omnipresent charcoal sacks.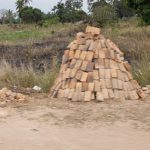 In some parts, long bamboo poles for fencing or housing were stacked for sale; in others, bricks were piled up decoratively and rough-cut granite stones heaped like tomatoes at market. Who was driving by and buying these, we wondered?
But then the roadside offerings became really interesting.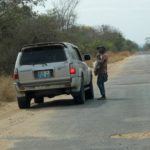 First, there were the young men dangling live chickens and later wild guinea fowl over the middle of the road, for sale at under $2USD. Later, these alternated with offers of blood red haunches of bush pig. And then there was the young man waving a pole carrying a whole domestic pig to get our attention.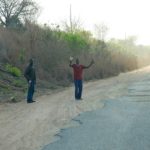 Perhaps the most appealing of these offers for truckers and bus passengers came from young men who wagged their hips, mimicked masturbating, and waved phallic root vegetables at us.  Paired with a home brew that looked like grain alcohol, this offer was a kind of sexual dysfunction kit intended to aid that weary trucker in his sex-life. Where his partners would be in the usage, we had no idea.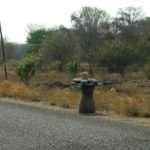 The third leg of 800 kilometers proved, to our relief, a relatively user-friendly, broad, zippy road, where 120kph speeds were possible outside the towns. For whatever reason, road repairs had been frequent, annotated with date of completion. Even so, many kilometers early on had not seen any work crews to remedy their crazy sand pits. The rest of the trip saw occasional slow downs and some road construction, as well as one quick meal at a halal take away where we met a trio of Peace Corps volunteers. We completed this third leg within 11 hours at 9pm in the dark of night, the end of a 16 hour day during which we were able to write this post.
(Also, for more pictures from Mozambique, CLICK HERE to view the slideshow at the end of the itinerary page.)