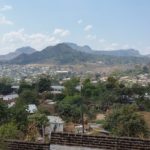 Blantyre is the second largest Malawian city, and the capital of Malawi's south, where widely different landscapes – hot lowland grasslands, cool highland hills and cloud-shrouded granite mountains – are in close proximity. Blantyre retains a smattering of colonial era buildings, and boasts a robust commercial and banking center that includes the Carling Brewing factory.
The city was founded by Scottish missionaries in 1876 and named for explorer David Livingstone's home town in Scotland. Ringed with garden-like estates, and attractive hills, it is one of the most pleasant towns we have visited in Africa.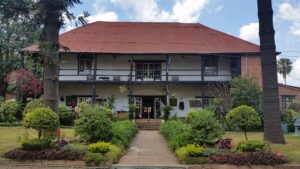 Of Blantyre's few remaining colonial structures, two jewels stood out. The Old Manager's House is the oldest building in Malawi. It was constructed of mud and straw bricks in 1882 for the old manager of the Mandala Trading Company. Only its thatched roof has been replaced. Enclosed by defensive walls originally, it was a kind of fortress to protect against tribes hostile to the colonial presence. Yet the company used local labor to haul produce and other goods and minerals by foot to ports for export.
Accustomed to tall domed huts with just one ground floor, tribesmen marvelled at the second floor; to them, it seemed like a second house dropped atop another. Now the ground floor is La Caverna art gallery and cafe, an oasis in the town atop a slight hill near the city center. The fine cafe appeals both to expats and locals, while fittingly the gallery offers the work of local artists. The second floor houses a Malawi historical library.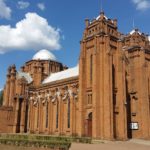 The other jewel was the Scottish Mission church, St. Michael's and All Angels, an impressive neo-Gothic brick construct from a few years later, with Moorish and Byzantine touches.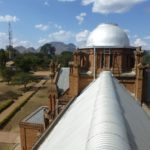 We climbed up very narrow, ladder-like spiraling stairs to the choir loft and then up again to the vertiginous roof for a delightful view past the domed apse toward the mountains and across the expanse of church grounds.
Inside, the interior is simple and unadorned befitting the Scots. The old organ, a set of rusting flute-like pipes, was no longer working.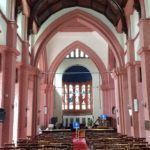 But the church organist was practicing a hymn while we were there, one with the apt melody God Save the Queen.
More of a diamond in the rough, Blantyre's open air market is famous, and a tourist attraction as well, since it offers a seemingly endless set of stalls for produce and other kinds of goods, from modern electronics to traditional woodworking. Some of these stalls sit indoors, orderly and neat. Outdoors, you find more ramshackle booths and tents.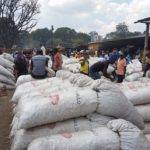 Local potatoes are sold by the (50kg) sackful in a section as big as half a city block. Somewhat shyly, we bought only four potatoes out of all this overload.
Just like its market, central Blantyre's streets are busy all day long. Pedestrian traffic and a good number of cars crowd its long main street, Victoria (with its numerous banks) and the thru-road Haile Selassie, as well as the dozen or so cross-streets. You'll find convenience stores, service outlets of various sorts, shops for clothing and household goods of various sorts, bakeries and a surprising number of good restaurants, including a vegetarian one. On Haile Selassie, about a dozen sewing machines spread along the sidewalk, with tailors busily mending clothes, bags and shoes.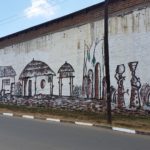 The country's poverty does have an impact, evident especially from the few beggars at busy downtown crossroads. And we were warned about walking around the central city or the dark side streets at night, though we have heard similar warnings many times in other cities. Here we felt completely unthreatened wherever we went. One long-time female expat, however, even worries about the daytime now, especially for women. She has observed that the treatment of women in the Malawian culture has worsened over time. Contributing to this change are increasingly accepted domestic violence, the bitter legacy of a female Prime Minister, and the views of a very conservative Muslim population.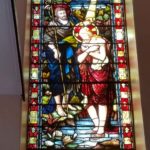 Nonetheless, new and expensive cars jam the main road around the new suburbs, with their busy malls and car dealerships and high-end groceries. Well-dressed women and men hasten to and fro, particularly during the sacrosanct lunch hours from 12 to 2. Clearly, Blantyre has become fairly prosperous.
Another sign of this is how the townspeople have gone wild for mobile phone service. Every street corner on the main streets and along the outlying roads features at least one pop-up stand under the protective shade of an umbrella supplied by a major service provider. There vendors sell coupons to top up your phone in tiny denominations, 50 to 200 Kwacha, the rough equivalent of 7 to 30 cents/centimes, or the cost of a phone call. If you're lucky, and have the money to fund a smartphone, you'll find a few larger value coupons there as well.
(Also, for more pictures from Malawi, CLICK HERE to view the slideshow at the end of the itinerary page.)