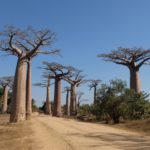 Madagascar is a country of strong contrasts, all of which we were privileged to observe during our six weeks stay in most of Madagascar's varied regions.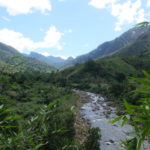 It has a diverse, beautiful landscape over a territory 2.5 times size of England or just slightly smaller than Texas. In six weeks, we covered at least 3000 kilometers in 100+ hours of driving. The dismally unreliable national airline, Air Mad, still makes driving relatively efficient. Only missed the very northern and very southern coast, for there's never enough time.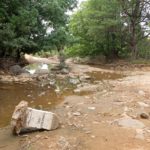 We endured one of the worst roads in the world, Daraina's NR5a, at 10 km per hour, and some as good as Europe's back roads. And all variations in between: asphalt roads with sudden gullies and erosion, dirt roads you can zip along. Every one of these carries a diverse array of foot, cattle and vehicle traffic.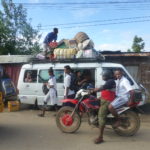 The roads, and the various forms of transport, obey the watchword of the culture, "mora mora" – slowly, deliberately.  Large towns like Tana, Sambava and Antsirabe are always bustling with slow-moving foot and vehicle traffic of all sorts. And most people go on foot, in city and out. For the designated market days in villages, you'll see hundreds of people walking the roads for hours to throng the route through the market center. Sharing or clogging the road, wheeled vehicles hardly go faster, whether oxcart, handcart, or bicycle rickshaw. Some towns offer motorcycle-drawn carts, or tuktuks, as in Asia. Others seem to use the latter exclusively to taxi people around, though they need to be pushed uphill typically, particularly when carrying a heavy load or person. We passed one with a single passenger in the cart and a motorcycle straddling the bike's rear wheel in front of him.
There are few expensive cars about, but agencies tend to haul tourists around in utilitarian 4x4s or 4-wheel drive flat-bed vehicles. The city to city or in-city bus system consist of the infamous taxi-brousses, minivans packed with travelers in the flimsy seats and topped by incredible heaps of possessions, from boxed goods to foam mattresses to market goods to luggage. They race madcap down the road, honking, not braking, unless they too are impeded by blockages caused by all the other modes of transport.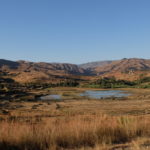 As for terrain and ecology, Madagascar contains dry forests like Daraina and Ankarana whose fallen leaves crackle under foot – and rain forests, like Andasibe and Ranomafana, where rain falls daily and you're lucky if you can walk the trails dry or avoid the leeches stirred up by the rains.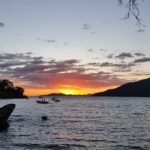 Its coasts offer tropical beaches and mangrove swamps of great beauty, with pristine coral reefs and abundant fish. The island's central spine consists of rippling hills and dales, mounds separated by plains toward the north and colorful limestone escarpments toward the south. Though baked by the sun, the 2000 to 3000 meter altitudes offer moderate temperatures and cool nights. The high altitude savannahs spread their flat grasslands amidst the hills or toward them.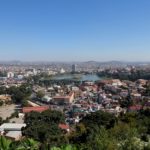 Its few sizable cities, like Tana the capital, have now sprawled awkwardly into the neighboring countrysides, though often still surrounded by rice fields and other cropland. As in India, diners, convenience stores and stalls are almost all small scale businesses, with a few malls and large-scale supermarkets starting to appear in wealthier parts of big towns.
Again, like India, Madagascar's towns, large and small, offer abundant small resting stops or hotelys for local and budget travelers. In good sized towns, however, a more finicky traveler can find very good quality accommodations at low, low prices. $20 to 30 USD will get you a 3 star place for the night. And there are plenty of resorts and more luxurious places along the coasts as well as hovering near the major national parks. We can't say much about the hotelys, but all the places we stayed, no matter what the size of the bedroom, offered enormous bathrooms occupying up to half the space of the overall room.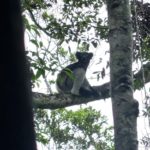 A major draw for tourists to the island is the wildlife, somewhat oddly as Madagascar doesn't have the show animals – cats, elephants, apes, antelope, etc. – that attract people in the rest of Africa. Yet it is home to rare, endemic species of wildlife (at least 80% of the wildlife here occurs nowhere else)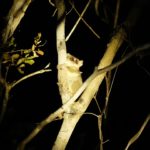 We were privileged to see 30 species of lemurs, nearly 1/3 of all that exist in the world. We saw the largest, the Indri, with its haunting chant filling the woods and the tiniest, Mme. Berthe's mouse lemur a minuscule few grams.
We saw over 70 bird species, nearly all endemic, including half a dozen of the oddly diverse genus of vangas, the bright red fody and the striking Madagascar Paradise flycatcher, and the cute forest rock-thrush.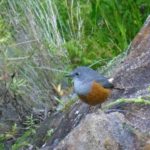 We saw a panoply of chameleons, ranging from the size of a fingernail to a human foot, hiding in plain sight by day or curled up in trees at night – plus spiders, snakes, frogs, and other creatures. So much that was new to us.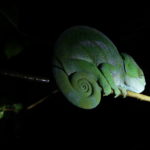 Yet these draws struggle to survive against the pressure of riches that can be obtained by destroying their environment, land grabbing, mining and forest destruction for crops.
Further, though blessed with such great natural resources, Madagascar's hard-working people have unfortunately been undermined for decades by misrule and the disastrous political turmoil of the recent past. So it continues to suffer too much poverty. We truly appreciated all the locals and volunteers we met who are trying to make these lives better.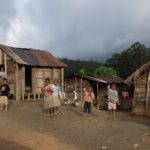 Across the north, small villages are a cluster mainly of stick and mud; thatch roofs. The south, more abundant in rice and other Highland crops, is somewhat wealthier with houses of red clay bricks and plaster coating.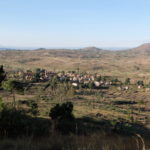 As with other poor and farming intensive people, children abound often borne by young mothers nearly children themselves.
North or south, though, Madagascar's 25 million people are typically friendly and seemingly happy, most often sharing smiling faces with each other or with such strangers as us in greeting (vao vao, they ask, i.e., how are you, or ca va in French) and easy-going curiosity.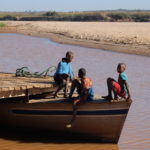 Strong communal bonds and a shared commitment to each other seems to overcome the limitations of hard farm life and limited economic progress. Though they have few possessions, we would inevitably see children playing with makeshift items like tires, sticks, makeshift balls, etc. As we passed, they would salute us with smiles and greetings, salama bazaha (hello, white folk) mixed, yes, with begging for money or "bonbons."
When asking for something is not possible, they become just kids. While taking the Belo Tsiribihina ferry back from Bemaraha and the Tsingys, we returned the waves of a group of kids on a sandbar, then took up the impromptu dance begun by one girl until their whole group sashayed in unison with the two of us.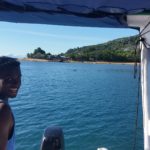 Like the landscape, the population is richly diverse – primarily Malay from SE Asia, and then African, with a sprinkling of Chinese, Indians, and bazaha French. Again and again we were struck by their generally handsome faces and physiques.
Religion is strong as well, a blend of animist from the Malay heritage, replete with fadi (taboos) and ageless rituals, as well as Catholic from the colonial and missionary influence, plus a sizable Muslim populace. Most enjoy the well-researched benefits of multi-lingual capability (more adept at multi-tasking, more adaptable and capable of decision-making, etc.), speaking Malay and French, plus now English.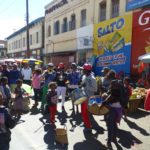 Unsurprisingly, their music blends Asian tonalities with African rhythms and instruments, plus a sprinkling of French pop and, if we heard right, 19th c. French opera occasionally. It varies of course with the mood expressed, but on the whole sounds upbeat and cheery, particularly at public occasions like one day-long village festival intended to drive out bad spirits from the zebu cattle. Everyone seems to have, and chant with pleasure, songs of home and spirit, like the pool worker at a resort who plucked away delightfully on his chirping guitar.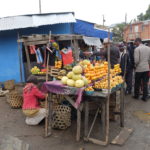 The diet is centered on rice, typically flavored by a bit of zebu beef or other meat/fish and sauce. But the quality of foods, grown organically and always close, is more wholesome than in many parts of the western world. You can still see the colonial French connection, in food and language. Baguettes are everywhere, as are the cheese wedges of "la vache qui rit." Epi-bars (combinations of epiceries and bars) proliferate around the country; patisseries are plentiful. Much of the trade is still with France, as are most of the tourists (with a good dollop of Italians).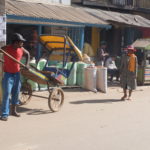 The cultural watchword, "Mora mora" or slowly, deliberately, excuses all kinds of unproductive activity, delays, and casual attitudes to deadlines. Or at least describes them. Long plagued by poverty, the people of the country must take care of the hard labor of farming, construction, transport, and so much more by hand and foot power, not machinery, under very sub-optimal conditions.
For tourists, "mora mora" can be maddening, frustrating, annoying even if you slow your pace and expectations down. That feeling can readily alternate with charming, hopeful, spectacularly beautiful, and easy-going when you let your sense of western time ease.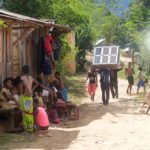 For there is also a strength in this cultural totem. The island's lifestyle is not focused on making money beyond one's needs, but meeting those needs. In many villages, we witnessed, well, not much happening. But we finally realized that the "mora mora" of village life was linked to the demands – or lack of them – by season. And that this freed people to share fully in the life of the community, of ongoing conversation – the men perhaps over beer or rum at a makeshift bar, the women braiding hair or casually weaving.
And, as for the future, they will do alright, we felt. They know how to work very hard, and very smart when they can…the way to the future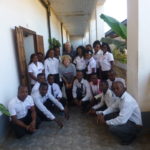 Near the west coast, we passed a common sight, two young men pushing a wheeled wooden cart, really more a set of planks hammered together, up a moderate pitch of a road winding through hilly terrain. On this cart rode half a dozen or more of the ubiquitous yellow 20-liter plastic cans that carry water or petrol or homebrew rum, depending – a heavy load uphill. And a very tough one to control downhill. We had seen other loads on these carts – logs, rice, grasses, cane and such – all around the country. The oversized cousins with much larger loads were pulled laboriously by pairs of zebu bulls.
Of the two pushing this cart, one was perhaps 20, the other under 10. Like Camus's Sisyphus, and their counterparts along the road, they did this labor all day, each and every day. As we passed, the young one turned to us, not weighed down by the toil, but in glee, as had his counterparts in countless villages as we passed. With a broad smile and no other intent than delight, he waved vigorously and cheerily belted out the big Malagasy hello, salama bazaha!
Departing the country left us a bit torn about its condition, and a bit sad, but so pleased we were able to experience what we did…and as hopeful as that boy.
(Also, for more pictures from Madagascar, CLICK HERE to view the slideshow at the end of the itinerary page.)