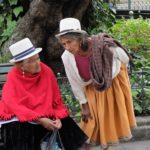 We came to Cuenca mainly to study Spanish for a few weeks. After four and half months of non-stop touring and activity, during which we learned scattered bits of Spanish, we thought we should try to consolidate our learning with formal classes.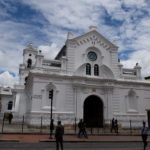 There were many other possible places in the four countries we visited. Big cities like La Paz, Quito, Medellin, or Cuzco offered good climates and pleasant neighborhoods. Others suffered from overcrowding or steamy weather. All had perhaps too many diversions for the serious students we aimed to be. As Goldilocks said, too big.
As for too small, less populous towns seemed very confining, or not very easy to reach or leave.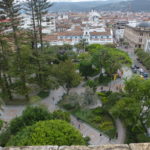 Some seemed just right. Cali, Sucre, Arequipa and Cuenca were among the places we had visited that offered enough big city food and entertainment options along with small city livability. Of these, we chose the World Heritage City of Cuenca. We had only spent a few days there, but had learned a lot more about it from ex-pat New Yorkers whom we happened to meet while pondering gelato options near Cuenca's central plaza.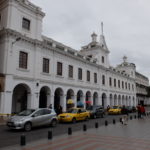 Cuenca has a moderate, steady climate with temperatures ranging from 15 to 20 degrees C (though it's near the equator, it's at 2500 meters or about 8600 feet in altitude). The water in the highlands here is drinkable from the tap. The cost of living was low. Apartment rents run about a third of what you would pay in the heart of US cities. Food is cheap and varied due to the steady growing conditions and multiple climates around the country.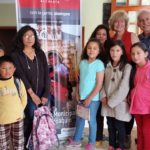 And, both culturally as well as naturally, there was enough going on to keep us diverted if we had any extra time. Checking it out, we found that there was a highly rated Spanish school, Yanapuma, which also offered volunteer opportunities (such as teaching local children English).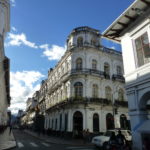 What we discovered once we arrived was that the same conditions that led us here for a short time have also drawn many, many expatriates full -time from the United States and other countries. They find many other side benefits as well, like high quality health care (we needed to visit a dentist here, who turned out to be from Kansas City) and very affordable health insurance with global coverage. Plus, the local currency is, yes, US dollars.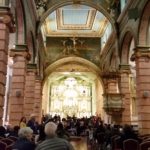 The majority of the ex-pats live in an ex-urb of Cuenca known, somewhat sneeringly, as Gringolandia. There restaurants, stores and other services cater to the likes and dislikes that the gringos bring with them. It can feel like you've never left the States. Even those who live in the more Ecuadorian central city flock to social gatherings, concert events, bars and clubs heavily frequented by other gringos. For example, several venues feature a rotating line-up of gringos playing jazz. The Orquestra Sinfonica of Cuenca, a surprisingly good ensemble of Ecuadorian musicians, mainly performs works from the European repertoire and is led by a German conductor. Soirees of chamber music or singing by local artists don't exclude locals from the audience, but don't seem to attract many either. Nor do you see gringos much at the local churches or cathedrals on Sunday morning, but rather at alternative evangelical or "international" churches" where the service is in English.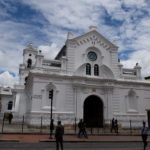 Many ex-pats make a stab at speaking Spanish, but despite years of living here most that we encountered "hadn't quite gotten going on that" or were not much better than us after just a few weeks of Spanish school. At events, English is the go-to language.
The gringos prefer to take the ridiculously cheap taxis, whose meters tick up a penny at a time and cost $2 or so for a twenty-minute ride to the airport. You don't see them on the busses, with their engines roaring and drivers careening around corners madly, though the fare is just 25 centavos.
Like invasive aquatic plants in lakes, the gringos even alter the ecology of the city. Store owners and restaurateurs, along with their employees, now speak more English than in similar cities within Ecuador or elsewhere in South America. Outdoor bars, normally uncommon in the chillier highlands, start occupying plaza space and patios. Specialty markets and large sections of supermarkets supply specialty goods rare in the stores that primarily serve locals. And prices creep up to pull more of those looser dollars from the gringo pockets.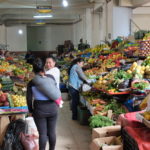 Our first reaction was to deplore the behavior of the gringos and their effects, how they form a parallel world for themselves within the otherwise Ecuadorean city. But we recognized how easily we ourselves could slip down that slippery slope into the parallel world, given the cultural, food and entertainment preferences we also carried with us. And how much easier it was to connect with others in English than in Spanish.
We shopped the local mercado for familiar and very unfamiiar produce; but we did buy specialty items like sour cream and blue cheese at the SuperMaxi. We took the buses everywhere and preferred cafes with local foods, but we also frequented the outdoor bars and those cultural events like the Orquestra.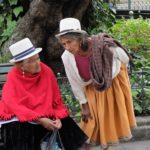 As Mark Twain observed in his book, The Innocents Abroad, changing one's own cultural biases and preferences is nearly impossible in engaging with another culture. If we did move here as ex-patriates, would we just be interlopers like Goldilocks, or be like those aquatic plants, forcing the lake to adapt to us. Or would we work hard enough, and be adaptable enough ourselves, to make the new culture our own. Or could we, perhaps, find a middle way that felt just right?
(Also, for more pictures from Ecuador, CLICK HERE to view the slideshow at the end of the itinerary page.)