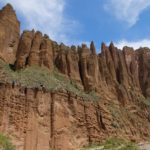 We were reminded of Sedona, and the multi-colored sandstone formations of southwestern US parks. But, like most other delightful natural sites in the world, the Valley of the Spirits offers its own special attraction. Located a few hours outside of central La Paz, this valley has long been the place of dark legends.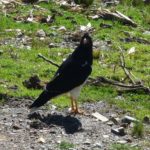 Indigenous myths abound due to the strange shapes in the sandstone rock, as well as the unusual, fantastical patterns carved by erosion in the composite rock and clay.
It was a good omen, we were told, to be greeted at our lookout point by two Mountain Caracaras, locally known as "Ave Maria" eagles.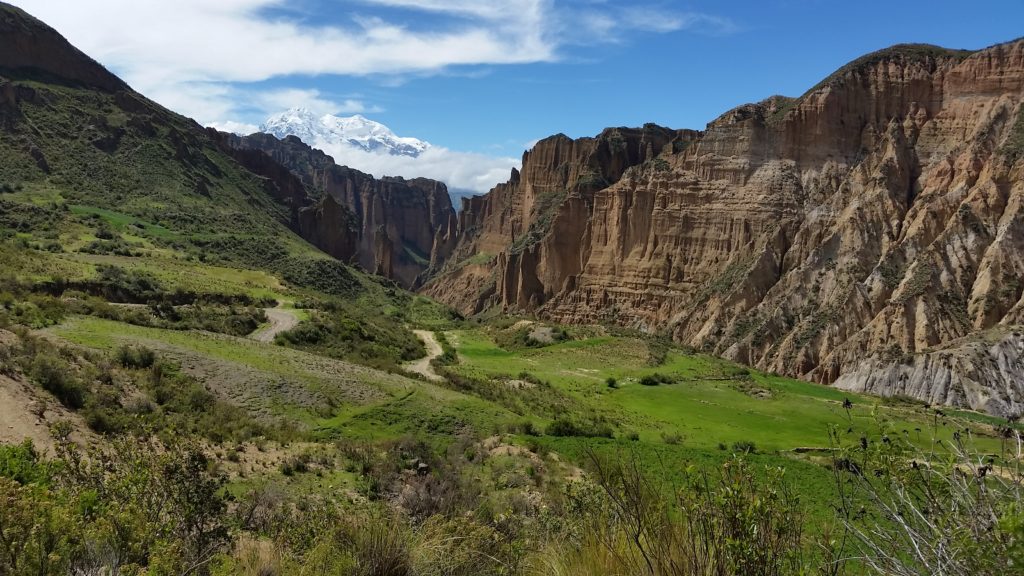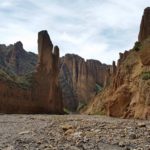 Then we descended into the valley, with a vista that balanced the sandstone beauty below with lush green farmland around us. In the distance, the brilliant white cap of Mount Illimani topped the panorama.
Along the bottom of the canyon, we dodged back and forth across streams, awestruck by the 200-meter high cliffs of red rock on either side of us, in all its manifold shapes.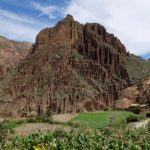 As we exited the valley, roughly eroded hills formed a less colorful, but strikingly different vista.
In the bright mid-day, we had encountered no untoward spirits; yet we found our own spirits uplifted.
(Also, for more pictures from Bolivia, CLICK HERE to view the slideshow at the end of the itinerary page.)