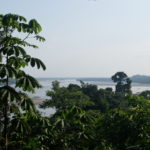 In the Amazon jungle of Ecuador, far from the border town of Coca and hours down the Napo River, we did several safari walks.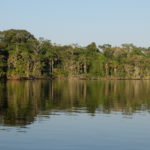 We were based at a lodge (La Selva Ecolodge) on a broad lagoon that attracted a wide variety of birds and monkeys, as well as barely visible cayman.
Near to us was the Yasuni National Park or Biosphere Reserve, a thick forest that climbed low, ancient hills and traced the riverside.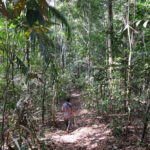 Once off the lagoon, we had to work hard to find the prolific life within. In the Amazon jungle, open vistas are rare, either man-made or along waterways.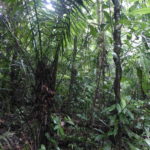 The parks offer improved paths that you'd think you could follow, but the norm is a tangle of growth with barely perceptible trails. Even the locals who know these trails well can get lost if they stray just a few meters away.
Of course, the wildlife knows its way around and how to avoid the visitors.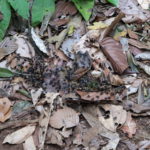 Mammals, like the jaguar, are elusive, mainly prowling at night. We were fortunate to find the scat left by one, complete with the alpaca hair he eliminated after dining on one. And then there were tracks of wild peccaries among others.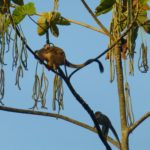 Or they move quickly in and out of an area, like the monkeys swinging up high through the trees for morning feedings.
The frogs, though noisy, are diminutive. Our guides continued to amaze us by finding the little things and deftly delaying them for our inspection.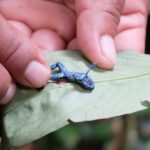 The insects are also evasive, often blending in with their environment or most active at night. And then there were some so bright and colorful that we too could find them.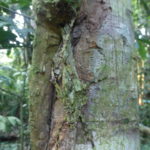 Even high over the canopy, upon a lookout built by locals around a tall tree, the birds are quick to play hide and seek. Below, it's even tougher, except back at the lagoon's edges. Still, it typically takes a sharp eye and a practiced one to detect, let alone identify, them.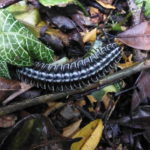 With a lot of expert help, we saw 99 different species during our walks and boat rides. Most of these were new to us.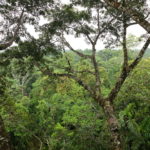 But the thickly wooded landscape kept luring us to make the effort, and discover the life within. We loved the treasure hunt – both in the day and the night – for the life that hides in that tangle.
(Also, for more pictures from Ecuador, CLICK HERE to view the slideshow at the end of the itinerary page.)