The town of Villa de Leyva is perhaps a kilometer square, but it features one of the largest cobblestone plazas in all of South America. Around the square and in the grid of streets, many buildings date from the 16th through 18th centuries. Many of these feature open air atriums within, the way the early Spaniards cooled off and the way current visitors find refreshment or rooms for sleep. The result is a harmonious, generally quiet town that attracts many tourists from the large cities.
We happened to be there on New Year's Eve, when the central plaza filled with thousands of people. A band played Colombian music like the pulsing cumbia. At midnight, they all enjoyed one of the best fireworks displays we had ever seen.
In the vicinity of the town are several curiosities.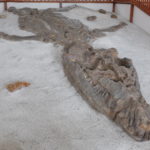 The oldest, at 60 to 70 million years, is a fossilized skeleton of an ancient sea creature, a Kronosaurios, originally about 9 meters long. It's displayed in the place where it was found by a local farmer along with other fossils of various sea creatures including caracol-shaped animals, some of which are a meter in diameter. Signage shows a Kronosaurios going after one of these for lunch.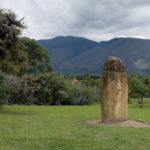 More recent are the pre-Columbian archeological finds at El Infiernito, or Little Hell to the Spaniards. Their name arose, it is said, because they thought the phallic columns all over the site were blasphemous – and would have condemned the former tribes to perdition.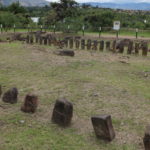 At the site also are an array of columns that are positioned to measure the progress of the sun, a local version of Stonehenge with smaller and more plentiful stone columns.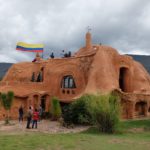 The most recent curiosity is a clay house built by a local architect. It looks like one of Antonio Gaudi's creation or a model for a live animation of the Flintstones cartoon. It's even known popularly as the Casa de Picapiedras, the Spanish translation of Flintstones.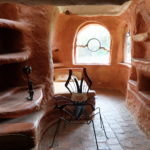 Inside it is fully functional as a modern house, with quirky sculptures and molded clay walls and other features.
(Also, for more pictures from Colombia, CLICK HERE to view the slideshow at the end of the itinerary page.)