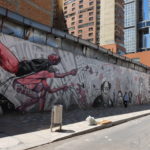 Bogota has a vibrant street art culture. It began decades ago as expressions of rebellion by the young along with distaste for civil war politics, the political corruption that impoverished many, and the pernicious drug trade.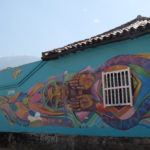 Much of the painting still has a social and political purpose, such as the work of Colombians DJLU or Guache, now warning about the impact of resource development on indigenous peoples or the social damage from an unequal society. But it has added other flavors – celebrations of Colombia's beauty and people, the whimsical and the weirdly esoteric.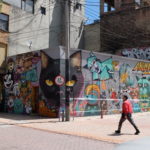 Artists from other countries, like Australia and the US and other Latin American countries, have added to the splendor of the city's walls. Multiple styles of wall covering (freestyle paintcan, stencil, hand-painting, mixed mode, etc.), sculptures and masks are part of the mix. Even the naturalist paintings often have fantasy elements. It's constantly changing, with five years as long as anything lasts on the street walls before another artist replaces it.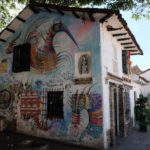 Once it was a crime. But the killing of a 16 year old painter by police brought outrage and change. Now, individual artists come from all over the world to leave their mark, joining with Colombians and "crews" of street artists in decorating the city. Some of the best know crews like APC work in different styles and techniques.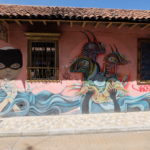 Homeowners, cafes, restaurants, hotels, and the city itself work with artists to decorate their buildings and other structures. It's not unusual for these to welcome an artist's efforts, for it forestalls uglier graffiti and adds a conversational or promotional flair to your place. For example, an unusual hair cutting salon sports work by two artists who coordinated on the piece, one of whom was the well-known Rodez, whose style features imaginary creatures with many eyes.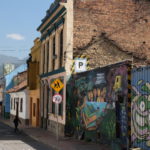 His work – for now, vibrant despite some fading and later tagging – also adorns the oldest building in Bogota, a colonial era home whose graffiti would seem somehow sacrilegious in another town.
We did a two and a half hour walking tour to learn about the history and the messages. It's free (tips welcome for the very informative guides) via the daily Graffiti Tour. But that's just a sampling of all the colorful art decorating the city.
(Also, for more pictures from Colombia, CLICK HERE to view the slideshow at the end of the itinerary page.)