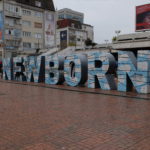 Kosovo is newly emerging as a country, the latest from the former Yugoslavia to be independent – barely so with the ongoing help of NATO and the US since the 1990s. There's a lot of tough history here, but we found so many good things to enjoy in this new-born place already.
Kosovo had long been claimed by Serbia as part of its country, largely due to medieval historical and other cultural ties. Based in Kosovan land, the Serbian Empire flourished from the 13th to the late 14th century before yielding to Ottoman control by the 15th. Its imperial capital was Ras, just north of the current Serbia-Kosovo border near its successor town Novi Pazar. Within Kosovo, early Serbian kings founded four of the most important extant Serbian monasteries and churches.
These monasteries have survived as living institutions, though destruction over the centuries has left plenty of ruins within the monastic walls. What is astonishing is that the frescoed churches have survived, still resplendent with painting. While Giotto and Cimabue adorned chapel walls in Italy with sacred art well known in the west, anonymous 13th and 14th century artists masterfully covered the walls of these royal Serbian churches.
Because of UNESCO designation, we decided to take a look, and couldn't believe we had not known about such treasures before. Partly because these are still active churches, where Orthodox Christians regularly pray, and perhaps due to their Heritage status as well, visitors are not allowed to take photos (others took these). We were forced to look – and look hard at the hundreds of images, scenes and figures. And, though we pored over specific panels for a long time, the overarching multiplicity of vivid paintings is truly breath-taking, even humbling. Standing in the central vault of these churches, you don't need to be religious to soar visually and spiritually aloft, past the saints and reverent Biblical scenes, to the great domed image of Jesus overhead.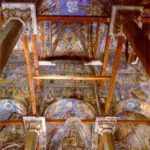 We first experienced this amid the 13th century frescoes of the church at the center of the Visoki Decani Monastery near Pech, or Peja. An attendant keeping an eye on things showed us some of the oldest and most notable of the paintings, pointing out as well the prominently placed images of the royals that paid for the church. They spared little expense here, laying local marble for the floors and lower walls, as well as enriching the paint, for example, with expensive lapis from Afghanistan. The entryway, or narthex, was vast, with enough light to let us see the fully decorated walls. Within the main hall of the church, not yet lit as planned for visitors, more splendid imagery swept up and around us.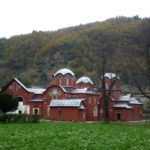 Another monastery in a mountain setting nearby, the Patriarchate of Pech, is actually a complex of four churches connected to each other, but looking like one multi-domed structure from the outside. After entering the grand narthex of the overall structure, you can then enter three large chapels built at different times and in different styles. The center one was built and adorned with frescoes in the mid-12th century under the leadership of the successor to the founding father of Serbian orthodoxy, St. Sava. The two other churches that flank this one were added in the 14th century. On display all over the walls are several centuries of styles and motifs in Serbian religious art. A smaller church, St. Nicholas, is attached to the outside and entered separately.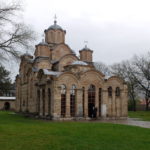 The church at a third monastery, Gracanica, is an architectural gem of many tall domes. Though much smaller than the others, the church is also full of lushly decorated images, which were being restored when we visited. The workers showed us the painstaking work behind all the scaffolding, explaining how they aimed to revivify the frescoes but not to update them or hide damage done over centuries.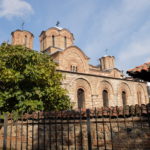 At least we could view its splendor. The fourth major monastery, Our Lady of Ljevis church in Prizren, was mostly shut down in anticipation of future work inside, unless you just happened to locate the presiding priest to open it up.
Given all the wars and sectarian conflicts over time, it's some kind of miracle that the damage has not been worse, even while other structures have fallen. The great Serbian empire was already in decline when the Ottomans decimated Serbian forces at the famous Battle of Kosovo. That day, 28 June 1389 (or 15 June in the Julian Calendar), is a national holiday for Serbians. It's also the St. Vitus Day (Vidovdan), a day which curiously marks so much else of significance in Serbian history – including the assassination of Archduke Ferdinand by a Serbian nationalist to ignite WW1, and the day Serbia again declared war on the Ottomans in 1876.
After the two World Wars of the 20th century, and the mashup of various ethnic groups into Yugoslavia, that country collapsed along with Communist control in 1990. The ancient ties justified for many Serbs, and for their leader Slobodan Milosevic, a fight to retain historical lands – and to unite with other Serbs in Kosovo and Bosnia. Fighting turned ugly and into a religious war because both of those countries were predominantly Muslim.
The war ended for most of the Yugoslavian countries in 1995 with the involvement of NATO and the US. It took 11 more years of wrangling and negotiation, however, for Kosovo – nearly 90% ethnic Albanian – to be declared independent. Even then the disputing continued especially in the north of Kosovo adjacent to Serbia. Fighting and attacks continued to erupted, including retaliatory assaults on these same Serbian monasteries. Even now, an international force guards several of these, notably Decani.
Fortunately, things have cooled down since the 2013 accords, but we still had to register and hand over passports to enter Decani and Pech. We were told we shouldn't pass through northern Kosovo, and could not cross the border from Kosovo to Serbia directly (so we went thru Montenegro). Only next year will Kosovo start using its own international phone code…it has been using Slovenia's and Serbia's country codes. Also, the cities sport two different names, from the different languages, depending on your affiliations.
It will continue to take years for Kosovo to work its way out of this historic tangle. It's still hampered by pollution, limited jobs, bad traffic, weak infrastructure. Nonetheless, all over the country you can see economic improvement and growth. That's the message of a verbal sculpture in the heart of Pristina: NEWBORN, it reads, proclaiming the emergence of the country. Every year it is repainted adding a layer of meaning; this year a pattern of barbed wire crosses all the letters, heralding a release from the chains of the past.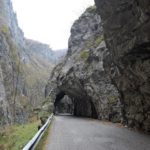 And Kosovo should be new-born for visitors as well. When they come, they will find great beauty in the western mountains and eastern hills. We hiked just a small part of a magnificent canyon within Rugova National Park near Peja/Pech and its monasteries, passing charming farms and villages, forests and mountain vistas.
Visitors will find treasured antiquities like the monastery frescoes and Ottoman era mosques or hamams.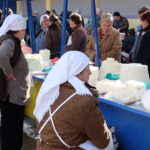 They will find a love of fresh food, as the robust markets demonstrate. Every family seems to harvest a bounty from their gardens – in the fall, our host offered us nuts, apples and cabbages from nearby plots, as well as homemade cheese, preserves from figs and blueberries, as well as homemade wine and raki (a grappa made from grapes or myriad other fruits). Every week in Pech, local farmers assemble with their array of hand-crafted cheeses at the famous cheese market near the old bazaar (now updated to a kind of shopping mall). Nearby streets buzz, we found, with the open air sale of produce, furniture and anything else locals could want.
Visitors will also find increasingly vibrant cities. Pech has its contemporary upgrade of the old bazaar and suburban sprawl of shopping malls and big box stores, close to charming homes (one of which we stayed in).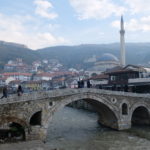 Prizren retains its charming old town, full of Ottoman-style houses and mosques. The largest of these, the 19th century Sinan Pasha, dominates the cityscape with its elegant turrets and imposing dome atop extensive floral decoration. Along the picturesque river, and spilling into adjacent streets, a lively café culture draws huge crowds even in chilly weather, while a bit farther off a typical European high street offers stylish goods.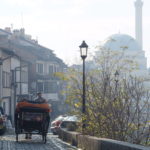 Pristina, the capital, is often stalled with traffic. But, on foot, it's a delight. In one part, the old Ottoman neighborhood, within which the main open air market operates, you feel you have walked back in time.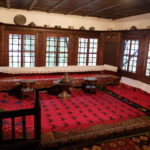 Various active mosques there and a museum of Ottoman family life within an actual home add a historical and religious perspective. By contrast, however, a large westernized building houses a National Museum still struggling to open its collection on a regular schedule.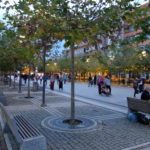 We wandered the broad pedestrian boulevard and massive open piazzas, lined with trees and graced by numerous cafes and restaurants, as well as international hotels. Nearby, the traffic-clogged streets like Bob Doll (Dole) and Bill Clinton Boulevards, among others, feature a few high rise buildings, more hotels, malls and shops.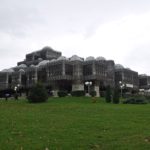 The university sprawls in another direction from the center, with students constantly bustling to and fro around the National Library whose design was inspired by Bucky Fuller's geodesic forms. Hip districts and diverse upscale restaurants have arisen in another direction to cater to those who are gaining from the economic changes.
And visitors will be greeted by a welcoming people, like our hosts who showered us with extra goodies and help. They love to treat guests like family and relish their strong communal culture. As we learned, parents take care of children financially even into their offspring's middle age – buying houses, sharing residences and so on. Sons and daughters hand their money over to the parents as they can. In turn, when parents are dependent, they are welcomed into the childrens' home.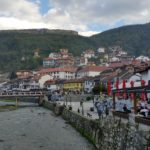 Brothers, sisters, uncles, aunts tend to live close by each other – our Pech/Peja landlord and her relations occupied virtually a whole block of their suburb. Even when work demands you live elsewhere, your weekend place is alongside the extended family. Need a place to sleep? Just drop in. The table is always set for you…
As we felt it was set for us during our visit.
(Also, for more pictures from Kosovo and the former Yugoslavian countries, CLICK HERE to view the slideshow at the end of the itinerary pages.)