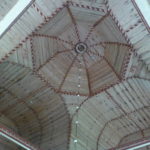 For a traveler, there is never enough time.
Sure, you can see "the highlights" of a city in a few days, of a country in a week or so. But, in most places, the longer you stay the deeper into the uniqueness, culture, beauty and people of a place you get. That's when it gets really interesting. The pleasure multiplies.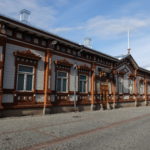 Though we can, and try to, linger much more than most tourists, we recognize the limitations of time. How to choose? One's special interests – whether music, or nature, or birds, or active sports – are sure to lead to a good trip. One other shortcut we have found in choosing among myriad options is to follow the UNESCO designated World Heritage sites.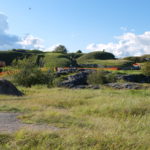 The UN's Education, Scientific and Cultural Organization (or UNESCO) sponsors a list of sites with outstanding cultural or natural value, based on certain selection criteria. Currently, they have named over a thousand around the world. UNESCO sets criteria for the preservation and presentation of these sites, and offers (plus attracts) funding for the purpose.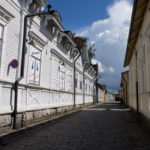 In our month-long trip to Finland, we found quite a range of these…from an archipelago of thousands of islands to a wooden church, from a fortified island defending Helsinki to a whole town of centuries old wooden buildings, from a belfry marking a 19th century scientific achievement to a bronze age burial site. And we missed one that was a bit too far off, a 19th century board mill factory.
They took us farther afield than just the sites themselves, to wonderful places like Helsinki (which we would not miss anyway), into the backcountry of southern Finland, in and around islands of western Finland, to the small towns and open air museums of eastern Finland. Our interests in hiking and kayaking in the backcountry of eastern Finland filled in most of the rest.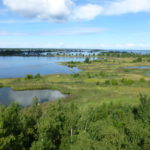 The Kvarken Archipelago: This array of rocky islands was deposited by ice age glaciers just 10,000 years ago. The whole chain is rising at about 8 cm per decade (3 in), creating a unique, evolving ecology and, in a few thousand years, a land bridge to Sweden. The moraines at islands like Bjorkoby present the most evident sign of its glacial history and its future; you can see inland where the seaside villages used to be. The western coast of Finland offers many archipelagos to see – notably Oulu, which is pleasantly set on one, and the bundle of islands frequently toured in a loop out of Turku. But none so clearly demonstrate the forces acting over time.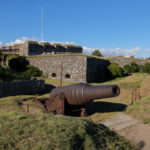 Suomenlinna, Helsinki: For three centuries through the mid-20th, the linked set of six islands known as Suomenlinna (Sveaborg) was modified again and again as a military bulwark against invasions near Helsinki. Though it never really worked, like so many other castles and forts we had seen, this one aimed to defend either Sweden, Russia or Finland depending on who ruled at the time. The record of those defense efforts makes this a fascinating oudoor museum of military technology.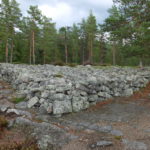 Sammallahdenmaki: Once looking out over the ocean, the hillock here was the perfect place some 3500 years ago for local tribes to build burial cairns for their dead. About 40 are still there. "Church floor" in the photo is the largest, a rocky rectangle 15 to 20 meters long.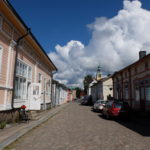 Rauma: Stepping onto the streets here gives you the unreal feeling of sliding back in time. Its exquisite collection of hundreds of wooden buildings from the 18th and 19th century seems untouched on the outside, though extensive restoration with exacting accuracy keeps it all fresh. Most towns have retained these old wooden structures around the center, but this place shows what the towns must have looked like.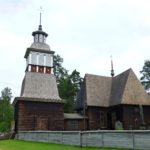 Petjavesi: Outside and in, this 18th century wooden church demonstrates the rustic craft and care given to houses of prayer. Set modestly in a small town, it is far away from the bustle and the popular attractions of Finland. The sublime vaulting of boards mixes with the whimsical (a dopey St. Christopher sustaining the pulpit), the ancient woods glow in the pews and the walls, plus the simple decoration within and outside on the roofing tiles charms the eye. This one stirred us to go to several other rustic churches in the country, like nearby Keuruu, some of which were quite ornate.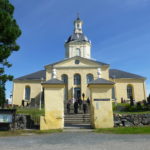 Alatornio Church and The Struve Geodetic Arc: The belfry of this elegant church represents just one point along the set of stations marking the important scientific achievement of first measuring a meridian of longitude, and thereby the globe, in the early 19th century. Centered on Turku Observatory in Estonia, where Struve worked, just 34 out of the chain of 265 markers – from spots above the Arctic Circle in Norway to the Black Sea in Ukraine – survive to mark the achievement. This was the third one we had seen, including a modest plinth in a field and the observatory.
Locals often tell us that we've seen more of the country than they have, just before they start telling us about places they love, but we didn't have time to see. There is never enough time. At least, in choosing to visit World Heritage Sites, we are privileged to see places that have stood the test of time.
(Also, for more pictures from Finland, CLICK HERE to view the slideshow at the end of the Finland itinerary page.)