In part 1, we discover why the Curonian Spit along the Baltic Sea is so unusual and engaging (click here to read it). In this part, we polish up our know-how about amber, the Baltic gold.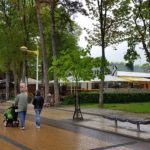 One repeated pleasure of travel is that you never know what you'll learn along the way. Case in point…We knew little about amber except it was supposed to be, well, amber in color, had been part of a treasured collectible from a grandmother, and had a starring role in Crichton's Jurassic Park.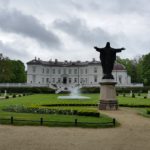 But, on the Curonian Spit and nearby shorelines of the Baltic Sea, we found ourselves in the heart of amber country, hanging out with a friend who was in the trade. We also toured one of the area's many amber museums, at the beautifully restored ducal palace in Palanga. We learned plenty.
The draw of endless beaches along the Baltic and charming old Baltic towns often seem eclipsed by tourists' lust for amber here.  You can hardly turn around on the main streets of towns along the coast, or within the shopping precincts of the major cities, without finding some form of amber peddling.
Russians swarm the coastal towns of Lithuania during the summer, to loll on the beach, drink large quantities of local vodka and buy up lots of amber. Well-to-do Chinese visitors and Arabic buyers have started to join them in the frenzy to acquire amber objects. European and American visitors find themselves seduced as well.
Why all the fuss here?
Amber, we learned, is the fossilized resin – not sap, we were cautioned – from trees, most likely pines though the type of tree is debated now. Millions of years ago, when surprisingly the Baltics were tropical, the resin flowed out of the trees, then coagulated on the bark or dropped on the ground. As temperatures cooled, the trees died, the sea swallowed them up…time, pressure and heating did the rest of the job solidifying the resin into amber.
This sea-borne amber is dredged, scooped or just plain found offshore on coasts around the world. But the combination of tropical conditions and chilly death made the shoreline of the Baltic Sea (including that of the Scandinavian countries) the richest source in the world, well known and prized globally for 2000 years or more.
The same conditions of resinous trees and ages of pressure produced amber extractable from mines, notably in Ukraine and Dominican Republic, typically alongside coal seams which formed similarly from other plants. Mining supplies more and more of the amber, including high quality stuff, but the Baltic Sea still yields plenty. The Russian enclave of Kaliningrad – wedged between Lithuania and Poland – is particularly fruitful, producing about 90% of global yield.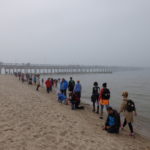 The adjacent Curonian Spit, whose other charms we discussed in Part 1, had its moment in the amber spotlight for a hundred years starting in the mid-19th century. Huge deposits were discovered in the middle of the spit, at Juodkrante Bay, from which workers of a mining company dredged it up in chunks and bits. Not much remains, but tiny nuggets still wash ashore up and down the coast. At Palanga we saw dozens of people sifting the sand and burrowing along the water's fringe to find very tiny pieces of amber treasure.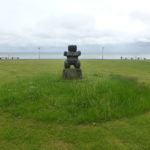 The visitors who come here to purchase amber instead may not know much about the material. They just want some of the famous stuff. Wise purchasing can be a lot more complicated.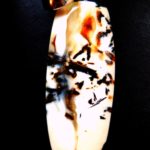 Amber comes in a variety of colors, including blue and red, each prized in its own way. Newly extracted pine amber, surprisingly, starts out milky-white in color. Sun exposure and heating over dozens of years slowly transform the color into the orange-y hue most of us think of. Alternatively, common kitchen ovens accomplish the same thing faster. Usually merchants would rather take the shortcut than wait fifty to a hundred years. Avid collectors, especially the nouveau-riche Chinese with a reverence for longevity, prize the naturally aged pieces. For them money is no object, only supply.
For the rest of us, buyer beware. As we have found elsewhere with local "treasures" hawked to tourists, most buyers hardly know what they are getting, but sellers and commercial producers know all the tricks. You'd best consider as mere souvenirs, not valuables, the baubles sold by most sidewalk vendors. If you want the real stuff, go to a reliable storefront – and pay the price.
There are plenty of other variables in amber:
Size counts. Naturally large pieces are quite valuable. Now, however, most big pieces are formed in processing rooms from amber slivers and pebbles.
Color, clarity, age, processing and other factors determine the quality grade – and the price. You do get what you pay for.
A similar tree resin called copal can look like the real thing, but is often a cheap substitute at the stalls. Real amber gives off a piney smell through heating, either from a flame (don't try this at a stall) or by rubbing it vigorously.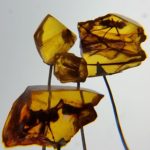 Some of the most expensive, and inherently fascinating, pieces of amber, contain "inclusions." The resin was pretty sticky stuff and trapped a wide variety of flying and crawling things, fragments of plant life like twigs or leaves, and even bubbles.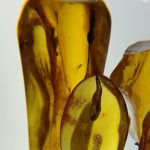 Botanists and entomologists (and bubble-ologists) can spend hours just staring at a prized specimen. Museums proudly show admiring eyes the best of their stash of inclusions, complete with magnifying glass. In a stall, you might find a fake one for 100 euros, undoubtedly created in a back room. A real one, even a little bug in clear amber, can cost 5,000 to 10,000 Euros.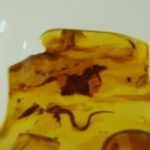 Those of us content to ogle some of the treasures of the past and present, rather than buy, can see fine examples of amber in the museums, both the governmentally run and the private collections of some shops like The Amber Queen. At the governmental ones, like Palanga, you can learn about the material itself, how it forms, as well as its history in trade, its use in jewelry and the life of those things in the inclusions.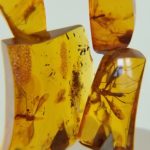 A good collection can also show how amber satisfied the desire for the wealthy to display their fortune outwardly. Doing so with amber goes back at least a thousand years in the Baltics. By the 19th century, women preferred huge necklaces with large amber stones or smaller ones set in silver with little pieces dangling from them. Showing off via amber also took hold in Germany then. Saxon women, for example, created 10 cm wide choker-style necklaces for their weddings, closed by a silver clasp embedded with amber pieces. Brooches, pins and such became popular with wives of rich landowners as well.
Shops today still sell copies of jewelry favorites, like those necklaces of amber balls, along with kitschy items like pint-sized animal figures and key chains. But local artisans do make more aesthetically pleasing objects and jewelry. The Palanga museum ended its exhibit with a display of one Lithuanian designer, Feliksas Daukantas. The display was wisely placed next to its own amber shop. He and his followers aimed to be true to the natural qualities of amber, even when assembling different pieces. The examples we saw were often exquisite and luminous, with a delicate touch.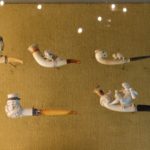 Men across Europe and America were also not indifferent to the delights of amber, developing a yen for smoking pipes fitted out with amber mouthpieces. As the smoke heated the amber, it released that piney flavor somewhat like mentholating. Even today, aficionados believe in amber's health-giving properties. That's why they like whiffing the scent of heated amber or inhaling the dust shed from grinding or polishing the stuff.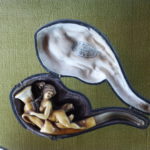 At the museums, we saw elaborately carved bowls for pipes with amber mouthpieces – the kinds of figures you'd expect for a 19th century man's vices:  wild and mythological animals, nude women in sexual poses, bearded philosophers, even figures of subjugated black men and women. And we saw unexpected ones like death's head skulls.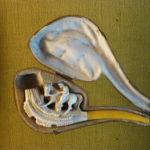 Other men's items, viewable in private collections and available from fine auctions, have darker associations. The Nazis developed a fondness for all sorts of things made of amber, including clocks and desk boxes, office tools and myriad other objects. The impetus was Hitler himself, who was fanatical about amber. He ensured a plentiful supply of products by running an amber factory in the Baltics full-time. He gave amber gifts and his minions followed suit. From Hitler himself, top officials might receive, as a special gift, a copy of Mein Kampf with a weighty binding made of amber.
You never know what you will learn in travels; that Nazi zeal surely darkened our interest in amber. But few current buyers know about this. They are drawn instead by the age-old allure of Baltic gold in all the forms that modern designers – and the churning sea itself – can deliver.
(Also, for more pictures from Estonia and the Baltics, CLICK HERE to view the slideshow at the end of the Baltics itinerary page.)