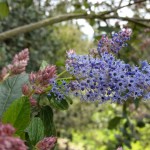 Tourists can easily snoop out the high points of San Francisco: its unique charms like the cable car, steep hills and picturesque bay; or the charms it shares in common with other major cities like superb restaurants.
A tourist's SF is a bit of a fantasy world, one where each day your bedsheets are changed and bathroom cleaned, or vice versa.  It's where all those dreams stirred by images from the past come to life. It's where you're supposed to leave your heart, according to that song.
And then there's real life, best represented by the Other City, as the locals call it, the city of Oakland across the San Francisco Bay. And perhaps the real location of another iconic SF song, the San Francisco Bay Blues, a tale of longing and loss by an Oakland native, Jesse Fuller.
I got the blues from my baby left me by the San Francisco Bay,…
She said goodbye, I can take a cry, I want to lay down and die.
…
Think I'll catch me a freight train, 'cause I'm feeling blue,
And ride all the way to the end of the line, thinking only of you.
Meanwhile, in another city, just about to go insane,
Thought I heard my baby, Lord, the way she used to call my name.
If I ever get her back to stay, it's going to be another brand new day,
Walking with my baby down by the San Francisco Bay.
Oakland itself has seen some hard times over the years. But, on a recent weekend, we completely bypassed San Francisco and enjoyed how the other half lives in and around the Other City. We had the time of our lives.
Aloft in the East Bay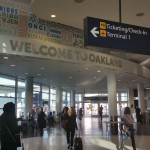 We dropped down into the functional Oakland airport, an astonishingly relaxed experience – compact, quiet, easy to slip in and out of by car. A few days later, when we flew back out, our driver looked around at the meager number of cars driving through and confided that it was relatively busy that day.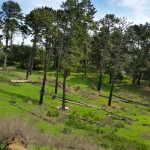 After we arrived, we headed to the Berkeley Hills – popularly known as the East Bay Hills – the limit of East Bay, the area east of San Francisco Bay. The hills are easily recognizable to anyone who has spent time in California, liberally carpeted with eucalyptus and pine, oleander and succulents, or meticulous private landscaping; roads narrow and steep; canyons filled with a cozy mix of woodsy bungalow and multi-floor mega-homes, all seeking the light within the steep canyon banks.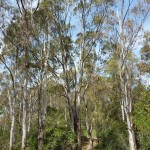 The home of the friend we stayed with had been moved into this canyon decades earlier when the 13 Freeway was developed along the base of the hills. That freeway itself is quite charming, even when you get stalled in traffic, as it passes through lush woodlands.
Just above the freeway, at Montclair, the local residents enjoy a village only a few blocks long, with boutiques, necessaries and local eateries – worth strolling for its charm and for the merchants who will know your name after you've been around a while.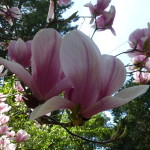 Arguably atop these hills, moreover, you'll find the best part of Oakland, a park system comprising over 120,000 acres in 65 parks, with over 1,250 miles of trails. We sampled just a bit of this massive greenspace, the Redwood Regional Park which runs along the ridge above the housing line of Montclair. Redwood is a huge playground for dog-walkers, runners, bikers, strollers, and hikers.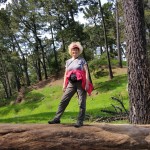 We spent half a day gazing out at the hills to its west, traipsing along a stream bed, then working our way up and down a few canyons.  Bluebirds preened before us; unleashed dogs came up to sniff out a soothing hand. Our host chose another of the many trails, along the rippling terrain, for a nine mile run.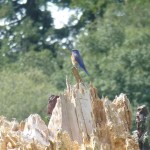 We all felt fortunate to be there for the early spring blooming, especially with those cherry-plums whose white blossoms drifted down on us like snowflakes. But much of the parkland is evergreen, verdant all year round.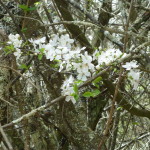 At Bay Level Below
Over two evenings, we explored quite a bit of the Other City itself, only 20 minutes or so by car below the ridge line of those hills.
Oakland, it turns out, is no slouch now when it comes to good food – and as vegetarian friendly as Berkeley must be. The first night, we headed to the old film theatre district around 19th and Broadway. Several of its sumptuous art deco theatres, like the Fox and the Paramount, still blazed brashly into the night. We ate at Duende, a Spanish treat that balanced its carnivore options with plenty of veggie tapas and raciones. We tried a host of those tapas, each of which had a distinctive appeal, and only regretted we couldn't possibly eat more of them.
After that it was time to bar hop, first at Loring Café, a few minutes walk north to West Grand. This funky half-open air bar might have been an old bank once, but was pretty cosy now, with interior brick walls, white classical columns, pastel décor, and blues in the night. When we closed that one down, we moved a block away to Luka's Taproom and Lounge, a kind of wood-paneled diner. Prices at both places were moderate at least, and the vibe pretty relaxed. All the people working here treated us like good friends, never rushing us but always ready to take care.
We could tell that downtown Oakland was still evolving – with its share of seedy bars, and a few wily panhandlers to engage or evade. But we were delighted to discover a welcome mix of ages, ethnicities and social classes in all of the places we tried.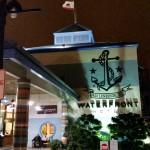 The next night we switched to one of Oakland's newer charms, the waterfront area, once home for Governor Jerry Brown when he was mayor of the Other City. Here, Jack London Square – a set of broad walkways and open spaces – runs along the placid estuary dividing Alameda Island in the east of the bay from Oakland itself. The waterfront honors Oakland's other famous native son, the author who lived here and set off to Alaska from the harbor.
Though the harbor walk was somewhat quiet that night, we could tell how busy it could get on a pleasant day. Certainly, there was plenty of action at the new entertainment complex called Plank. Its bowling alley, bocce ball arena, and huge outdoor beer garden, lit up by inviting fire pits, buzzed with late night eaters and drinkers.
Nearby, past an oversized inlaid compass, you could take the ferry across the bay to San Francisco, if you really wanted.
Farther along the harbor – past loft residences, other restaurants and hotels – we stopped at another large plaza near bridges over to Alameda. At the center of the plaza squatted two wooden structures both associated with Jack London. One was an actual log cabin moved here from Alaska, a cabin that could have been the one London occupied up north, or at least quite like it.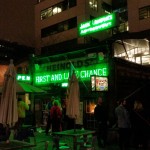 The other was the quirky Heinhold's First and Last Chance Saloon dating from 1883, the last bar before travelers headed off to distant locales and the first one they or local fishermen could drink at once back on land. Its alter-ego is "Jack London's Rendezvous," for the bar was featured in scenes from London's Call of the Wild and The Sea Wolf. You enter the single room, about 20 or 30 foot square, down a steep ramp because the whole building as well as the bar are canted at a steep angle, the result of settling due to the 1906 earthquake. It stayed that way because no one wanted to fix it up and ruin its slanting charm. Original decorations and tools from the turn of the century still adorn its rough log walls.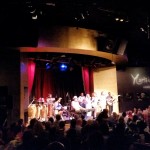 Once they rescued their drinks from Heinhold's sloping bar, the cheery mixed crowd of business people, hipsters and local loft residents spilled out on the plaza around it.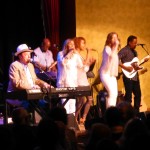 Before the waterfront walk, we had enjoyed a superb vegetarian dinner just a few blocks away at Encuentro, an eatery so good that non-vegetarians flock to its old warehouse space. And we enjoyed Yoshi's sterling space for jazz – and sushi – in a sleek building running right alongside the surprisingly busy Amtrak line to Sacramento.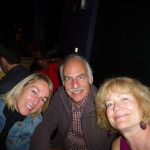 That night it was back to the 60s, with Sergio Mendes, who re-introduced Brazilian music to America about fifty years ago. It was a lively evening, especially when a local hip-hop singer joined in to energize some of the same music Mendes played back then. We were all rocking and swaying.
Oakland, oh, my, you were a delight. Though we could easily have crossed the bay, we never wanted to. We never missed that touristy city of the west bay. Instead we left our hearts in the Other City of Oakland.
(Also, for more pictures from USA, CLICK HERE to view the slideshow at the end of the USA itinerary page.)