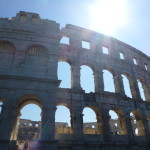 The Dalmatian Coast, the long finger of Croatia fronting the Adriatic Sea, has long been praised for its shoreline delights, ancient ruins, myriad islands and historic cities like Zadar, Split and Dubrovnik. (Click here to see the article.)
Somewhat overlooked by visitors is the triangular Istrian peninsula jutting into the Adriatic at the northwestern edge of the coast. A short hop from the eastern coastline of Italy and Venice, which controlled and colonized the peninsula for a long time, this is Croatia's Little Italy. Here you can find all the pleasures of Italy's east coast – clear waters, user-friendly beaches (clothing often optional), grand villas, gorgeous shoreline vistas, Roman era structures, Byzantine churches and mosaics, as well as myriad restaurants serving Italian cooking. Better yet, it offers an easy-going – and less expensive – experience compared to the better known charms of either Italy or Dalmatia.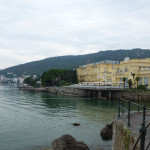 We spent about two weeks here, but we regretted we could not stay longer.  The pleasures we were able to enjoy were delightful ones.
At the gateway to Istria, Opatija centers on a harbor lined with villas built by the well-heeled of the past.  Some of these waterfront villas have now been turned into boutique hotels, or replaced by resorts . Mostly elegant, though a bit run down at the edges, the town itself is clearly a tourist center. With its broad city park and winding streets filled with century-old housing, Opatija makes for a delightful stopover.
Rovinj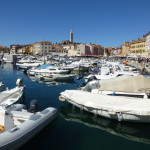 Over on the west coast, you couldn't find a town more picturesque than Rovinj, with its gracious Riviera-like harbor curling along a strip connecting to the peninsula of the central town, a hillock of jumbled, winding streets.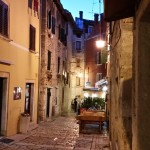 No matter where we wandered in the hilly town, we would find endless tempting nooks from which we could check out passers-by or gaze outward to the sea.
At the top of the hill sits a church, not only honoring St. Euphemia, but also housing her remains. Since the 4th century, she has lain there in a huge coffin, greeting the pious and the just plain curious. From the church tower, a challenging climb up open wooden stairs, we thrilled at the view over the town, the peninsula, the green coast and the many off-shore islands.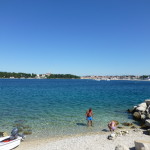 Near town, we found a network of biking and hiking trails, both easy-going and demanding. We could choose among numerous beaches lying up and down the extensive shoreline. As usual, our favorite spots were the naturist beaches, one of which we found at the edge of a huge RV campground where all the residents walked about unclothed. We arrived on bikes, dressed, but readily took off our clothes.  After all, everyone else there was swimming or sunbathing naked. Even patrons munching at the food stand stood around unclothed, though not the cook.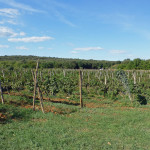 As we learned a long time ago, the attraction in these spots is not a host of spectacular looking bodies. Most people don't look any better naked than they do clothed. The thrill comes from the salt water, or the warming sun, direct on your entire skin. It's quite liberating, while admittedly at times the situations can feel unusual. When we dressed again to continue our bike ride, we floundered around looking for the trail. A courteous German man pointed out the tiny pathway through the woods nearby, then struck up a conversation – all while preparing his meal stark naked in front of us.
Out to sea a bit, several islands offer even more beaches, nudist and otherwise, as well as occasional landmarks like a venerable church on St. Andrew (Red) Island.  Even the countryside away from the shore is lovely, and very bike-friendly, filled with vineyards and olive farms. By boat or car, you also can follow a lovely wide gorge that reaches inland from Rovinj amid lush woodlands for nearly 10 kilometers.
Premantura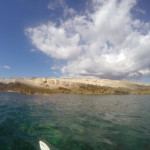 For those who prefer the natural charms of Istria, the lower tip of the peninsula is the prime attraction. A huge park there, covered largely with coastal scrub vegetation and sandy soil, offers seemingly endless bays to drop into and beaches to explore, some busy with tourists and some nearly empty.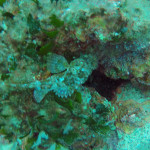 The most popular section is the beach bar at the tip, with natural log seating virtually hidden in various small clearings amid the scrubby trees. Bathing areas and coves nearby attract lots of people. We kayaked to the beach bar from up the coast, and made a side trip to one of the small off-shore islands. A bit farther out we also found some pretty good diving and snorkeling.
—-
The peninsula also offers quite a few other cultural landmarks in addition to St. Euphemia's body.
Porec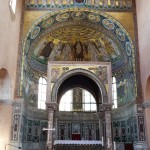 In the modest fishing village of Porec, we had our choice of many restaurants offering high quality Italian cooking. Several overlooked the famous 4th century Basilica of St. Euphrasia. Basilica. There the half-dome around its altar gleams with vivid Byzantine mosaics – gold backgrounds highlighting depictions of Mary, the disciples and several early saints.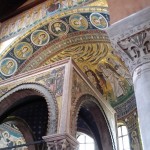 These are artworks older than the world-famous mosaics in Ravenna, and rivalling them in quality. Not surprisingly, it's a UNESCO World Heritage Site. The adjacent Episcopal Palace is now a baroque style museum showing off remains of its 6th century halls, crypts, etc. – spaces that evolved over two centuries of early Christianity.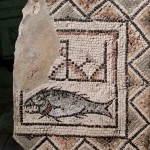 Here we also saw stylish, though not as resplendent, mosaics (notably a fish symbolic of Christ and Porec's fishing community) as well as extensive remains of original floor tiling. We also enjoyed the rich episcopal collection of religious art including an especially moving Vivarini altarpiece.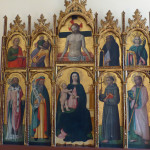 Pula
Those mosaics are not to be missed, but equally spectacular in a different way – and quite surprising –is the huge Roman amphitheatre at Pula, a good size town but hardly one where you would expect a monument to rival the Coliseum of Rome.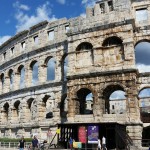 The only Roman amphitheatre standing where all three tiers still rise high from its base, it remains a venue for spectacles today, though ones that are more musical than gladiatorial. Standing in its shadow, we found it hard to believe we were just in tiny Pula on the Istrian coast.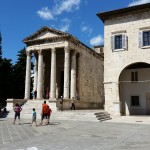 There are a few other remnants of those days in town. We sat in the old stone-paved Forum, where a sky-scraping multi-columned Temple devoted to Augustus kept a watch on us and on all the open air Italian restaurants. Within the Temple, the town museum showed off various friezes and statues from ancient days.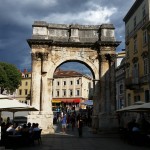 We traced the curving streets where formerly racing chariots sped around the Circus Maximus, and tracked down other remains like the monumental Sergius' Arch.
Whether ancient culture, leafy nature, or bare naturist beaches, we agreed, there is a lot to please a visitor to the Istrian peninsula – even if you happen to forget you're not in Italy.
(Also, for more pictures from Croatia, CLICK HERE to view the slideshow at the end of the Croatia & BiH itinerary page.)