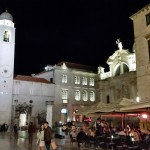 We sat in one of the tight passageways of the city, dark except for the street lamps' yellowish light gleaming on the stone block buildings and slanting off the sleek paving stones of the pedestrian-only street. It all looked wet and brightly reflective, like the late night setting for a noir Hollywood movie.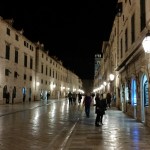 Here, in Dubrovnik, at the end of the tourist season, the interior lights of a few restaurants down the street shone on their mostly empty tables and hushed conversations. We could hear the occasional rustle of couples hastening to dinner or the click-clack of boots. Otherwise, oddly at this hour, the loudest sounds came from a public building near us where children were learning martial arts. Occasionally a pack of them would enter or exit noisily before the quietude resumed.
We were celebrating the end of our three week trip along the Dalmatian coast of Croatia with a night out. Our choice was a restaurant specializing in Bosnian food, anomalously named the Taj Mahal "because it was symbolic" according to the waiter, though symbolic of what we couldn't quite figure out. Like most local cuisines, the food at the Taj Mahal was made for carnivores (a couple next to us had a kilo of sliced meats and sausage on their shared plate). But we vegetarians had a lot of options among the soups, skewers and pies on offer. And it is local cuisine. Bosnia sits just to the north of the long narrow strip of Croatian coastline (and even breaks into it at the dozen kilometer long Neum corridor). The Bosnians and Croatians had long interacted even before jammed together as Yugoslavia around World War 1, though more warily since the so-called Homeland War when it broke up in the early 1990s.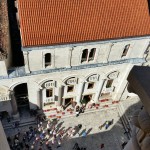 This setting was the perfect place to reminisce about the highlights of the trip, moreover, because its ambiance echoed the special quality shared by all the towns we visited along the coast. And that ambiance, we agreed, was one of our highlights.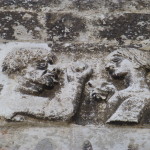 In every town, during the day, walking the sunlit streets or following its ancient walls, we found attractions for the eye – carved details in the stone, wide vistas in grand squares and broad streets, narrow passageways barely touched by sun, statuary and monumental churches. Or, even better, we would sit for a while on some church steps or at a corner of some open space, letting that ambiance soak in – even the endless shops and touristy restaurants failed to tarnish the luster.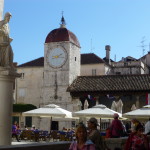 You can feel the ambiance all along the coast. Small towns like Zadar and Trogir, as well as large ones like Split, welcomed us with limestone-laden cityscapes quite similar to Dubrovnik's.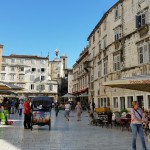 So too did the towns on Hvar Island: Hvar, Starigrad, Vrbska and Jelsa . Individually and collectively, all of them transported us through thousands of years of history – invasion, intermingling, conquest, and more, by Romans, Slavs, Venetians, Ottomans, barbarian tribes, French.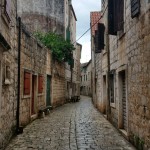 They seduced us with narrow stony streets and charming plazas – all while offering café culture that rivalled any European country.
Yet night-time is perhaps the best time to sit meditatively or wander about. The throngs of visitors can be oppressive anywhere on the coast, but typically they vanish at night, especially at the end of the season, replaced by pockets of sociable chatter and a pleasant hush. Lighting creates wondrous chiaroscuro effects on the city streets.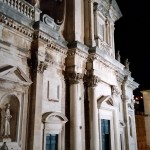 After our dinner that last night in Dubrovnik, we passed from the narrow passage on which we dined to the same plazas and broad streets we had savored during our four days stay here. The churches and palaces were carefully spot-lit or robed mysteriously in shadow. Our faces and the figures of the few people around shifted in character with the play of light.
Away from the main square, we stepped along another narrow lane to a rarity in Dubrovnik's center, a bar for locals at non-touristy prices. We sat outside of its wood paneled and smoke-filled interior at a small table in the lane, listening.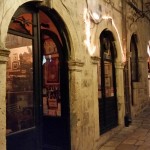 From inside, a TV quietly shuffled commercials and sports. At the main square, two troubadours entertained the trickle of passers-by with slow covers of American folk and pop songs. During their break, you could still detect an intrepid jazz trio a few lanes away, serenading almost no one. At one point, on the cross street above us, a trio of deep-voiced waiters sent Croatian ballads echoing off the stone walls. A few heels clicked by on their way past us up the steep, stepped incline. The rest was silence.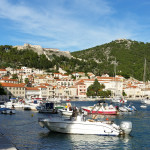 Slight differences keep it all from being too similar. The island towns typically arc around a central harbor, their ancient way of trading with each other and harvesting the sea. Boats bob and tinkle incessantly.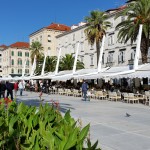 Other towns celebrate their waterfronts with broad walkways, or Rivas, for leisurely strolling or to accommodate umbrella-thronged cafes. Split's center is flat, its peninsula stretching into hilly Marjan, a delightful natural park. On Zadar's Riva, the sea moans through organ-like pipes as the waves hit the shore (see video at end).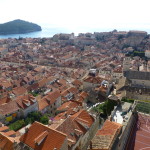 Dubrovnik's picturesque walled city occupies a bowl with steep stepped climbs away from its main street.
Each town also has unique features or monuments, of course. The churches and monasteries house their own special treasures dating back to the middle ages. The hexagonal Romanesque Basilica of Zadar stands impossibly tall, literally built out of the remnants of the Roman forum. The arched doorway of Trogir's medieval church is a fantasia of carvings including an abashed Adam and Eve flanking the doors.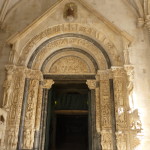 Split's charms center on the old walls of Emperor Diocletian's Palace, still standing after 1700 years or so.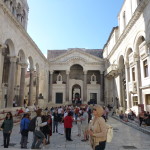 Though most of that Palace is now packed with buildings and shops of succeeding generations, echoes of Rome and early Christian worship remain at the round basilica which supplanted the emperor's mausoleum. There, magnificent reliefs on its wood doors delight and sculpted stone images abound.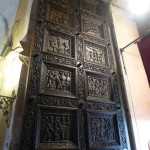 Now, in the 21st century, we could still prowl plazas where the ancients walked, ruins they left and gateways in the old city walls through which they passed.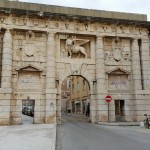 Nonetheless, it would make sense to spend a whole trip in one of these places instead of hopping among them – all the better to savor the ambiance we loved.
The same was true, we found, regarding our second highlight of the trip: the sparkling clear waters along the coast and the beautiful off-shore islands they encircle.
Hvar, Mljet, Lokrum were the few out of so many that we chose to visit. During the warmer months, the options for watery activities are limitless, as are the hiking options up and down the islands' surprisingly high hills. At season's end, we had fewer choices, but found plenty to do as we splashed, kayaked, hiked, biked, climbed or ferried here.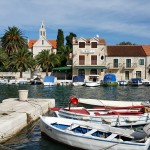 However, as with Dalmatia's towns, we learned we could enjoy the waters and onshore pleasures equally well at any one of the islands. Again, it's wise to spend time around one or two rather than many, not island hop.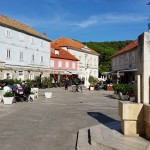 Each island offers unique features too. Some people go to the Peljesac peninsula for the vertically sprawling walled town of Ston, one site for filming Game of Thrones. Some to Hvar as a launch point for puttering about the smaller islands trailing away from it, or to visit its numerous medieval towns. Or drive its 40 kilometer long ridge road so you can dip into its inviting bays.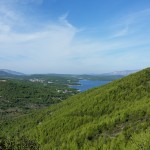 The western end of Mljet is dominated by a national park and two pleasurable lakes in the midst of which ancient Roman ruins and a monastic church still stand, along with the famous local donkeys.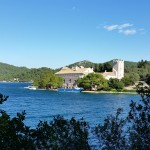 But truly one island can be as enjoyable as another for lingering. A newly married couple we met on Hvar had already spent several months touring Europe. They decided to settle into that island for 10 days, during which they befriended a number of locals including the owner of the bar where they had been watching the rugby world cup – and received numerous invites to parties around the island.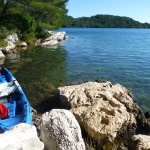 And then there's the sublime pleasure of doing nothing. Did we not enjoy relaxing in the afterglow of our strenuous paddling around the cordial lakes as much as the kayaking itself?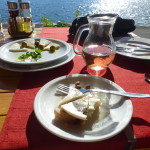 We sat at a quiet café in the cool air and late warming light of the sun. On a rough wood deck overlooking the lakes and their encircling forest, we happily shared Dalmatian wine and homemade cheese dribbled with homemade olive oil.
So physical and recreational features like these – the things you see and do – are certainly the guidebook reasons for traveling here…or anywhere, for that matter.
But, at our dinner, we kept coming back in our minds to an equally powerful highlight of our trip: the people we met during our stay on the coast, both travelers and native Croatians. They turn the cold stones into warm hearths, or the rough coast and cooling waters into life. In addition to the honeymooning couple on Hvar, the list was quite long…and varied.
Lakeside cafe, Mljet National Park

Our lakeside hosts after kayaking, with whom we couldn't speak more than café English, but who graciously offered us homemade brandy and friendly embraces as we left.

The cordial owner of a restaurant who, in the middle of our tour of Hvar Island, would not let us head into the blustery weather without tasting her home-made wine and cheese and cakes, or taking some fresh peppers and aubergines from her garden, because she was intrigued about our travels – and appreciated our pleasure at her offerings.

Split, from Marjan reserve

Our newly made travel friends, with whom we are still in touch, two young women from California, both water polo masters. We met in a casual encounter at a viewpoint overlooking Split. We were taking a selfie, as is our habit, and one offered to take the picture for us. Our commitment to travel fascinated her, in part because she was eager to try a comparable lifestyle. After a few hours' spontaneous conversation, we resolved to have dinner the next night…and enjoyed hours of thoughtful and personal talk on our apartment deck, skipping dinner altogether.

Or the Hvar expat who ran a vegetarian restaurant in town during tourist season, and crewed as chef in the Caribbean during the rest of the year. We talked for hours with him and an Aussie woman from Melbourne who had found several months work at his restaurant while aiming to work her way around the world. When we parted at dusk, he and some local friends were heading off to go squid fishing by boat into the night.

Walled Dubrovnik from on high

The native Dubrovnik operator at a tour agency who most memorably shared drinks with us at that locals' bar. We talked at length about his 5 year stay in America. As a dark-skinned man, he could offer insightful observations about how guardedly he was perceived and on other aspects of American culture, particular compared to how society worked in Croatia. As for the future, he knew there were many ways he could hustle and build up his assets over the next decade or so. Instead, though, he was about to head to school so he could make a livelihood teaching English in other countries while keeping hold of his valuable personal time.

Vertical street, Dubrovnik

Our guide along the walls of Dubrovnik, who told us of her personal experience of the 90s Homeland war – the several year siege of the city, the destruction, the fear, and equally the mutual support among the beleaguered townspeople.  One morning, she reminisced, her father found an unexploded grenade dropped by air just in front of their door. If it exploded, the building would be destroyed. So, after some debate, they moved it away – carefully.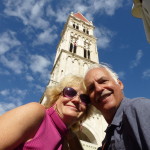 As we finished our recollections of the trip during our last evening, something said at the next table caught our ears. The two diners with the kilo of meats turned out to be a young couple, perhaps newlyweds we thought, whose romantic evening we hadn't wanted to intrude on. But we made a comment in response, and found they were not newlyweds, but a young couple from Ireland just trying to relax from the daily grind with an extended weekend visit to Dubrovnik. Something connected, and we then settled in at our tables for another two hours talk, chatting about politics, social policies, film-making and myriad other topics.
You know, one said, as we departed, it seems the best thing about travel is the people you meet.
(Also, for more pictures from Croatia, CLICK HERE to view the slideshow at the end of the Croatia & BiH itinerary page.)
—-
The Sea Organ of Zadar