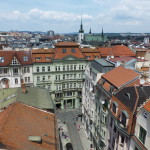 Often travel is best when it surprises. Even when we plan the arc of our trips – X days here, check out this site there, Y days here, and so on – we keep things loose, open to oddities we discover along the way. And we like wandering to uncover more hidden treasures. That means plenty of opportunities to be surprised.
Brno turned out to be a good example. It's the nominal capital of Moravia, which is now really a sizable district to the southeast of Prague within the Czech Republic. In many ways Brno takes second place in interest to its big sister Prague. Yet it delivered quite a number of surprises, especially regarding peas and coffee.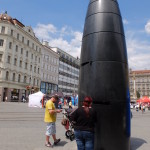 Truth be told, as a tourist, if you skipped Brno, you would not regret it years later. It's pretty obvious from the small numbers of foreign tourists we saw during high season, here or in the rest of Moravia, that most non-Czechs agree. They do the stunning city of Prague and feel they need go no farther. The even less enticing town of Bratislava, Slovakia, sees a lot more visits just because it's a Danube boat cruise away from nearby Vienna.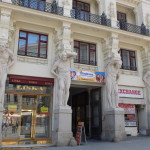 But the compact central area of Brno, oriented around a half-dozen squares – ranging in size from gigantic to compact and roughly aligned north to south – does have some notable attractions. As in Prague, Brno offers a charming, harmonious pastiche of baroque architecture and ornately decorated churches, art nouveau delights and its own style of functionalist Bauhaus buildings – all happily nesting side by side.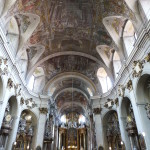 In the largest open space, Svoboda Square, rotate your head near the weird bullet shaped timepiece and you'll spy a sgraffitoed Renaissance palace, a moderne office building, a baroque column with gleaming gold top, various colorful baroque buildings and a neo-baroque one with oddly straining giants supporting the columns.
Another mélange downtown is the quirky town hall with a gothic door way, Renaissance structures within and baroque meeting spaces. Even the tower, with great views down into the central city, has been rebuilt and newly adorned over the years in various styles.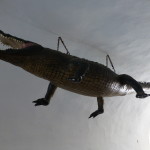 Though it is a bit overhyped, the town hall has lots of stories to tell. Tour guides seem to stop outside, tell the stories and move on pretty quickly. One involves the crooked spire on the portal, supposedly bent by the underpaid architect. And then there are the many legends about two symbols of the city, the hanging crocodile in the atrium and his pal, the wooden wheel on the wall. Choose your favorite tale to tell.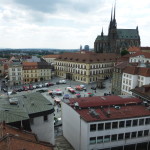 Underground, Brno offers even more weirdness. Close to the town hall beneath the old cabbage market, runs an extensive network of tunnels once used for escaping attacks or storing things, but now open to tourists to explore. Nearby beneath a Capuchin monastery the crypt is filled with mummified corpses of VIPs.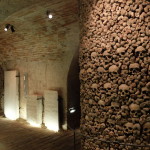 Uptown near Svoboda Square, a former underground cemetery alongside the baroque St. James (or Jakuba) church now features a bizarrely decorative display of thousands of bones buried and reburied there over many centuries.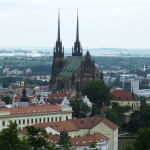 We found ourselves more intrigued by the stuff above ground. Two hilltop structures flank Brno. High atop one hill, a much rebuilt neo-Gothic church St. Peter and Paul is grand in appearance, though its best feature is the enveloping set of garden terraces that provide a grand vista over the town. Inside some expressionist bronzes are stunning.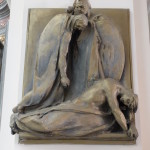 Opposite it, a delightful hillside park leads to Spilberk Castle, one of the many baroque era castles of the Austro-Hungarian princes. It is open for touring, but its own underground section, which served as a prison for a few hundred years, is chilling to see.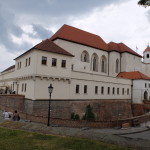 So you can find ways to stay amused in touring Brno, but our stay was special because of four surprises, three of which are associated with internationally prominent innovators we never connected with Brno.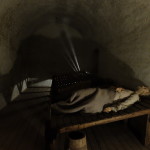 Up on a gentler hillside, one of the great functionalist buildings peers over its gardens into town. The residence Vila Tugendhat was designed by the influential architect Mies van der Rohe at the end of the 1920s. Now it has been carefully restored and opened to visitors…when you can get in.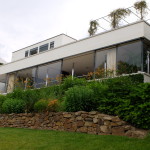 Though many tours run during the day, they're booked solid for months in advance, no matter what language you can endure on the tour. The Vila is a minimalist marvel, with no purely decorative elements. It is literally open to the natural world – the garden, the view over Brno – with floor-to-ceiling window panels that mechanically pull up on the living area below as well as from wrap-around decking at the bedroom level above. Inside, natural woods break the austerity of otherwise white walls and a small greenhouse on one end of the living area brings plant-life inside.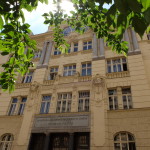 A second surprise was a local hero, the composer Leos Janacek and the extent of music making here. Janacek was one of the most daring composers of the early 20th century, working Moravian folk songs into orchestral and chamber music in a highly original way. Born nearby in Moravia, he spent most of his life teaching here and early on he sang or played organ at the Abbey of St. Thomas in Old Brno. It was a thrill to stand at the church and music school where Janacek played and taught, especially since we had just heard one of his operas performed in Prague. And gratifying to see him honored by a 1960s theatre dedicated to opera and ballet.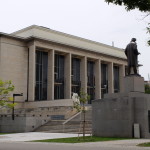 The Moravians love music. Brno is filled with music-making of all sorts, in the streets and from windows around the conservatories. Our local drinking spot had a live band one night singing soft rock standards in English. Some well-oiled Aussies sang along – loudly – very, very late. The next night a solo guitarist strummed country and folk songs. We stayed on a street named for Janacek's predecessor Dvorak near the corners of Mozart and Beethoven streets. The local music conservatory was abuzz with graduations of young musicians cheered on by their friends and families. Numerous festivals and concerts dot the landscape within Brno and the rest of Moravia. During the season, the Brno Philharmonic keeps a full schedule. Even the little town of nearby Olomouc we visited has its own Moravian Symphony where they had just done a performance of Orff's Carmina Burana and a Rossini opera.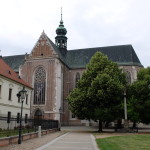 Perhaps Brno's most important surprise, however, was as home to the Augustinian Friar Gregor Mendel, the godfather of genetics. In the mid-19th century, he lived and worked at the same Abbey of St. Thomas in the Old Town of Brno.
For geneticists especially, this is hallowed ground. For his work was, well, seminal. Following his interest in science, mathematics and plant cross-breeding, Friar Mendel did laborious, pioneering research to understand the exact rules by which living things passed on their characteristics to their offspring.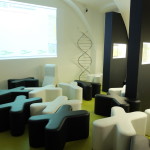 Here at the abbey one can visit a very informative museum that traces his life and inspirations, as well as displaying several hand-written reports he wrote on his results. Thrilling! Through interactive displays, it also reviews as straight-forwardly as possible the laws he discovered, a summation that reminded us how vague we could still be about 150 year old science. And it traces the ultimate inheritance of Mendel's ideas in DNA coding and genetic science of today. Even the auditorium has seats honoring the X and Y chromosomes of parents.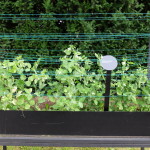 Mendel's great achievement sprang from recognizing that traits (or genes) come in pairs and inheritance could follow mathematical rules. To do his work, he chose a lowly pea plant, pisum sativum (even though he started with mice, bees and other plants). The pea was ideal because it pollinates sexually, mixing male and female elements, but it also self-pollinates so that it is easy to isolate from air-borne influences. Appropriately, a few viney pea plants flourish at the museum's entrance – though Mendel bred nearly 30,000 hybrid plants during the span of his experimentation. The foundation stones of the greenhouse where he did his work are still in place on the Abbey grounds.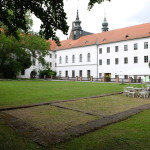 In short, in any pair of traits like round vs. oblong pea shapes, one is dominant and the other recessive. In the plant's offspring, the dominant gene, well, dominates in a predictable ratio of 3 to 1. In the next generation, equally predictable ratios apply. Nor did it matter whether the male or female contributed these characteristics. The traits were in effect always genetically distinct, not somehow blended as per prevailing theories of the time.
Though Mendel publicly delivered his results to various scientific societies, it took another 35 to 40 years before his work was replicated and rediscovered, then another 30 or so before scientists worked out the implications. In yet another 50 years, Crick and Watson stood on his shoulders and mapped out the DNA code.
Here at the Abbey, the foundations were laid.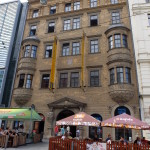 It seemed odd that a café now sits in the former site of Mendel's greenhouse. But the most wide-spread of Brno's surprises are more about stimulants than breeding. This is a town that loves its café culture. We're not talking coffee sipping like the Italians do, though there is plenty of that early in the morning and mid-morning and late all over town. It's also the beer-quaffing early in the morning and mid-morning and all through the day and night. And we're not just talking about beer-bellied workers or partying 20-somethings, though they drink their share. Young couples and old, groups of 50+  women, elder cyclists, and so on – all find the time to settle in at a kavarna or pivovar or restaurace to drink something…and most importantly to socialize.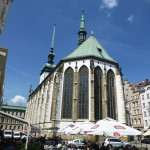 Almost every town square with good traffic has a wide range of these drinking spots to accommodate the locals as they imbibe. It helps that the central four squares in the heart of Brno are large. But, at the constricted space around St. James Church (the one with the cemetery bones), numerous drinking places are filled with ebullient conversation into the night. And in case you remain thirsty after departing the squares, the pubs and cafes lining large and small pedestrian side streets continue to tempt. Even at the clay courts of a large park where organized, refereed team volleyball matches were in progress, the locals were wining and beering on the sidelines to the unique smell of sausages on the grill.
You're never far from a place to gather – or uncover surprises – in Brno.
(Also, for more pictures from Czech Republic, CLICK HERE to view the slideshow at the end of the Czech Republic itinerary page.)