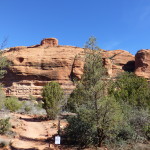 Over 5000 of them, archaeologists believe, thrived in the high and low valleys between Flagstaff and Phoenix, places that people even today consider receptive to good, supernatural vibes. Then, for reasons still unknown after about 750 years, the Sinagua Indians abandoned their homes and livelihood in the Verde Valley around Sedona, joining perhaps with the Hopis up north.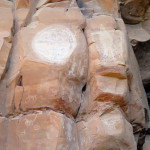 Though their name means "without water" – a name applied to them quite recently based on that given Flagstaff's San Francisco Peaks by the early Spanish – their departure apparently had little to do with dwindling resources. They still farmed productively and traded with neighboring tribes even when they departed.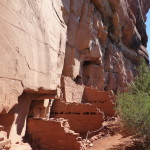 All that's left are remnants of their later homes, brick apartment buildings backing onto the rainbow-hued sandstone caves or hollowed rock faces that characterize this area. Hundreds of people occupied the largest of these buildings, in 30 or more rooms.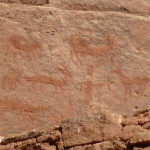 At Honanki or Palatki just outside of Sedona and at Tuzigoot nearby, modern visitors can see what remains, as well as the wall paintings the Sinagua made. Mostly primitive in style, the paintings often depict animals important to the Sinaguan people, tell stories as lessons to the community, or celebrate times of good hunting or growing.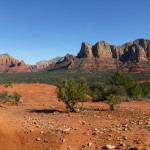 The Sinaguans might have decided to get outta town, but Sedona's gorgeous landscape has drawn plenty of other visitors since then. Especially in the last decade or so, development of state parks around the ruins and drawings has increasingly put the area on the list for jeep-loads of Arizona tourists, young and old.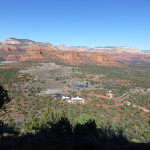 We've been hooked on Sedona for a decade, and have visited a half dozen times in that period. We often tell people we have no favorites among the many striking places we visit, but we clearly consider this place a favorite spot for us.
Over that time, it's hard to tell if more tourists are visiting. But new developments in town and out in the desert mark the ever-growing group of homeowners who love this area too. Trails that used to wander thru empty desert now cross backroads giving access to their homes.
Why Sedona?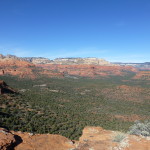 It's an enticing place. For miles around, 300 to 500 foot tall mountains and equally deep canyons, suddenly erupt from the rust-colored desert, though actually formed slowly from the erosive forces of water and wind. Layers of sandstone and limestone, tinted red with iron oxide, produce rainbows of hues. These colors shift throughout the day until the fiery red light of the setting sun turns them into stony flames.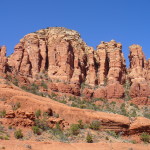 Not so surprisingly, Sedona is well known to those in touch with their higher consciousness. Here you can find natural sites among the red rock formations that they claim are "vortexes," places of restorative spiritual and metaphysical energy. During our visit this year, the three day Sedona Yoga Festival, "a consciousness evolution conference" attracted over a hundred yogas, spiritual healers, yoginis, shamans, philosophers, artists, even 'yogattorneys' and plenty of their adherents. The festival organizers called Sedona "the undisputed spiritual center of the West."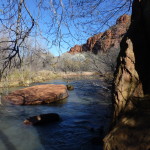 Perhaps we are not quite so tuned into the celestial music of the rock strata, but even we clearly feel our spirits lifted, along with our heartrates, as we savor the landscape here. We love to hike it. Especially in early February, when we typically have come, the warming sun perfectly offsets cool temperatures. The air is as crisp and fresh as you expect. You could do weeks and weeks of pleasurable treks through the elongated canyons below the colorful rock strata or across the surprisingly varied desert landscape or alternatively up trails and crevices of the sandstone mountains themselves. At night, the heat of a whirlpool spa bubbling beneath a starlit sky delightfully offsets the chilly nights.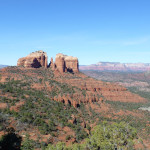 This year we tried to revisit many of our favorite hikes. So we climbed once more the precipitous Cathedral Rock, after adding four hours hiking on a new ridge trail called Highline together with a long, steep descent that ended up circumnavigating Cathedral.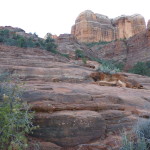 To reach the top of the mountain meant a 30 to 40 minutes scramble up 500 feet of steeply sloped granite surfaces and crevices. At the top plateau, it's breathtaking in a different way. Stratified towers – or are they pillars, spires, organ pipes? – leap up from the narrow ledges.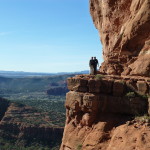 In one direction, sheer faces of the multi-colored rock loom over you, resplendent in the afternoons; in the other, the desert valley so far below extends into the horizon.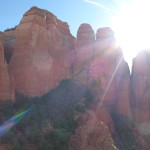 Many climbers divert themselves with photo-taking; others with quiet admiration like the newly divorced man lounging at the best spot for photo-ops with a couple of young strangers. Some feel the deep energy, as Cathedral Rock is one of the most famous of the vortexes.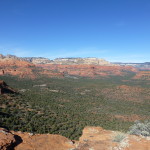 Another day we re-took Doe Mountain, a good steady climb of 400 feet in about 20 minutes, finishing at its flat top, a huge plateau on which most visitors get a bit lost. It's a favorite lunch spot for us, with a 360 degree vista over the Verde Valley.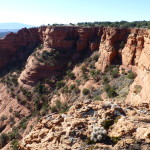 And on another day, we scaled the short, rough face of Coxcomb Mountain. Its top reveals a myriad of rooster-comb spires on one side, multi-colored sheer faces on the others. That day too we added four hours of a meandering desert walk to and from the mountain, a trek even more wandering than usual as, for a time, we lost the trail as it crossed – or followed – a stream.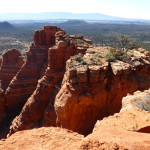 At Doe and Coxcomb, we could feel – and celebrate – how much fitter we seem to have become since our first treks here. Though a few of the scarier parts on those trails seem to have been "dumbed down" a bit to make those sections more tourist-friendly, they are otherwise as vertically challenging as ever.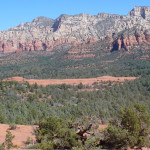 So we decided to skip the otherwise gorgeous canyon walks. We also skipped the diverse beauties of relatively level Chicken Point, a vista all the jeeps head to, and Submarine Rock, mounds of granite afloat in the desert sand.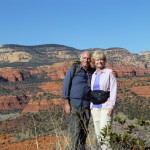 Instead, we opted for the vertical feat of climbing big Bear Mountain again. Bear is a six mile round-trip up and down the equivalent of four mountains. As you climb, subsequent "peaks" reveal themselves at each of the three plateaus along the way.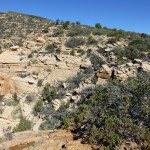 Or you look down over colorful sandstone formations invisible from below. Mounting some of these intermediate peaks is like climbing Doe, moderately steep. Others literally require table-hopping, scaling steeply-set shale rock slabs. And then there's the scary-looking, but forgiving, crevasse to negotiate about half-way up.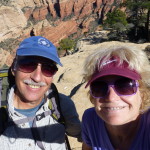 The finish is 1800 feet above the trailhead. We reached that final peak after over 2.5 hours of climbing. For nearly an hour this time we lunched and relaxed. The valley again sprawled gently around us; down Bear's backside, we peered at Honanki and its Sinagua ruins.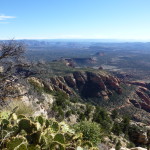 We also chatted with a couple of like-minded visitors, one young fellow from Indiana and another from Chicago. Like us, they were just plain exhilarated with the challenge of the climb and the beauty of the terrain. Along the trail, we met up with locals who have supplanted the Sinagua and regularly take Bear in stride, literally, as most who live here stay pretty fit. One young man said he took 3 ½ hours to go up and back on Bear Mountain; we felt pretty fit taking 4.5 hours. Even the animals are, well, animals when it comes to outdoor activities. Another local we passed on the trail introduced his 11 year old dog, who still does 100 trail miles each month.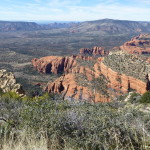 Fortunately, it's rarely too busy on the trails or in town, at least in early February. Despite its many outdoor and indoor attractions, Sedona remains pretty laid-back. So many of the tourists come here, not as gawkers so much, as to step up their consciousness or do the climbs. We're hopeful that, if new housing development doesn't run amuck, Sedona will stay a great place to visit in the future too. If anything, for now, the town has slowly improved over the last ten years. It still has great restaurants and spas, but has made getting about easier with judicious road building nicely integrated into the landscape. And the food has stepped it up too, with a Whole Foods on the main road, as well as two new organic grocers (Natural Grocer, Chocolate Tree) since our last visit.
For now at least, the Sinagua have left the valley in good hands – and feet.
(Also, for more pictures from USA, CLICK HERE to view the slideshow at the end of the USA itinerary page.)