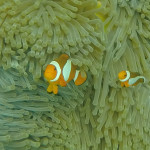 Most visitors to the wild don't want the really wild. The wild is often uncomfortable, hard to reach, dangerous and fickle. You have a few days to visit a wilderness, see the jungle, sail the seas? Most prefer a measure of comfort, easier access, some safety measures….and a near guarantee to see the animals. In other words, most want a kind of zoo with a bit of adventure, they want the semi-wild. That's where the tourist industry comes in: transforming the wild into the semi-wild.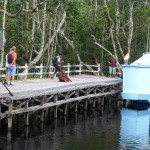 In one way, they do this with preserves, reclaiming protected spaces for threatened animals. Rangers create waterholes, and even feeding stations, to assist the animals but also to gather them for visitors. In the central plains of India, for example, that's why people opt for Ranthambore National Park in Rajasthan to see the rare Bengal tiger. There regular feedings help ensure that tigers appear for the tourists to see. Curious visitors can see other animals at rehabilitation centers and sheltered bits of forest, like the preserve for Tarsir monkeys on Bohol Island, Philippines. These tiny, nocturnal cuties are nearly impossible to find in the wild.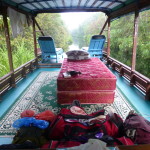 Even in open savannah or the free ocean, rangers and guides know where to take you. Boat tours know where the dolphins tend to be and even toss out fish to help, or deploy helicopters to locate whales on their migrations. Dive masters know where those eels hide and mantas tend to gather. You're in the wild, but in savvy hands.
All these rangers, guides, tour boats make the wild semi-wild, somewhat predictable, ensuring visitors good photo-ops. Otherwise, the visitors are likely to feel they wasted their money or were cheated. At Kabini River in India, we were lucky to see elephants and leopards (over three safaris) even though it was not the dry season when the big animals cluster at what little water remains. But one guest, we heard, harangued the staff because he didn't see any of these on his one safari.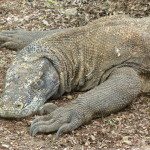 In Indonesia, we ended our trip with two visits to the semi-wild, managed preserves for two very different endemic species: Komodo, home of the rare Komodo dragon, and deep upriver in Kalimantan, Borneo, one of the few remaining domains of endangered orangutans.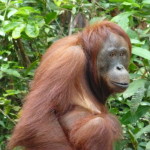 It takes four or five hours to reach Komodo by water. At the island, there are a number of trails you can trek, including some long ones deeper in the forest. Komodo is so large, however, that it's unusual to come across any of the dragons in the real wild. Yet, near the ranger station at the shore, dragons of all ages tend to gather for a whiff of the cooking. They're meat eaters, after all. They're not actually fed, but it's pretty well guaranteed you'll see several there.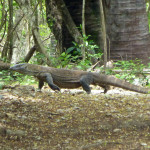 Lying around the station houses like splayed-out dogs, they don't seem very threatening at all, barely semi-wild. Even the roaming deer nearby seemed unconcerned. But looks deceive, as their fearsome claws suggest. These are the largest lizards in the world, up to three meters long and 70 kilos. They can sprint at 15 to 20 kilometers per hour, and take down one of those good sized deer. They even devour huge wild oxen, though they bite and claw those, then wait days for infection to knock the thing out before feasting. With their strong jaws they eat the whole animal, bones and all.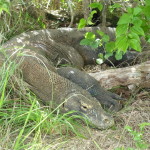 After a big meal, an adult will fast for a month digesting the whole thing. That explains the lazing about near the shore. When you know about their capabilities, however, they are imposing creatures even at rest.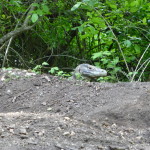 At nearby Rincah Island, the only other that the dragons call home, many of them also lounge around the ranger stations. But this is a smaller habitat, and it is not so rare to see the dragons wild, or mostly so. Though free to choose where to lay their eggs, some females have made nests close to the trails. The nests comprise several deep holes, some filled with eggs, some decoys – and a very wary mother dragon patrolling the space. The rangers know to wander in that direction, but not too close…a protective mother can be quite dangerous. Oddly, the mother typically eats some of her offspring, presumably removing the less fit so the most capable will survive. For their part, the young high-tail it up hollow trees and hide out in the trunks for a few years, protecting themselves from mother and other dangers.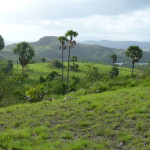 For human visitors, this is about as wild as things get at either island, though attracting dragons for the tourists to see was once a lot more violent. Back in the 90s, rangers used to haul a goat into a cleared pit for the dragons to devour as a kind of show for the tourists. News seemed to have spread among the dragons because they started gathering in numbers that were unsatisfied by a single goat. At times they attacked each other, but reportedly they began climbing up the walls of the pit toward the tasty-looking tourists. That was a bit too wild, the managers quickly reckoned – and stopped the feedings.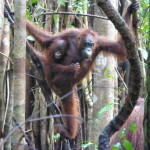 After viewing these mostly earthbound lizards, we traveled by houseboat into the remaining jungle of Kalimantan to see the tree-swinging orangutans of Borneo. Along with neighboring Sumatra, this is the only place that orangutans still live. Their name has nothing to do with their color, but literally means the "people of the forest." Clearly the locals saw in them a commonality of species; there is even a large tribute to their fraternity with us at the nearest town of Pangkalan Bun.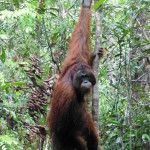 The younger ones and the females are a brownish-orange, close to chimpanzee size. But they get big, especially the dominant males. One 25-year old we saw was over two meters long not even counting the outstretched limbs, and 80 kilos in weight. That imposing figure took our breath away. At any size, they're remarkable to watch, swinging slowly from tall tree to tree or bending younger trees and branches almost in half to move along.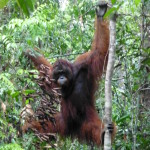 At the preserve of Tanjung Puting National Park, we were pretty much only in the semi-wild world though, as we sat on benches watching up to six orangutans watching us while they munched on a free daily meal of bananas, pineapple, cucumbers and sweet milk. In the wild, and during the rest of the day, fruits, leaves and termites provide their usual diet. We even saw a couple savoring termites along the trail.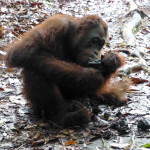 Many of these orangutans had been restored to the wild after serving as pets to Indonesians; all were fairly accustomed to being around people, rare in the wild itself. Our guide knew almost all the names that rangers had given them. The feeding, of course, ensured that at least these few would come once a day to the viewing station and to the visiting crowd from deep in the forest.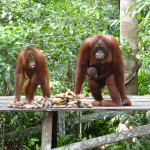 They are as smart as they are adept at swinging in trees. They learn from imitation, with a long period of education from the mother – or even by imitating humans for those needing rehabilitation. It can take eight years for a mother to teach them all they need to know about living in the jungle. We saw the youngest ones tightly hanging on momma's fur; older ones dutifully tagged along as she moved. Orphans can be in trouble, though they are often adopted by females. Orangutans hate getting wet, so they make umbrellas out of the large leaves of the forest when it rains. For safety, they construct a new nest of boughs and leaves every night high up in the trees.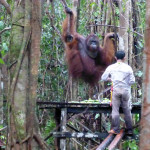 The first sightings of these great apes are a thrill, especially when you see them swing noisily into the area, snatching branches and bending trees or clambering down sturdy vines. But the excitement of watching an ape munch on supplied food wanes fast. Most visitors stay just a short time at feedings after seeing their first. It's just a bit too zoo-like.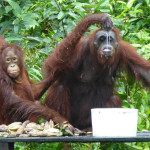 So why bother with a kind of staged wildness?
The main reason, of course, is that you do get the chance to see the animals in their homeland and learn firsthand from experts about their lifestyles.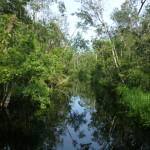 What's more, their homelands – often as endangered as the animals themselves – can be very beautiful. The rolling hills and bright blue bays of Rincah Island in the afternoon light are stunning. The dark tannic river of Tanjung Puting – a narrow passage thru pandanus, flax, fig and other rainforest trees – sparkles in sunshine or enwraps you in its mists.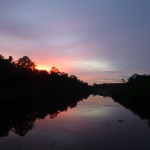 You see other animals that share the same habitat. In our nearly futile search for tigers at Bandavgarh, India, we saw over 50 new species of birds. Similarly, in Borneo, the hundreds of unusual bird species – from tiny spider birds to huge hornbills – attract bird fanciers from around the world.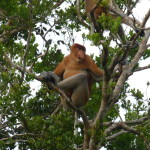 The more communal proboscis monkeys, also endemic to Borneo, are much easier to spot in the wild, an oddball treat as well. And then there was that rare gibbon hanging above us. Fireflies light up trees in the dusk. A large pale spotted butterfly floats like a kite over our heads; a 10 cm spider lies waiting in its web. Under the water's surface at Komodo, clear waters reveal myriad coral displays and an artist's color palette of fish, from tiny wrasses and anemonefish to mammoth mantas.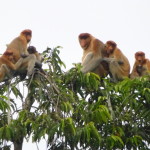 Also, by visiting, you contribute to the preservation of these animals in several ways. Your money is an economic incentive for villagers to preserve the habitat and support national/international conservation efforts. The rampant destruction of rainforest to grow the cash crop of palm oil has no offset otherwise. Villagers work the boats, guide visitors, assist in conservation and rehab efforts, while also harvesting the land in less harmful ways than palm oil. Second, you directly support the rehabilitation work of employees and volunteers alike through fees to the national parks and via tour operators. We were even able to plant a few trees in a former logging area now being reforested.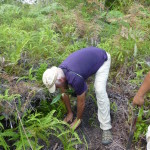 And finally there is the thrill of the hunt. We once did a walking safari in Africa, a much more difficult way to see the big cats and other animals, for they avoid people on foot. But we felt we earned our animals – the lions gathered on the rise of a hill, the elephants suddenly before us feeling threatened, the no-man's land between crocodiles and the more dangerous hippos on the river. Or those lions chasing a couple of zebras around our campfire.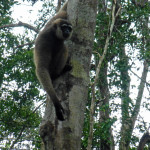 We experienced nothing so dramatic in Borneo or Komodo. But we spotted several orangutan nests. We glimpsed a young orangutan hanging high atop a tree far from the feeding stations. A one-year old dragon skittered across the trail, stopping briefly to watch us before disappearing. A mature dragon lurked in the grasses awaiting some prey along the same trail we were walking.
These glimpses and inklings are not like embracing an ape or doing photo-ops with the mature, lazing dragons – activities typically offered to tourists that we consider nutty. We'd rather gain our thrills from even little touches of the wild beyond the semi-wild.
(Also, for more pictures from Indonesia, CLICK HERE to view the slideshow at the end of the Indonesia itinerary page.)