George, George, George of the Jungle
Lives a life that's free.
George, George, George of the Jungle,
Watch out for that tree!
Turns out that this silly lyric from a long ago animated TV show had a lot of wisdom in it. Every week it showed adventurous George freely swinging like a monkey through the jungle, yet relentlessly bashing into a tree.
For, if you're adventurous, things will sometimes go wrong. That's not some kind of sad reflection on the way of the world, but a recognition that doing new and challenging things comes with a measure of risk. When we're adventurous, we like to think we're taking calculated risks, using our experience or some training to prepare ourselves to handle the situation when things go pear-shaped, as the Aussies say.
In India, we did 6 long zip-lines on the mountaintops near the high fort at Jodhpur, Rajasthan, including one where you had to pull yourself hand over hand up to the end platform. But we had done several in Costa Rica, and we were carefully guided by a very solicitous staff. All that, and a little bit of faith. As for other adventures, we both agree that bungee jumping may not be worth the risk, but sky-diving is still on the list.
We've been reflecting on these matters – and how prepared we really are for some challenges – because of three recent experiences in Malaysia and Indonesia, two we've done many times and one entirely new one.
Lost at sea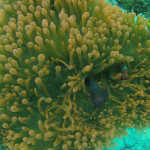 Nancy has done over 70 dives, always with experienced dive masters. Before any of that, she did 40 to 50 hours of training. She feels capable and prepared for most of what can go wrong. And that's a list astonishingly large – from fogged mask to cramping to handling currents and low air situations. In diving, she takes a calculated risk she enjoys.
Recently she had to deal with one risk covered by her training, getting lost. No, she was not cast adrift far out to sea somewhere. When her dive started, land was within sight so she could have made her way into shore if she had to.
After about half an hour underwater, visibility at 25 meters down was quite murky. She paused to track an anemone fish with the GoPro (hi, Nemo!), then looked up and saw none of her fellow divers. This is a problem. In unfamiliar waters, with a strong current, she didn't know which way to head, and worse she had lost any backup buddy in case of problems with air, etc.
After a brief moment of panic, she did what her training said she was supposed to do. She waited for a minute in case the dive master came back for her, then she headed to the surface, stopping for three minutes, as one must, at 5 meter depth to avoid the bends. She surfaced fairly close to the dive boat, which saw her and picked her up. The only bad consequence, paradoxically, was caused by the boat itself during the pickup. Instead of staying in deeper waters, the boat came to her in the shallows where she scraped her leg on coral while clambering onto the boat.
Aching backbone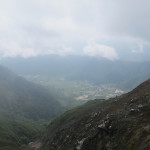 We've done a lot of volcano hikes, four in the Philippines within the last year alone, and the most demanding so far, the 7 hour Tongariro Crossing, up 2000 feet from one trailhead and down 3500 to another.
With 1000s of hours hiking in other terrain as well, we're experienced at finding trails, reading maps and recovering if we get lost. We certainly try to prepare, starting with decent maps, advice, good boots, sturdy walking poles, packing plenty of water and rain gear when warranted. We prefer doing trails ourselves, but guides can be necessary as with the mystifying trail up Mt. Kanlaon in the Philippines. For all that, we've endured falls, twisted ankles, chafing and blisters. We've outraced the darkness a few times.
We still haven't figured out, however, if we were foolhardy or just taking a calculated risk in our recent descent from Gunung Sibayak, a volcanic mountain near Medan, Sumatra. The 700 meter climb was not too challenging, mostly along a winding road, then near the top along a steeper, slippery crevice before another gradual ascent along the crater to its rim.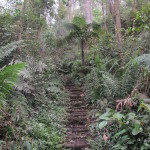 So how to head back down? We prefer going a different way back if we can, but we had been cautioned not to take one of the trails down the backside of the volcano because it was very hard to follow without a guide. Another trail there, though tricky, was more do-able according to our guidebook. When a young Finnish couple we met at the top decided to go for it, we did too.
Again nothing really bad happened, and the trail was not at all tough to find except in a couple of spots. But it was very, very demanding physically, much more than the guidebook had suggested. After about a half hour, the gradual slope covered in rocky rubble and slippery clay soil turned very steep. For the next 90 minutes, we had to endure a mix of stone steps placed long ago to make the trail more usable but now mostly broken apart. Otherwise, it was muddy soil, huge trees across our path and fallen bamboo thickets – all at a challenging pitch. To make things worse, for all the descending, our destination never seemed to get any closer in those rare views we had because of the thick rainforest around us.
Thighs burning, arms quaking from the effort, lower backs aching, muddy from slips in the clay and limbo-moves under tree limbs – we kept going slowly, stopping occasionally to drink some water. And, even though we were exhausted, we were experienced enough to know we would get there. But the challenge did make us wonder how wise or calculated our choice was.
Once we reached the flats at trail's end, we stopped to recuperate a bit. Feeling fine again, we were off walking once more.
Road rash
The one new thing we tried was scootering. We'd seen millions of scooters and cycles buzzing around SE Asia, and always wanted to get on one – despite waiting all these years to do so.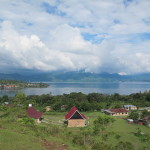 And riding didn't seem that unfamiliar, something in between bicycling (which we've done a lot) and driving a car. After all, it seemed that even kids 8 to 10 years old here could easily tootle about on scooters. What better place also than the tranquil roads of Samosir Island, the inner cone of the massive volcanic crater that contains Lake Toba and Samosir, 70 kilometers around.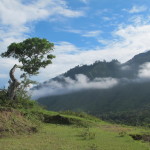 We had already walked some main roads and some back trails among the villages, scouting the place out in a way. Traffic was light all the time, and most of the roads were in good shape. So we expected few problems.
If you recall starting with a scooter or cycle, however, you know it's a bit more challenging than this – and your body a lot more exposed to trouble than in a car.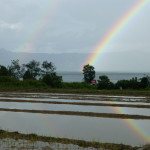 We struggled for a while at gauging power and braking, handling the extra weight of the thing, smooth coordination and synchronization of accelerator and brake, handling curves and balance, especially with two on board. Soon, the potholes in the road proved no worry. We started to feel comfortable zipping along.
Sure enough, that's when we found out what can go wrong.
The road kept twisting up and down slight hills toward the north end of the island. A left bend turned into a slightly steeper drop, and a subtle increase of speed. At the bottom, we hit a sharper right turn. Suddenly, the scooter wasn't quite making that one. The road surface was exposed and rough, as well as wet and a bit muddy from run-off. We overcompensated to keep in the turn, and the bike slid out from under us.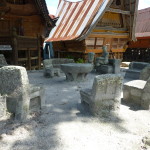 You don't hurt much for a few seconds, what with the shock and – well, embarrassment. Almost immediately, several locals stopped to move the bike, check on our condition and even offer first aid to our scrapes. We assessed the damage. Bike OK. Right sides scraped up a lot. Aching ribs. One ankle hurt like hell.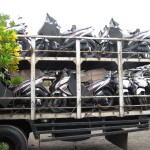 Fifteen kilometers away from home, we had little choice though but to get on that scooter and – slowly – make our way back. We even stopped for a bit of sightseeing, limping around the curious stone chairs of Samosir. A health clinic along the way expertly cleaned us up, gave us some ointments and drugs, assessed the ankle as not broken, but with a bad hematoma from banging on the ground – all for just $12.
Weeks later our calculated risk still hurt. Aching ribs, prickly scabbing legs, throbbing ankle, creaking knee – a reminder that adventures are fine things, but we would be wiser sometimes to do a bit more training and preparation before flying solo. Even that practiced swinger George of the Jungle had to watch out for those trees.
(Also, for more pictures from Indonesia, CLICK HERE to view the slideshow at the end of the Indonesia itinerary page.)