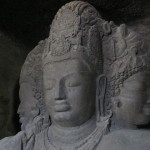 The enormous three-headed bust of the god Shiva presides over a huge 8th century temple hand carved from solid rock on Elephanta Island in Mumbai Harbour. That's a one hour ferry ride from another emblem of the city, a triumphal arch known as The Gateway of India, an imperial legacy from the British honoring royals at the turn of the 20th century.
The stone statue, a Trimurthi, usually represents the Hindu trinity, the three divine personages or principles: Brahma, or creation; Vishnu, or preservation; and Shiva, or destruction. Here though Shiva's medieval devotees rendered this image as aspects of Shiva alone. For more on Shiva and his worship across the south of India, see our post.
The emblem fits Mumbai, we felt, as the city showed us three faces during our visit: Cosmopolitan, Poverty-Ridden and Aspirational.
Cosmopolitan Mumbai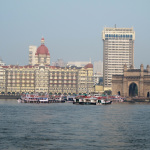 This is the Mumbai of wealthy residents, gated enclaves, gilded hotels and cash laden foreigners. It's the city of sophisticated restaurants – French bistro, Italian, East Asian, Mexican, American and even high-end Indian – as well as attractive street food.
It's a place of swanky hotels like the ritzy, if somewhat kitschy Taj Mahal Palace Hotel, a lavish red and white melange of Hindu-Muslim palatial styles that just about steals the spotlight from the Gateway arch next door. The hotel, fittingly, is one of the businesses of Tata, the mogul who figured out how to make a good, cheap car for the Indian market and billions of rupees in the process. Tata was once denied access to it when it was a whites-only hotel. Now, as owner, he welcomes all races and colors, when they can afford to stay there. Back in 2008, a terrorist group considered it iconic enough to blow up and hold hostage.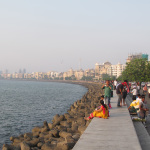 Other fancy tourist hotels gaze out at Back Bay along Marine Drive, the three kilometer arc whose relaxed six lane roadway and broad pedestrian esplanade make for a perfect evening walkabout.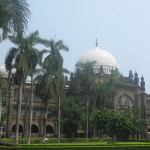 Like the Gateway and a host of other institutions around Mumbai, the Taj delightedly celebrates India's power and sway, while comfortably riding astride the old colonial buildings that manifested British rule.
The famous Prince of Wales Museum, known now by its tongue-twisting name Chhatrapati Shivaji Maharaj Vastu Sangrahalaya, is located in another of those Taj-like amalgams of British and Indian styles, as does the Victoria Terminus rail station.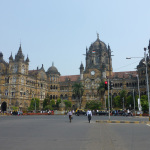 Though not as complete or extensive a collection as its sister museum in Delhi, the Museum features an elegant interior lobby and outstanding displays of Indian sculpture and painting.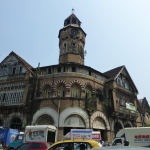 Nearby, tucked amid more Victorian buildings at Mumbai University, is the upscale department store at Westside Mall. It's polar opposite are Muslim bazaars and Crawford Market to the north, where goods are peddled to the middle and lower class city dwellers at more popular prices. The Crawford itself features elaborate, if worn, 19th century brick gateways opening to garishly lit halls still held up by British ironwork.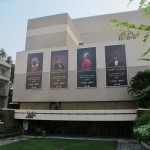 Like NYC and LA, Mumbai is the entertainment and media center of India. Near the Marine Parade lie the pedestrian buildings of the always busy National Performing Arts Center and several major theatre companies.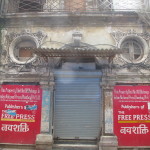 Bollywood, one of the largest producer of films in the world, is here. The actors – not stars, but "heroes" – are loudly cheered and admired in the movie theatres, as well as followed in sections of mainstream daily newspapers akin to star-gazing magazines in the west. Because Indians of all classes read these papers avidly, Mumbai is also home to over 50 dailies, such as the Times of India, yet another institution residing in a Victorian behemoth.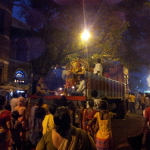 Mumbai is quite diverse as well, even without the tourists from everywhere. In religion, it mirrors India's variety – predominantly Hindu, but with a swath of central Mumbai primarily Muslim. Not surprisingly, the Muslim fall festival of Eid was a national holiday, closing down all the banks and government offices. A large Christian population supports the many churches around town, legacies of the Methodist missionaries as well as the British overlords. Plus a potpourri of ethnicities from all around India.
Poverty ridden Mumbai
The Colaba Causeway runs southward from the Taj and the Gateway along the lower part of the Mumbai peninsula. It exemplifies the proximity of the cosmopolitan with the poor in the city. At its northern end, branded shops like Nike, Hilfiger, etc. offer high end goods at high end prices. After a few blocks, these give way to sidewalk stalls and enclosed shops offering cheap toys, souvenirs, hats, saris and all manner of other inexpensive goods for tourists and locals. Between here and the bay, narrow streets wander amid crumbling stucco and brick buildings that house a village of fishermen, who market their catch just south at the Sassoon Docks daily market. But even these are the relatively prosperous among Mumbai's poor.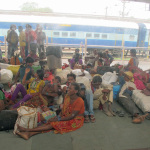 Around half of the residents live in the shanty towns or on the streets, and not just in the poorer parts of town but where the tourists hang out as well. And people keep coming to the city from the agricultural villages and smaller towns.
There are so many that beggars approach much more frequently than in any other city we have visited. For the children, we handed out pencils, that were much more prized than we expected – whether for schoolwork, resale value, or as a shiny piece of wealth in itself. We had read that university students often commit suicide for the lack of funds to buy books or even writing implements to take exams. But whatever we might contribute, we knew it was so little compared to the need.
Many visitors take a tour of the slums, as we did in Delhi, where you can merely start to see the scale of the poverty and glimpse the life of Mumbai's street children.
Aspirational Mumbai…and India
As you land or depart at the sleek Mumbai international airport, your plane passes through green volcanic hills. Flowing like lava between the hills are rivers of tin roofs, the grey, blue and rust of shanties housing some of the impoverished population. On the hills, and in the distance, high rise apartment buildings have sprung up, seemingly seeding all those others with cranes atop, rising to join them. Swathing it all on land and across the bay is a smoggy layer of tangible air.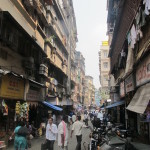 Yet, in these high-rises, Mumbai's middle class residents – together with the poor in the flow beneath them – aspire to the good life and economic well-being.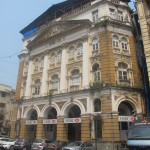 It makes sense that Tata's modern empire of cars and services is based here. Mumbai is where the money begins to flow, as the country's banking and financial center. In the district called Fort, where the British once hunkered, rises the Frank Lloyd Wright inspired white spiral tower for the stock and futures exchanges.
Yet most of the money institutions there like the State Bank of India occupy older, stolid colonial buildings. Just as the Taj hotel once represented barriers for Indian citizens, these repositioned buildings now stand for their opportunities.
But in this respect Mumbai epitomizes all of India, the heart of the national aspirations across all classes. Over 800 million voters back in May 2014, and most recently in the election of Mumbai's state, Maharashtra, overwhelmingly chose a national leader who spoke to these dreams. Narendra Modi had succeeded in bringing economic growth to his home state Gujarat. He pledged to bring that achievement to the rest of India as well.
In his first months as Prime Minister, Modi has aimed for trade agreements with neighboring countries as well as nearby Vietnam and China. His ambition is no less than to revive the wealth-building glory days of the seagoing silk road. That's the prize the Portuguese, Dutch, Mughals, rajahs, French, and British all fought over – India as the crossroads, or at least "cross-shipping lanes," that once linked the Middle East and Europe to southeast Asia and China. Now that means the global community including the Americas. Modi's visit to the United States in the fall of 2014 was all about garnering investment by western companies to Make in India, fostering the investment, manufacturing plants and service jobs the aspiring masses of India need.
Out in Mumbai Harbour, alongside Elephanta Island, you can already see large numbers of container ships loading and unloading goods, traffic Modi aims to expand greatly. Meanwhile, over at Mumbai University and in countless other engineering schools, the young are gathering the skills to take part in the successes of places like Bangalore to the south, where global IT services and engineering have already taken hold. These are the aspirations that India celebrated in signage, on TV and in the papers, when its Mission to Mars spaceship slipped into orbit around the Red Planet. Achieving this on its first attempt put India ahead of all countries, including Japan and China whose similar missions failed. Modi made the connection to India's potential immediately by asking what else it might achieve, if it could do this – at a bargain basement cost. Perhaps the new silk road will be extraterrestrial.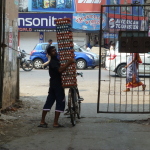 Back down at earth, even the poorest moving to Mumbai can get a chance at something better. Part of the tourist tour of the slums includes a visit to Mumbai's massive recycling center where goods from all over India, Europe and America come to find a second life. Everything – from computers to t-shirts – is broken down, sorted and eventually transformed into other useful things, because – for now anyway, with an average annual salary of just $1000 USD – labor is cheap for recycling goods, not just rocketing to Mars.
So jobs can be created almost as quickly as people can move here. Those cosmopolitan city dwellers can hire a housekeeper at least and maybe a driver to serve them. The cranes and roads demand those who need to make a rupee, for hauling dirt or mixing cement at construction sites. Other poor hover about tourists, traffic-stalled cars, and busy sidewalks, hawking goods on the street, perpetrating scams or digging thru trash for the recycle center. As in the movies, all dream of a little bit more for their children or themselves.
It's no wonder then so many pray to three-headed Shiva out there in the smog of the bay, presiding over an island around which freighters and tankers and tourists motor back and forth. He stands for Mumbai, the preserver of a colonial heritage, the creator of wealth and opportunity, and the destroyer – it is hoped – of an impoverished past.
(Also, for more pictures from India, CLICK HERE to view the slideshow at the end of the India itinerary page.)