This is the second of a group of profiles we will post of people we have met during our trip to India. (For the first pair, click here.) We've changed a few of their characteristics and refrained from using any pictures of them for privacy sake. In this post, meet two people who stick close to family – when they can.
Dispossessed: The New Merchants Removed by the Old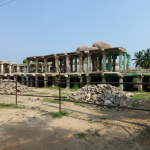 He had just served us a contraband beer as we finished a very tasty array of northern and southern Indian dishes. It had been delivered at a moderately exorbitant price by a motorcyclist friend who had zipped over to a nearby village for the bottle. Carrying charges, he explained about the pricing…and the risk of needing to bribe some policeman who caught them serving it without a license.
We had just bicycled and walked for hours around the hot dusty World Heritage site of Hampi, looking at 800 year old temples and the 600 year old remnants of the imperial world of the Vijayanagar Hindus. We were thirsty and it had been trouble finding any place we could get a Kingfisher beer in this land of former kings. Our bicycle guide had steered us over here, down a few blocks of manure-strewn lanes. Then up a makeshift iron stepladder to the upper floor eating place.
Part of the trouble was nothing was where it was supposed to be. Even the recent signage was wrong. The restaurant we were in was nominally a few blocks away. "Oh, yes," our server said, "that is now a hotel, not a restaurant. We thought they had removed the sign when they were forced to move there away from the river" And," he added, "my place is completely gone too."
His business was one of the dispossessed in the last few years, as a result of Hampi's making the World Heritage list. The government had cleared a huge portion of the village to clean up and rebuild the overlap between the village and remains of the imperial city. We had certainly seen what was happening in the kilometer of road leading to the village. At one end sat a stone temple housing a massive monolithic image of the bull Nandi, Shiva's transporter. Abutting the village loomed the towers of the Virupaksha temple, active continously since the empire, with the shrines for the most devout and the ceremonial ghats on the river entwined with the village itself.
Along most of the road, workers were assembling large blocks of stone in a two story colonnade, reviving the bazaar for ancient merchants that had always flanked the stone paving and packed dirt of the street. Here, and in the half kilometer of land up to the river, was where much of the rag-tag villlage and unsightly villagers had once been. At Badami, to see some of the ancient temples, we had to maneuver down narrow village lanes, dodging chickens and goats, tethered cattle and bemused, then begging children, Here, apparently, things were similar, but soon new structures and manicured facilities would take their place. It would be the equivalent of coolly painted museum walls unobtrusively showing off the art treasures, as at other World Heritage sites like Khajurahao, Aihole and Pattadakal. A lot clearly had been gained by the sterilization, but a distinctively Indian patinas had been lost.
As lost now as our server's family business, one he and his uncle had built up – on behalf of those ancient merchants and their colonnades. In the darkening afternoon light, he waved his hand across the room at the mute, bony figure squatting on the floor nearby smoking a bidi. "My uncle," he indicated. We exchanged greetings.
Worse, the government plan was to go further, removing the businesses that had already been displaced. The building for this restaurant would go, as would the hotel that displaced his restaurant. Even his current job was at risk.
"Was there no help from the government to restart?" we asked.
For the first time in the conversation, he seemed saddened, losing the nonchalant smile he wore throughout the afternoon. The businesses, he told us, would receive 125,000 rupees (a bit over 2000 USD, maybe 2 years of an average salary here). With that, they would have to move and rebuild, cover bribes and permits, let alone re-establish their customers in competition with the government. He spoke a few words to his uncle, who drew on his bidi and shrugged in response.
But the young man's smile returned. "We must wait and see," he said. "Maybe it will be OK. Maybe we must move or do something else. Time will tell."
Family Man: Guest Relations Manager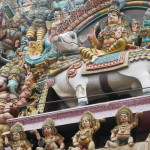 We were lounging at the hotel sports bar/restaurant just an hour after our arrival. A cricket match played on all the TV screens in a frequently scrambled image, while covers of soft western rock songs played over the sound system. Every ten minutes or so, the lights flipped off for a few moments until the hotel generator geared up.
A slight young man approached us. He was dressed for an episode of Mad Men, in late 1950s attire, with white shirt, narrow tie, dress pants and shoes.
In perfect, slightly inflected English, he introduced himself as the guest relations manager. "I just want to know how you're enjoying our place," he said. Since we had barely arrived, we didn't have much to say, but he wasn't phased. "And please let me know if there is anything I can get you." Pause. "Would it be all right if I joined you for a few minutes?"
We invited him to sit. After briefly reviewing our travels in India, and elsewhere, he proceeded to tell us his story. As he talked we both wondered why he had decided to spend time with us. After a few days, though, we realized we were a rarity at the hotel in the off-season. We saw no other "foreigners" at all there. The entire staff seemed to know what our room number was ("ah, those are the white foreigners"), Thinking back, we figured we were an exotic attraction for him too – and an ideal way to practice his English. It was no surprise, we figured then, that he joined us two more times during our stay.
He was not trained in hospitality or guest relations, he confided to us at the sports bar. He had been in the IT business in Bangalore after going to school there. He was pretty successful, a well paid manager of a Client Services Team for ATT in India. And he saw unlimited opportunities for advancement, as well as the likelihood of going to America at some point.
But other matters had become more important to him. With long, odd hours at work he had found himself sacrificing time with his wife and child. And he recognized that his parents were getting old enough to need help soon, though healthy still at 70. They lived quite far away in Karnataka where he grew up, some 250 kilometers or five-plus hours drive away.
So he just quit his job, and moved back home – but with no job to replace it. In a short while, he happened to strike up a conversation with a manager at our hotel, who excitedly tried to recruit him. "I knew nothing about hotels or guest relations," he had admitted to the hotel. But the managers saw his potential given his ATT experience.
So here he'd been for several months now. He was earning much, much less than in the IT world, but he was happy. He was learning a lot about the business. The  people at the hotel were great – and apparently quite adept. They all spoke three languages: Hindi, as over half the staff was from the north; Kannada, the main language of Karnataka; and English. To us, he was clearly a natural at his job,  good at making people feel welcome and solving problems. Most importantly, though he still worked late, he was happy because he had five hours off during the day to be with his family.
The only problem, he said, was when he had to travel for the job. Just yesterday, he had to make the journey to the next big town Bellary, all of 50 kilometers away. We understood what he meant by a long journey. On some of the roads we had just taken, that could be two hours each way, a lot of time he could be spending with his family.