Despite all our reading in advance, but with plenty of warnings from those who have visited India before, we had steeled ourselves for a lot of hard times in India. Here are some of the ways we have been oh so pleasantly surprised and delighted instead.
Meticulous Delhi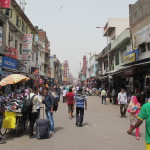 We expected a much more intensely third world country, with trash everywhere and frankly a lot of cow and people shit all over the streets. Stories abound from tourists of cows wandering the train stations. And we had seen statistics that only 50 – 60% of Indians have access to toilets, that plus a viewing of an animated promotional video cheerily encouraging people to Poo in the Loo.
Some of this is true in the small towns and villages, even urban villages, where cows, people and their dung roam free, and we did see a bull wandering a lesser train station south of Delhi. Village dogs go wherever they want. You may still see empty lots or corners littered with trash, and picked over by cows and dogs.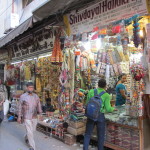 But the core part of the city is remarkably clean. Neatness is the norm. Every sector of town has its own waste/recycling station where people earn their living processing trash, whether by burning or bundling up plastic and glass. Women workers daily remove any trash left in the parks. Every shop owner and resident has the broom out regularly to sweep up whatever blows in or is left behind, even in the tightly-crammed alleys of the bazaars.
Admittedly, we were in South Delhi for the most part, where wealthier residents live. But it's not like well-to-do western communities, with malls, big-box shops and so on. Most shops are small, open-air ones – a mix of drab and surprisingly fancy.  A few malls have appeared, with an air of the moated palace about them. But, within the limits of what they can do, shopkeepers keep things inviting to locals and visitors alike.
In central Delhi, the grand boulevards which echo the Champs Elysees or Parisian gardens may be dusty, but they are kept immaculate otherwise.
Manicured and Green Delhi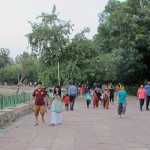 Not only those colonial boulevards, home to many large, grand government buildings, but overall Delhi proved to be surprisingly green. Parks are everywhere, like the Lodi Gardens we visited or the reservoir and parkland in Hauz Khas where we stayed. It seemed that every few blocks, another block-size park was available to cool off in the heat or relax from the bustle – even if the entrances were a bit tough to find. Wherever we drove around Delhi, another park would appear, and so many mature tree-lined roads graced our passage. We could see new plantings on the streets as well, and signage encouraging people to support and do their own bit for an even greener Delhi.
In South Delhi, we've been able to experience middle class India, a group which appears to love its parks. It should not have been a surprise to find that these citizens do what their like in other countries do. But we have been delighted to walk around our reservoir in Hauz Khas in the morning or evening, when locals of all ages circumambulate in the cooler air, exercising in shorts or saris or long pants, hard soled shoes, sneakers or flip-flops – gabbing in groups or walking dogs. We're reminded of the Italian custom of the passegiata, the familial and social walkabout that we saw all over Europe. There are even Western-style workout stations, placed all along the pathways. We fit right in.
Mobile Metro Delhi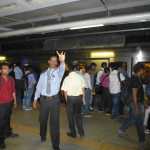 We had heard tales of the ramshackle bus system, and the intercity buses we have seen on the road outside of Delhi bear out the tales. However, the Metro subway system is both efficient and sparkling clean. Now being replicated in Mumbai, the Metro is extensive and expanding rapidly in Delhi.  Trains running on electric power from overhead lines whisk quietly into the cylindrical stations every few minutes. Plus it's cheap: only 15 rupees, or about 30 cents USD, take you a 20 minute distance or about 10 – 15 km.
Outward from the city in the morning, and inward in the evening, the subway trains can be quite packed, but no worse than crowded NY subway trains. People do tend to go in and out at the same time, as if the doorway was some limited resource, so there is a bit of jostling, but surprisingly little pushing or shoving. Locals don't like to wait much so when the doors open on a packed train, it's as if a vacuum seal has broken and everyone gets sucked out instantaneously.  At some major stops, crowds seem to wait on the entry level for some invisible signal. presumably of a track number, then en masse hustle rapidly downstairs to a train.
The ease of use and the modernity of the Metro made it a big hit for us, and we used it extensively while in Delhi.
Motoring Delhi  and beyond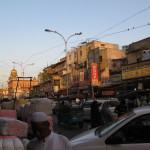 We expected packed, nearly impassable street  and snarled traffic everywhere, like what we experienced in Manila. Some intersections and roadways do get snarled, though typically not for long, and rush hour is a lot more difficult. But travel on major thoroughfares turned out to be surprisingly swift. For a touch of old Asia, however, Chandni Chowk, the main street  through the heart of Old Delhi, was always thick with auto-rickshaws, cycles and scooters, bicycle rickshaws, cars, carts etc – but even there all kept moving.
The number of cars is growing, but the main transport device fortunately are the highly maneuverable and ubiquitous auto-rickshaws. Running on natural gas, these cab-mounted motorcycles accelerate, stop and wriggle about quickly, cheaply conveying up to three people tightly stuffed into the passenger bench. You can usually negotiate a rate of about 30 to 40 rupees for a couple of kilometers, or about a 100 or so for about 5 kilometers.
Since we've left Delhi, we've found few traffic jams elsewhere, but plenty of slowdowns due to poorly maintained or partially ripped-up roads. Otherwise, delays come from passing the wandering cows.
Market Delhi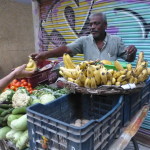 We expected to be negotiating for everything on the street – whether at food stalls, for transport or at shops. We're still not sure if we are getting the best Indian deal at some stalls, or just a reasonable foreigner deal. But the vendors are certainly assiduous about weighing things appropriately; with more experience too, we have gotten a feel for good value.
And we've done enough travel on the auto-rickshaws to know what's what. You can even insist on going by meter on the auto-rickshaws so there is no doubt – if the meter works.
Yet one of the biggest surprises is that prices are fixed and set at most shops, whether corner store or at the malls. There can be in effect remarkably little negotiating in everyday life. Most goods have a fixed price already marked on them by the manufacturer. Even sodas and water bottles on the street have a set price (18 or 20 rupees marked clearly if you know where to look on the bottle). For a relatively major purchase of some household items – whose price was clearly marked and the same at two different shops – we did ask for some concession; the owners at one shop were willing to cut 10%; at the other, no go.
Even in situations where negotiating is the norm, we were surprised how much power we and other buyer have just because sellers are mostly small shops and stalls. They have to compete with the small shop across the street, and know you can always walk over there. With auto-rickshaws, we've negotiated a cheaper rate just by moving a step toward another one who might take our price. And  it helps to know your numbers in Hindi: das, biis, tiis,… (10, 20, 30…)
Mausam garam Delhi and beyond (hot weather)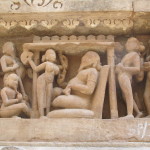 With record temperatures heading over 46 C, or 115 to 120 F, we're definitely starting out in the wrong season. The lack of foreign tourists, or even a lot of local tourists, testifies to that. But with a well-planned day, we have been able to avoid the worst of it. Start early, find a place to stay cool in mid-day, then restart later in the afternoon. When we can do that, the weather seems no worse than Texas toasting. It helps that humidity stays low until the later monsoons appear, from a very dry 20% to 40% humidity, often causing our eyeballs to dry out and our contact lenses to fuse, particularly in the smoggy air. But even the pollution is not nearly as bad as we feared.
Monumental Delhi and beyond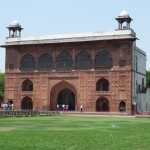 A side benefit of being here at the wrong time is that hotels are empty and monuments are uncrowded; certainly there are very few foreigners like us around. But we have been pleasantly surprised by how nicely maintained and welcoming are the grand forts, palaces and temples we have been lucky to visit – from the National Museum to the Red Fort and Muslim antiquities of Delhi to many places in the states of Uttar Pradesh and Madhyar Pradesh to the east. We may pay 10 times the locals' price for these, but they are a serene pleasure to visit.
In Madhya Pradesh, the tourist bureau has adopted the slogan of "Incredible India," with an exclamation point somewhere in the middle of the slogan. The country is indeed unbelievable in many ways, but happily we have been pleasantly surprised at so much of the India we have already experienced.
(Also, for more pictures from India, CLICK HERE to view the slideshow at the end of the India itinerary page.)