(Part 1 about Bhopal shows what we saw at Sanchi, whose carved gateways from around 2000 years ago astonished us with their profuse detail and sophistication. Click here to see that post. )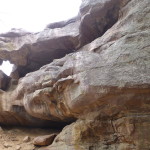 In the other direction from Bhopal, again some 40 or so kilometers away, our experience was quite different – akin to how we felt looking at age-old rock art at Kakadu in Australia. (Click here to read that post.) In Bhimbetka, from five to ten thousand years before Sanchi, the art had not yet aspired to the skies, but instead nestled under ledges and rocky overhangs.
Here, amid good water and plant-life, people of the Paleolithic and Mesolithic periods, as well as into a few thousand years BC, occupied rock shelters amid fantastically shaped, scooped and scalloped sandstone formations. Archeologists have literally unearthed numerous layers of remains from these different eras and, as a by-product, revealed the rock paintings those ancient artists left behind on their cave walls.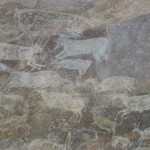 As at Kakadu, our experience was more like a treasure hunt to find the beauty, the humor, or the morality through which the earliest residents of northern India tried to record what was important in their lives. Some surfaces, like the appropriately named Zoo rock, overrun with animals of all sorts, were rich in drawings as succeeding peoples painted over earlier work. But mostly we had to peer carefully and patiently to find what was there.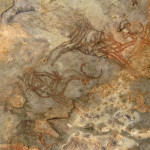 In general, hunting and animals seemed most important. Primitive representations alternated with later sophisticated renderings of animals at a gallop, including "x-ray" versions showing bones through cross-hatching. So far from here, the indigenous Australians, we were reminded, were using the same method to show the bony nature of the fish they caught.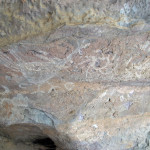 Tucked under a ledge where we needed to squat down, we almost missed seeing a large chicken rendered with great skill rushing off to the other side, maybe with its head cut off. Elsewhere, on a wide open wall, we faced two remarkable drawings: a horse in two-thirds profile, its back legs shortened perspectivally, matched by a trailing elephant in the same style.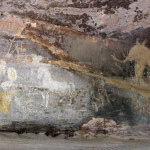 An odd little stick figure of a man, armed for huntiing, floated above them, seemingly astonished by what he is seeing. And what are that jar and those egg-like things doing there?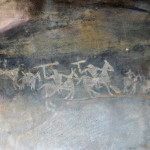 More recent processions and ceremonies were visible, but less common, showing the power of ritual and wealth in the society – perhaps when the people stopped by the rock shelters rather than occupied them. And then, as the artists recorded, there was time for community and celebration.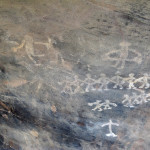 One wall shows a host of simply drawn figures linked hand in hand, while two larger and more interestingly drawn figures are clearly caught up in a frenzied dance. Definitely party time.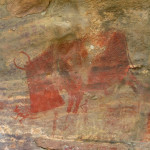 But dangers lurk. A coiled snake barely emerges from the rough surface of one shelter. And then, at the last of the rock shelters open to the public, we find a frightening, enigmatic and, to us, most amusing drawing. A large boar-like creature – bristles sharply defined on its snout and back – chases a frantically running stick figure man, whose front leg is drawn far in front of his crooked back leg…and anomalously a crab too. Meanwhile several other men stand around nonchalantly. Are they just indifferent to his dire situation or using him as bait?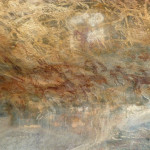 Fortunately we did not have a humongous boar to trouble us, though the tires on our car twice needed repair in the midst of honking afternoon traffic. Still, it takes some travel time and effort to get to Bhopal and the two great World Heritage designated art repositories around it. For us at least, the rewards were worth it.
(Also, for more pictures from India, CLICK HERE to view the slideshow at the end of the India itinerary page.)