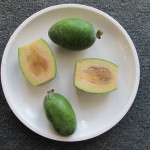 Marcel Proust wrote a seven volume novel engendered, in a way, by the taste of a madeleine cookie:
No sooner had the warm liquid [of tea] mixed with the crumbs touched my palate than a shudder ran through me and I stopped, intent upon the extraordinary thing that was happening to me. An exquisite pleasure had invaded my senses…
Likewise, some of a traveler's most powerful memories of a country – aside from its people – can center on its special foods and tastes. Oddly, then, we haven't written much about food in New Zealand.
Its most distinctive dining experience is the Maori hangi, itself a Polynesian-style barbecue. Otherwise much of its food preparation is also derivative of other cultures, particularly British and Asian (Malay, Indian, Chinese, Thai, Japanese, etc.).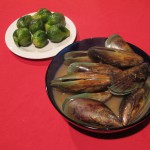 But there are foods and tastes here that will always revive in us the memory of New Zealand through our palates. Our long-time favorite of this sort are green-lipped mussels, whose succulence and salt sea taste we've mentioned often (click here to read our post from the Bay of Islands where we corralled our own mussels). We had our last, wondrous taste of fresh caught mussels at the well-known Coromandel Mussel Kitchen near the bay at Coromandel Town. And we won't forget their cousins, Bluff oysters, some of the most distinctive we've every tried (click here to read about them and Stewart Island).
Also from the sea, or more precisely from the estuaries of the South Island where they are caught, comes whitebait. This describes the immature stages of several varieties of fish, generally clumped together into surprisingly tasty fritters (click here for to read about these in our South Island post).
Then there's silverbeet, a kale-like leafy vegetable that keeps its body better than spinach and offers a pleasant, slightly bitter taste as well.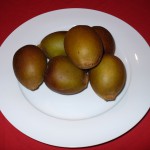 We should have written about the golden kiwifruit, whose sister the fuzzy-skinned green kiwifruit we know in the USA as a kiwi. You eat the skin of the golden kiwifruit as well as the inside, a fuller experience that adds other layers of taste and texture to an even more delicate, citrusy kiwifruit taste. In Auckland, we languished without kiwifruit for a while as, out of season during the summer, the only available ones came from Italy, of all places.
And we should have mentioned the kumara, the distinctive kind of sweet potato here cultivated by the Maori for centuries, and grown prolifically in Northland. It's much lighter tasting and less cloyingly sweet than the sweet potatoes we know, however.
Yet, in these last few weeks, as the fall crops have emerged, we've been stuffing ourselves with another delight that will always recall New Zealand to us. That's the feijoa (Fay-joe-a). The fruit actually originated in the highlands of South America, though our Brazilian friends never encountered it until they came here. With just enough cold weather available, feijoa grows very well here – and is now a distinctive Kiwi experience.
Our first taste actually came from a local gelato place in Wellington which, as we have later confirmed directly from the fruit itself, caught feijoa's melony taste, with its lightly citrusy aftertaste and smell. A better set of tastebuds than ours says the actual fruit tastes of "pineapple, apple and mint" with a perfumey odor (Wikipedia). To eat it, you halve the egg-sized fruit and scoop out the pulp like an avocado.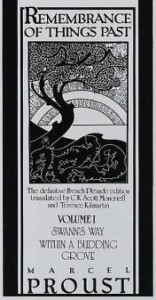 So, as we prepare to leave New Zealand, we'll be fixing the memory of this delicious fruit in our minds. Our next door neighbor delivered a whole bag of just picked feijoas, part of the bounty of a tree laden with them from a friend's yard.
Perhaps, in our travels far from here, in some distant market, we will find green-lipped mussels, or silverbeet, or kumara, or golden kiwifruit, or our newest friend the feijoa. Then we can revive the pleasures of our stay in New Zealand just through a taste or a mouthful…and, it might be, start a seven-volume novel as well.
(Also, for more pictures from New Zealand, CLICK HERE to view the slideshow at the end of the New Zealand itinerary page.)