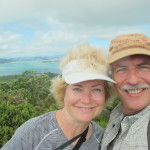 Mur-rom-boo! Thanks, mate! Salamat po! Ta! Kia ora!
Thank you all for taking the time to share our 2013 travels in Australia, New Zealand and the Philippines by following us directly here on the Adventurephiles blog or by "liking" our Facebook page (Adventurephiles Travel Blog) via the FB link above.
We write about our adventures out of pleasure for memorializing where we go, who we meet, what we do and what we thought…and for the delight of knowing that we can share the pleasure with all of you.
3000 views in 2013 / 58 posts
Many of you appear to enjoy these things as well. We began our blog in 2011 with our visit to Southeast Asia, as a way of keeping family up-to-date. Since then, Adventurephiles has logged over 7000 page visits. Last year alone, the blog had about 3000 views from people in 52 countries. (If you want to see our sparkly annual report, you can take a look by going to: http://jetpack.me/annual-report/27850754/2013/ )
Coming Attractions
What's next? We're never quite sure, but our plans now center on living in India for six months, with shorter visits to Borneo and other parts of Malaysia/Indonesia, Nepal, Bhutan and Tibet. For the next two months, we'll be enjoying parts of New Zealand we have not seen, around Auckland and the north of the North Island. We will even be back in the United States during May. (You can learn about posts via a Like on Facebook, or via Twitter or LinkedIn instead.)
We've visited all seven continents and, between the two of us, 60 or so countries already. But there is so much more to do, so many posts to add in recording it…and so many miles to wander before we sleep.
Our World of Words

Those of you who have been keeping up know we've offered a lot to read in our blog. Overall, we've published over 160 posts since 2011, or something over 200,000 words
That's the equivalent of two good sized novels according to Wikipedia. We should probably feel guilty for measuring up to Dostoyevsky's Crime and Punishment (211,591) or weighing in with Moby Dick (209,117). Or for easily scaling Emily Bronte's Wuthering Heights (107,945) and out-distancing Mark Twain's The Adventures of Huck Finn (109,571). Proportionately, we're a tale of three cities compared to Dickens (A Tale of Two Cities, 135,420).
But we're not even competitive against the likes of Ayn Rand's Atlas Shrugged (561,996), nor ready to declare victory over Leo Tolstoy's War and Peace (587,287). Neither are we soon likely to boast the biblical proportions of the King James Version (about 780,000).
But we out-punch, out-talk and out-travel Ernest Hemingway (The Sun Also Rises 67,707), J.D. Salinger (The Catcher in the Rye 73,404) and Kurt Vonnegut (Slaughterhouse-Five 49,459) combined.
As for quality, we'll yield to these masters no matter how many posts we publish. We hope, however, that you'll continue to enjoy those words we offer as they emerge from the travels we enjoy.