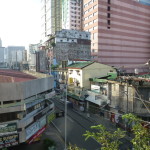 When in Manila, we stayed in the Ermita district, just a kilometer or so south of the old city district Intramuros. (To read about our visit to Intramuros, click here to our post.) Between the two lies the sprawling Rizal Park, part a geometric set of pathways and attractions for a pleasant family outing, part a wilder grassy woods, though overall it feels a bit worn-down. We stayed here in order to be close to Intramuros and the glistening Manila Bay to the west, as well as the park, and there were plenty of eating options along the district streets.
But the district is one of great contrasts. In the center of Ermita, you're surrounded by cement structures stained with rain and dirt that seem about to crumble. The sidewalks themselves are cracked and crumbling while the narrower streets teem with their own noisy traffic frenzy trying to dodge the jammed main streets. Young children play or beg within inches of the traffic, just like their village counterparts in the farming regions up north. At night, the many homeless settle into doorways and dark corners to sleep.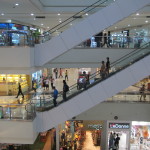 Just a few blocks away, however, Roxas Boulevard offers an entirely different perspective, with lots of high rise hotels, large restaurants and clubs, as well as museums. Also close was an enormous Robinsons Mall indistinguishable from those in Europe or America lighting up the otherwise dingy area with restaurant chains, three sprawling floors of branded goods, and a beehive of middle-class shoppers.
Here and in a large number of similar malls, the wealthy and the thriving middle-class spend their money. The newest of these malls – one of the SM chain founded, according to legend, by a Chinese immigrant who began with a tiny superette – occupies huge hectares of space south toward the airport along the waterfront, complete with posh residences and hotels.
One of the first comments from our guide was about the disparities of wealth in the country, and a knowing lament about the patronage and corruption within the government that allows the favored oligarchs to flourish.
The whole city is an ongoing demonstration of this disparity, as are the growing exurbs and developments beyond the urban districts. Just beyond the metro area, small suburbs of neatly arrayed homes sprout from land previously used for farming. New shopping complexes had already arrived to serve them. Even farther out, in rural areas, along valleys still rich with rice production, we passed multi-story homes in Italianate style. These were built either by officials demonstrating their power or locals who had made their relative fortunes from years of working in high wage countries like the US or Europe.
Close by, or in towns just a few kilometers up the road, others lived in unadorned concrete block homes, typically Asian two-level homes of thatched leaves and rough wood walls, or shacks topped with corrugated tin roofs. Modern sedans jostled with motorcycle carts and jeepneys, as well as an occasional farm hauler.
Our glitzy Robinsons Mall straddled Ermita and the Malate district to the south. It seemed to us that the streets of Malate were a bit less challenging to the senses, with finer dining options. But most western tourists are tempted instead by the district of Makati, just a few kilometers away.
Makati district is an area refashioned from the location that was the old Manila airport until the 1990s. Remnants of the airport are still visible: a control tower peeks over a high-rise; a terminal building remains, converted to other uses. Today Makati is full of high-rise offices and apartments, chic shops offering expensive branded goods, eating places that supply the fuel, and yet more malls. Though still at times a bit rough around the edges, with jammed roads that seem third world, it's hard to distinguish these streets from Century City, LA's second downtown, for example.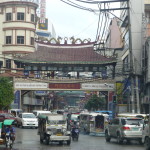 In complete contrast to Makati, there's the Binondo district just north of Intramuros and across the fetid Pasig River flowing through the center of town. Binondo is the old Chinatown, where the Chinese immigrants lived because they were excluded from Intramuros. Though the character of this lively district seemed to remain the same, many of the faces were no longer Chinese.
We spent most of a day exploring this area, though our main purpose was visiting the renowned Chinese cemetery at the north end of the district. What we saw along the way was worth it.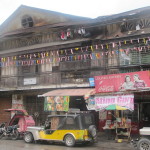 The area is a melange of streets. Like much of the city, it has broader thoroughfares through which the dense traffic funnels. Some sections, as you head north, are graced with wide, quieter streets where we could glimpse some of the ancient charm of the place. In an area that otherwise features intense retail and wholesale activity, we noticed long three story buildings from the 19th century, decorated in dried-out teak wood that was barely visible under signage.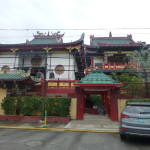 We turned a corner to find a traditional Chinese temple, bright red though not painted recently, occupying a large city block, sharply contrasting with the cinderblock housing and drab grey stone buildings nearby. Nearby we passed a church for the catholic Chinese who first came to this section.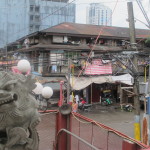 Narrow streets filled much of the area, however, where drab six story cement buildings loomed overhead, often covered over in placards and store signs.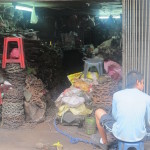 Here, the residential and light industry mixed in blithe acceptance. An open doorway revealed a man making chain from 10 to 15 cm links; behind him spools of chain were piled everywhere. Nearby, another man was deftly rebuilding a diesel engine from rings, gears and bolts scattered about on the pavement.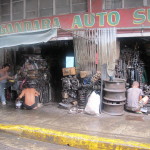 Soon, as we walked further amid one of the more downtrodden parts of this district, we experienced another example of the goodwill of Filipinos. As we crossed a small bridge over a canal full of debris, we gaped at the tin shacks or precarious add-ons to crumbling cement houses hanging over the canal. If you squinted, really squinted, you might think that this a kind of Rialto Bridge, as stalls selling street foods and cheap goods lined the bridge.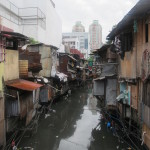 We stopped for a picture of all this, but the focus of the picture quickly shifted.  A few women running the stalls, along with a few customers, gathered to stare back at us.  A middle aged woman moved closer from her stall, smiling and giggling. As Filipinos often do – in naïve friendliness and sincere interest and with limited English knowledge – she asked, "Where are you from? Where are you going?"  We answered as best we could. Lots more giggling and smiles, as several children gathered about. A short, elderly woman with very few teeth approached Nancy. She coddled her arm and then gave it a kiss in astonishment, we imagined, at Nancy's much paler skin. More giggling.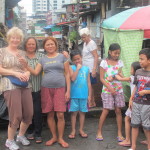 We said good-bye and walked away, smiling ourselves.
After a much longer walk than expected, with a few wrong turns, we reached our goal, the Chinese cemetery. The dark clouds about us most of the day darkened further as we arrived. Soon it would begin to rain, quickly turning into a heavy downpour.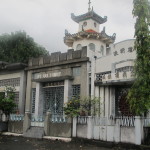 But even before the rain, we found the cemetery eerie. Unlike the generally plain cement or decrepit houses along the crowded streets of Manila, the cemetery was chock-full of elegant houses for the dead, elaborate tombs ranging from modest bungalows to grand mansions with their own back yards. Its long streets were wide; its houses all but abutting each other.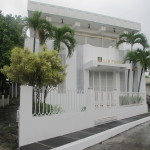 And it was truly a ghost town. The only life in the streets were a few guides offering tours of the best spots, some stray cats, barely a handful of tourists like ourselves – and a few people we originally thought to be squatters in the capacious hallways of some buildings. These turned out to be resident caretakers of the house-like tombs, attendants hired by wealthy heirs to serve the ghosts of this strange, silent city within the hubbub of Manila.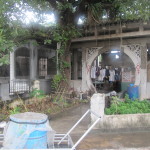 Soaked by the downpour, we dried off for a while and wet our throats instead with some beer at a bodega beneath the cement elevated tracks of one of the few city train lines. The concrete of the nearby buildings seemed to be melting in the rain.
Office workers passed by in the throttling jeepneys. Beggars of all ages, dodging among storefront canopies, asked for help. A thriving fruit and vegetable stand kept up a steady trade for half a block. We bought some steamed corn on the cob from a vendor, who carefully secured the cobs in wax paper and delicately handed us the salt for dipping.
As the rainfall ebbed, we climbed the steps to the train platform and paid our few pesos, then enjoyed a quiet ride alongside Manila's living people back to Ermita.
(Also, for more pictures from the Philippines, CLICK HERE to view the slideshow at the end of the Philippines itinerary page.)