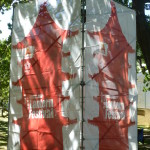 New Zealand prides itself on celebrating the diverse array of ethnicities and homeland origins of its people. On its national holiday in February, it celebrates its founding document, the Treaty of Waitangi, which made peace – of sorts – between the Maori tribes and the British crown. And, though only about 3% of the country's population derives from China, in Auckland there is a very Asian flavor to the streets. Restaurants and shops display offerings not just from Chinese culture, but Thai, Vietnamese, Korean and Japanese, as well as Indian and Pakistani.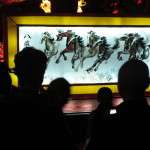 Numbers aside, it's Chinese New Year and a good excuse for a celebration anyway. Plus, it's the Year of the Horse in the zoological cycle of 12 animals. This strong, fiery animal heads up a year supposedly auspicious for good fortune and growth. That's worth a party in itself.
At the onset of the New Year, there were a few low-key events around town. But the big long-running celebration here in Auckland is the Lantern Festival, a traditional festivity in China two weeks after the start of the year to note the end of the New Year period. Here it's a three day festival of lights, culminating in a fireworks display atop the Sky Tower that dominates the Auckland skyline.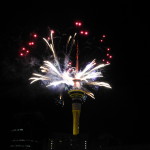 Two venues in the central city attracted thousands of people. The streets of the CBD, which had been festooned with Chinese lanterns during the week, teemed with families, couples and party-goers – more crowded than we had ever seen them. The big rugby tournament in town helped swell those numbers, but the big deal was the lanterns. At the north end of town, by the Wharf, a family-friendly event complete with movies kept people busy during the day.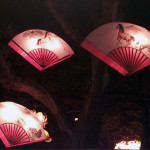 In the evening, the party moved south to Albert Park high atop a hillside near where we live. By the time it was dark around 9pm, visitors had already packed the park, lighting up the sky with their own flashes from their phones or cameras. There, they could gaze at innumerable lanterns, made of a tough paper or fabric pulled over wire frames lit electrically from within.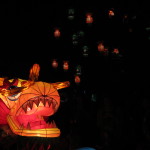 A myriad of shapes and sizes hung from the trees, virtually all typical of Chinese life or lore: swans, fans, children, teacups, butterflies, flowers and so on.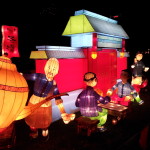 Elaborate structures and imaginative scenes filled in the grassy spaces, aglow in the dark. In one spot, a three metre long display of papermaking, with several lit figures working away; close by, a fanciful teahouse wryly celebrating the leisure life. Imperial warriors like the clay guardians in Xi'an shone out at intersections. Chinese guard dogs kept illuminated watch. A host of vases and tea-sets occupied another corner of the park; nearby a jungle scene featured the heads of a hippo and crocodile emerging from the ground next to a monkey.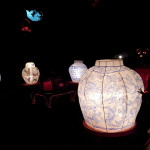 In other places, swans prowled a reedy pond; Buddha oversaw an ocean full of fish. Two five-metre long dragon-lanterns stared at each other, then swiveled their heads toward onlookers. Other dragons, apparently left over from last year's celebration of the Year of the Dragon, gleamed in other sections.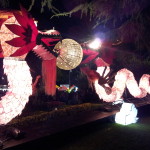 Many of the larger lantern sculptures were signposted: a young man atop a rearing horse lit up the night displaying the riding skills of Mongolians. A large man dressed in elaborate costume glowered in the traditional garb of the Beijing (or Peking) opera.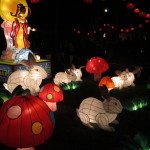 We could have used signage at other displays, but we were fortunate to be viewing all this with a native Chinese studying at University here. He helped us with iconography and legends depicted in other displays. One of the most complex and brightest featured a divine female figure presiding over a large number of white rabbits and colorfully spotted mushrooms. Our friend explained that this was a creation story, for the shining woman was the goddess Xi Wang Mu, gifted with the power of creation and destruction, divine realization and immortality. The mushrooms, he said, were a source of longer life (unlike some, we joked, that just made you think you would live forever), while the rabbits prepared an elixir out of the mushrooms.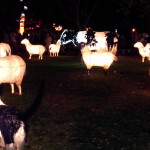 But this would not be New Zealand without a lot of sheep. In a large grassy spot, many sheep lanterns grazed, circling about a black and white lantern cow and attended by a glowing sheep dog.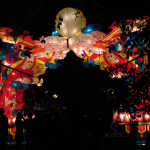 Many onlookers halted at one of the two entertainment stages, after passing through an intricate gate-lantern along the central path of the park. The smaller stage featured crowd-members singing karaoke, though what that had to do with China confused us. The larger stage offered professional acts, with a headliner that had been famous in China for several decades. Tang Dynasty was a ground-breaker around the time of those reforms by Deng Xiao-Ping that launched China's current economic success. As an indigenous heavy metal band, it broke down its own cultural barriers. Here in Auckland, it entertained the crowd with challenging angular music mixed with interesting transformations of Chinese folk melodies and even pounding out a Russian anthem. Our Chinese friend couldn't believe he was finally seeing the trio live after all these years of admiration.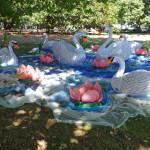 Unusually, there was hardly any commercialism about the festival, except for muted displays by sponsors. A hundred or so food stalls did good business satisfying any hunger for Asian cuisines, or even Turkish kebabs, but they filled a side street so as not to detract from the simpler pleasure of gazing at the elaborate lanterns.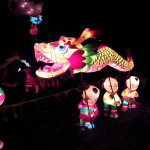 Even the tents within the park were not commercialized. The largest, labelled Asia:NZ, was almost empty except for two tables offering cards that described your character based on the zodiac sign under which you were born. In this year of the horse, we found that we were born under different signs – Barry, a dog; Nancy, a rooster. Make of that what you will.
(Also, for more pictures from New Zealand, CLICK HERE to view the slideshow at the end of the New Zealand itinerary page.)