At four different sites in the Philippines, two of which are described below, we experienced clear waters, abundant tropical fish, endless and varied coral reefs – all worthy rivals to what we have seen on the far more famed and much more touristy Barrier Reef in Australia. In choosing them, we didn't aim for far-flung spots, but we found we needed to travel quite a bit to visit these island paradises. And found that trouble was all worthwhile for their magnificent beaches and, even more to our liking, stunning underwater worlds.
(For Part 1 and our experience at Apo Island and Panglao, click here.)
Miniloc/El Nido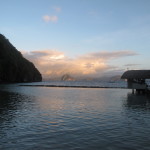 The horizon flowed beneath the grassy fringe of our roof, from the limestone embankment at one end of the broad cove past the karst/limestone islands of El Nido Bay backlit by splashes of sunset color, past the simple pier of the resort aglow in the light, and dropping at the other embankment fronted by white-washed cottages like ours. Waves lightly slapped, fish darted and leaped, in the shallows below our feet and beneath our bedroom.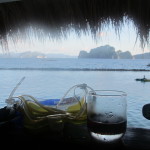 The El Nido/Miniloc Island Resort on tiny Miniloc is a place you can relax in.
And it's a place you can stay very busy in. The resort, one of the most expensive we found in the Philippines, will happily bustle you off to snorkeling and beach-combing at several of the karst islands around the bay, putter you over to one of its "developed" paradise beaches for a day's outing or convey you there for a romantic twilight dinner, arrange for an island hopping/cave exploring adventure, and so on.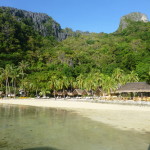 As long as you don't mind doing all these with a host of other people, either coming from the Miniloc and its sister resort nearby or from the many excursions based in El Nido on the Palawan Island mainland.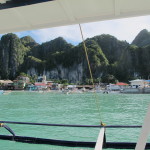 The town of El Nido itself, about a 45 minute bangka ride from Miniloc, hugs the shore, tucked underneath a massive limestone wall. It can be a very pleasant place to stay, whether to venture around the islands or party at night.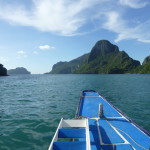 We were able to spend a few hours there, getting some provisions for our stay in the resort, and eating at Alternative, a restaurant with a diverse and partly vegetarian menu. It thrusts into the sea from the beach like a ship's prow, with seating over the water like large crow's nests, where you can survey the wide El Nido Bay and its islands.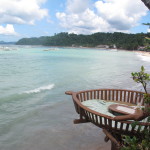 Then there's the diving, which was again top notch in crystal clear waters, and made especially pleasant in the small groups that we found typical of the country. This area was awash in tiny, brightly colored nudibranch and giant clams, fuzzy with myriad colors, old fish friends like the scorpion fish and blue spotted rays, as well as new ones like the crocodile fish and lizard fish.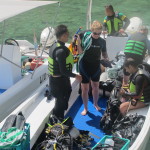 The snorkeling was an unexpected surprise after all the water-watching we had already done. Over several days around a number of limestone islands, we saw huge schools of fish – large like the meter long jack fish or tiny like the striped and iridescent sergeant major damselfish – along with diverse coral, mantas rippling beneath us, cuttlefish squirting along, feisty titan triggerfish and even quill-adorned lion fish drifting around.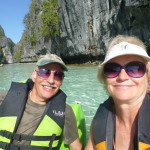 A different way to stay busy was sea kayaking around the islands. Two lagoons, hollowed deep within Miniloc Island, were a delight to explore – at least early in the morning. By mid-morning excursions from El Nido hit the bays like the Normandy invasion, filling them with dozens of noisy tourists.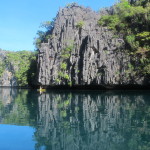 But early on, the lagoons were peaceful and charming, light dancing off the high limestone walls, their mirror-like reflections in the water almost dizzying.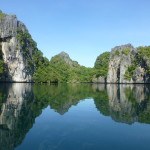 On different trips, we explored Big Lagoon and Small Lagoon. To get there, we mostly paddled through gently cresting waves. But not always. On one trip we worked hard against the big swells between Miniloc and an adjacent rocky island.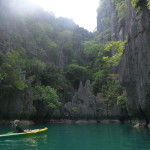 On another trip rode fast-flying waves into the entryway of Small Lagoon (then paddled strong against the surge on the way out.)
For our third kayak outing, we enjoyed our own romantic meal on the beach, after paddling for hours amid neighboring islands. Not a soul around. After lounging on our beach, we pleasantly snorkeled for over an hour above the reefs fringing those islands.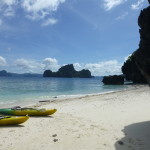 Of course, this wouldn't be the Philippines if there weren't some hardships to reach here. You can fly direct from Manila, then take the quick bangka out to your chosen island. But we had flown into Puerto Princesa, in the center of Palawan, so we could see the World Heritage site of the Underground River.
That meant enduring yet another five hour drive from that city to El Nido on the worst van we had driven in. For the first half of the trip, the groaning and squealing from the undercarriage suggested a faulty fan belt on some motor. We stopped in a hot, dusty town for a mechanic to bang away at it for a while. That activity set off an ant colony which dispersed in a frenzy up Nancy's seat belt and onto her neck, before they were willing to settle down again.
Finally, we arrived at El Nido in total confusion, spending an extra two hours bouncing back and forth along the 7 kilometers between the El Nido airport and the ferry terminal while we sorted out where our bangka was.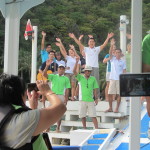 The trip departing El Nido didn't quite work as planned either. For obscure reasons, our late afternoon flight to Manila was delayed long enough that we couldn't fly.  You can't fly at night from El Nido's unlit landing strip. That meant another night here, and then an early morning flight to Manila instead.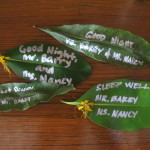 We chose to stay in El Nido itself, avoiding an extra few hours of transport to Miniloc, and enjoyed another visit to Alternative. It was worth it just to meet up with three young European women who had been studying business in Shanghai, including one who had just removed herself from a hospital room with an intravenous fluids bag in tow.
Moalboal
This resort, actually the first one we visited, was an off-again, on-again location for us.
A peninsula on the west coast of the central island of Cebu, Moalboal (moe-all-boe-all) was an option we removed from our schedule as one resort experience too many. However, it returned to the schedule after typhoon Haiyan destroyed 95% of the structures at Malapascua at the north end of Cebu Island. At Panglao a few weeks later, we met up with some dive masters who had been at Malapascua during the typhoon. Though no one had been seriously hurt, dangerous conditions – lack of sanitation, beaches laden with fouled debris and broken glass – made staying there untenable, plus of course they had no tourists to take diving.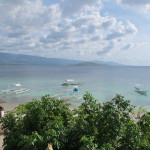 Our Moalboal hideaway, Turtle Bay Dive Resort, was one of many in the area, extraordinarily pleasant, with large comfortable rooms and private decks, and also inexpensive. Even the extras – alcohol, diving, equipment, dinners – were priced far below typical resort rates. But it was underwater – in our first view of the rich Philippine reefs – that proved outstanding, superior we felt to the Barrier Reef in diversity, numbers of fish and the easygoing nature of the diving/snorkeling. The coral was especially beautiful and varied, a perfect offset for turtles, crab, giant clams, manifold sea stars, eel. In an experience repeated at the resorts we later visited, we were dazzled by dozens and dozens of different tropical fish, including the elusive clown anemone – yes, the now famous fish picked to be Nemo in the film.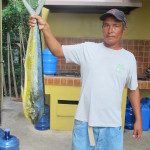 We even went on a night snorkel, where we hoped to see the even more elusive and impossibly gorgeous mandarin fish. Those tiny fluorescent marvels pop out of the concealing coral in shallow waters to breed briefly in the twilight. We took our underwater flashlights and paddled about. But we were not alone. Scores of divers had already invaded the area, armed with poking rods, high intensity beams and elaborate flash cameras. The flashes blinded us when set off and must have scared any breeding passion out of the mandarin fish. We too didn't have a chance against this armada, but we think we got a peek at a few of those poor beset fish in the melee.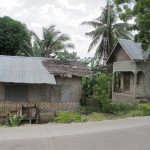 Here, we also learned the fun of visiting the local villages and towns. At so many resort-laden sections of the Americas, you can barely find where the locals live. Here, close by the resorts, the tiny fishing villages of the Philippines or somewhat more touristy towns near the resorts offer perspectives on local culture, as well as more indigenous opportunities to eat and drink.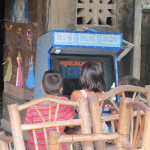 We passed machinists rebuilding engines in front of their tin-roof store. Young children were preoccupied with a classic video game on a vintage arcade display. Out on the small deck of an eatery in the town of Moalboal, we enjoyed squid rings along with the ubiquitous Filipino beer San Miguel Pilsener, then joined the locals in trying Halo-Halo (literally hodge-podge), the popular ice and milk dessert treat – all for just a few dollars.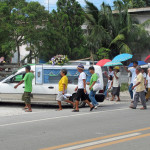 A colorful funeral procession passed along the street toward the nearby cathedral. Around the corner you could shop the local market for fresh fruits and vegetables, or the sun-baked meat and fish markets . Though we had walked here in the tropical heat, we negotiated a rate of a few dollars to have a motor bike with side cart whisk us home.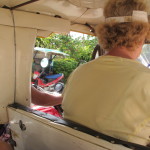 Again, to arrive here, it took some effort. We had to drive from the east coast of Cebu Island to the west coast, a mostly pleasant excursion across the hilly spine of the island. The trip takes five hours, however, in part because of the slow passage through the small towns on the west coast, but mainly because of the excruciating crawl through Cebu City and its metropolitan sprawl southward along the coast.
—–
Getting to these resorts might have involved some hassle, but they proved well worth the trouble.
(Also, for more pictures from the Philippines, CLICK HERE to view the slideshow at the end of the Philippines itinerary page.)