At four different sites in the Philippines, two of which are described below, we experienced clear waters, abundant tropical fish, endless and varied coral reefs – all worthy rivals to what we have seen on the far more famed and much more touristy Barrier Reef in Australia. In choosing them, we didn't aim for far-flung spots, but we found we needed to travel quite a bit to visit these island paradises. And found that trouble was all worthwhile for their magnificent beaches and, even more to our liking, stunning underwater worlds.
(For Part 2 and our experience at Miniloc Island and Moalboal, click here.)
Apo Island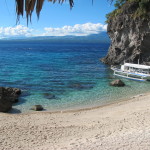 Apo Island is a tiny piece of paradise off the southeast coast of Negros island, nearest to the town of Dumaguete. And that does not mean paradise with modern conveniences. Our nine-bungalow place, Apo Island Dive Resort, nestled on its own cove of snorkeling heaven, but has no running water, just four hours of electricity generated in the early evening (when the generator works) and manual flush toilets (pour buckets of water into the bowl to create the suction). Well, modern conveniences with a rustic quality anyway.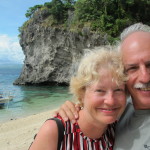 During the day, the cooling tropical winds swept thru and kept us comfortable. At night though, the breezes stalled at our verandah onto the cove; mosquitoes gathered in the stillness as we hid, steamily, under protective netting. In the romantic twilight in between, we dined on simple, tasty local food at a table beneath a palm-leaf umbrella at the shoreline, while the light disappeared over Negros Island to the west.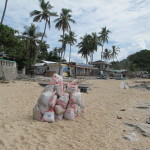 At Apo Island, we could have stayed in one of a few other hostel-style resorts tucked into a modest village on the other side of a rocky passageway. The boats packed in along that shore and the ramshackle look of the place presented its own rustic feel. But we were virtually leagues away from the world, hidden in our own cove just past the rocks.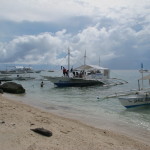 Getting here, however, was more hellish than heavenly, requiring 18 hours of travel as well as several hours of creative rejigging. Our original itinerary from Bohol was so simple: a two hour ferry to Dumaguete on Negros, a one hour drive south, a forty-five minute bangka ride (putt-putt outrigger boat) to Apo. Instead, our direct ferry had been requisitioned to bring goods to the islands hard hit by Typhoon Haiyan. So, working with the local tour group, we booked an overnight ferry (40 beds in a large common room) to Cebu City so we could arrive early the next morning and then drive to Dumaguete for the rest of the trip. Accordingly, at 9pm, we arrived at the ferry terminal. Then we discovered that the ferry had just been cancelled due to mechanical troubles. Reworking our itinerary once again, we headed back to our accommodations for a short night's sleep.
The new plan was to start out early on the regular ferry to Cebu, two hours northwest. Then we would drive five hours south along the Cebu coast, hop a quick commuter ferry over to Negros, and finish with a two hour drive south through Dumaguete to the Apo Island bangka. Though we were tired in the morning, the Cebu ferry went smoothly. Our hastily arranged driver, however, was a bit madcap even by Filipino standards. Pushing the speed limits during the trip down the Cebu coast, he and his stoner co-pilot kept up a continuous conversation on topics apparently quite hilarious to them. Every so often they would share a topic with us, such as whether money was the root of all evil, or the source of all 'boom-boom', i.e., sex.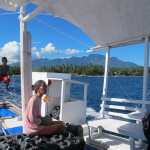 The two Cebuanos dropped us at the commuter ferry an hour early. In the tiny waiting room, about fifty locals happily watched Filipino hero Manny Pacquiao retake the lightweight boxing championship. Than after crossing the water to Negros, we finished the long journey with a calm drive south on the Negros coast and a 45 minute bangka over to Apo, though walking its flimsy gangplank with a 20kg bag in tow was a bit challenging.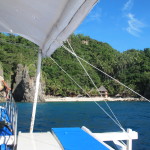 Ironically, along the way, we discovered that the direct ferry had returned to regular service just that day. We grimaced at the news, but already had discovered that travel in the Philippines could be challenging at any time: none of our planes left on time, the ferries were always late, mechanical troubles are reportedly frequent, traffic in the cities is regularly clotted up. You just need to relax, relax, for you do reach your destination eventually.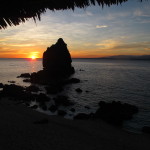 And we would do it again – well, maybe wait for the direct ferry – in a heartbeat. For we soon confirmed why Apo is one of top ten dive spots in the world. And we didn't even get to the marine sanctuary on the eastern side of the island, closed due to damage from a previous typhoon and quickly reviving. The western side was spectacular in its own right, with a magnificent reef circling the island, and up to a dozen inviting spots to drop into the water. Nancy had a dive master to herself and experienced her best dive ever, a wild hour-long ride on a rapid current through schools of huge jack fish, snapper, trevally, fusiliers and others, easing finally into a rainbow harvest of colorful tropical fish.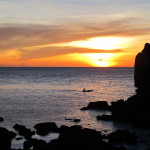 The other dives yielded pleasures nearly as fine – from the tiny nudibranch to the parrotfish to the unicorn fish and anemone crabs – or the diminutive sand eels that waved from the sea bed like fronds of grass, but disappeared when she got close.  Snorkeling from the drop spots and within our private cove was wondrous. Bubbles percolated upwards from the soft coral gardens because of active volcanic churning deep within the island. Giant turtles and two meter long banded sea snakes kept us company. A whole band of cornetfish, trumpetfish and feathery razorfish greeted us. Fluorescent colors wriggled everywhere – tangs, butterflyfish, triggerfish, puffers, angelfish, anemone fish and more. It was paradise below the water, as well as above.
Panglao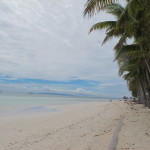 We stayed just a short time at this small elongated island off the southwest tip of its parent island of Bohol (to read about our tour of that island, click here), and happened to experience some inclement weather while there. But it's a very pleasant place to stay, with a string of resorts (including ours, the Amarela) nicely spread along the coast so that it feels emptier than it is, along with an appealing town Alona Beach mid-coast. That town offered, among other accommodations, a complex of serviced apartments we might have opted for had we known about it, and a diverse array of restaurants, including a passably authentic German restaurant run by the apartment owner.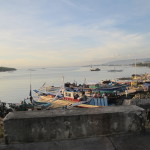 It was also one of the easiest places to reach, just a (late) plane ride from Manila to Tagbilaran City in Bohol (with the usual clotted traffic of Filipino cities to suffer through) and a short ride across one of the two bridges to the Panglao resorts. As we describe in part 2, however, it was not so easy to leave.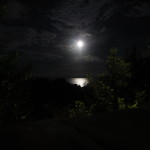 Even in a short time, though, we saw the appeal of this area: easy-going dives with small groups and world-class sights below the water particularly at Balicasag Island. That place is rightly renowned for its reef and diving, though it will eventually be pretty busy due to the new resort sprawling all over it. We had already gone into the water many times in the Philippines, but swimming with the wonderful creatures in these seas never felt tedious. Here they included turtles, eel, octopus, orangutan crab, sea stars, and many nudibranch. Over by Alona, we even found ourselves in a virtual cyclone of sardines swirling everywhere around us for a half kilometer at least, so thick for a while we couldn't see anything else… until a startlingly yellow pair of elongated young bat fish floated up an anchored rope next to us.
—–
Getting to these resorts might have involved some hassle, but they proved well worth the trouble.
(Also, for more pictures from the Philippines, CLICK HERE to view the slideshow at the end of the Philippines itinerary page.)