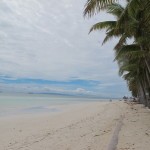 We had planned to come to the island of Bohol for one purpose – to enjoy the spectacular diving and snorkeling off Panglao Island, just across a bridge from Bohol's southern tip, about two hours by ferry from neighboring Cebu Island.
And the underwater world was spectacular, both on the reef that borders Panglao and a few kilometers away at tiny Balicasag Island, the home of a new resort to serve all the divers who want to go there. We didn't spend much time on the beaches, but they offer plenty of languorous sun and surf for anyone who wants these. Below water was where we chose to linger. There we could enjoy coral gardens of endless hues and shapes, as diverse and full as any part of the famous Great Barrier Reef – with even more crystalline waters and completely unspoiled seascape. We could admire countless species of colorful fish as well as the usual green turtles, eels, rainbow-hued nudibranch and iridescent sea stars, plus a few special appearances by octopus, amazing orangutan crabs, and a massive school of sardines surrounding us.
Back in October, we had wondered if it made sense to come here. That's when the massive 7.2 earthquake centered just off shore shook the place up pretty badly. We were told that the dive resorts were not affected, though any other touring might need to be altered a bit due to road or bridge problems. That was acceptable to us, and we figured the local economy could use a few more tourists not chased away by the news.
In this way, it turned out, we were practicing a bit of the resilience and independence that we found to be part of the Boholan soul, when we did a tour of the highlights of the island itself. For the people here have had to adjust to many catastrophes over the years, both natural and man-made. Those have included wars of rebellion along with political corruption and greed, on one hand; earthquakes and typhoons on the other. But Boholans seem to just keep on going, defiant against misfortune and smiling at fate, making the best of what they have.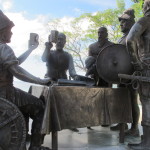 Those attitudes go way back. Historically, Bohol was a major foothold for the Spanish in the 16th century after Magellan first visited here. The local tribes didn't much like Europeans after visits by marauding Portuguese, so they killed Magellan and his men on an island between Bohol and Cebu. Magellan's more persuasive successor Legazpi then signed the famous Blood Compact with Bool tribal chief Datu Sitakuna, a peace treaty concluded with a drink which purportedly included a bit of mingled blood. We visited the clumsy memorial to that occasion, tucked between a hotel under construction and a convenience store along a busy street. It's not really the site anyway, as the compact was concluded out at sea, but Boholans remain quite proud of their ability to stand as equals with the Spanish, and fight for their rights afterwards.
Though the Spanish did keep control for a good part of the 17th century, rebellions broke out occasionally driven by distaste for Jesuitic religion and Spanish imperialism. The most notable revolt began in the mid-18th century and lasted for nearly 90 years. The rebels dominated the center of the country so that whole period saw no development of Spanish towns or the colonial style, the kind of physical history that attracts tourists in other parts of the country.
Those towns might not have lasted anyway, for after the American purchase of these islands in 1899, its forces soon quashed yet another rebellion here and leveled nearly 60% of Bohol's towns. The battles in World War II probably finished the job.
What man couldn't destroy, nature did. Around the island, we saw some of the damage from the earthquake – roads cracked, bridges broken and a shoreline that rose two meters overnight. Most notably, though, the quake damaged two major churches – both made from coral and limestone –revered by the Boholans and regularly visited by tourists.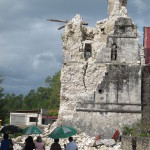 At the Church of Baclayon in Tagbilaran City, one of the oldest churches in the country dating from 1724, the quake damaged a large section of the building, untethered hunks of stone throughout and crumbled the adjacent bell-tower.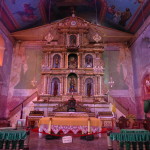 Fortunately much of it survived, including the massive sculpted wood retablos and the interesting collection of church vestments, liturgical implements and hymnals in the museum section. Still, we had to don hard hats to tour the building just in case pieces fell off; the church school now met in the open air nearby so the children wouldn't be at risk inside.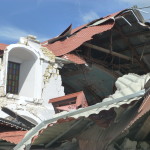 The other major stone church of that era in Loboc fared much worse, with the entrance and chancel sections collapsed completely, leaving only the middle standing, with its forlorn painted ceiling visible through the broken walls.
But the Boholans seem to take it all in stride. Several people we met expressed how fortunate it was that the quake occurred during a holiday. Otherwise many more deaths might have happened. And they are already looking optimistically ahead to the rebuilding efforts, even if these might take a lot longer than they would hope.
They also seem to take the shady nature of politics with a fatalistic humor. Our visit coincided with local elections that were deferred because of the earthquake and then the typhoon not even a month later.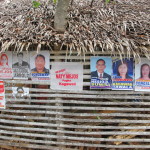 It appears that candidates for office encourage voters to participate through cash handouts. When our guide tried to help us break a 100 peso bill into twenties, she was kidded about running for political office. Voting for local village, or barangay, leaders seems to go for 20 pesos (about 50 cents, US).  Higher level offices could entail voter buying in the thousands of pesos. So, often it's just the well-to-do that run for office and various forms of corruption continue afterwards. Before the typhoon hit, the biggest news in the country was a political pork fund scandal involving billions of pesos drained from the public purse. We told our guide that elections in Chicago used to involve significant voting by dead people; here, she countered, officials prefer to hire dead people as staff to pump up the payroll.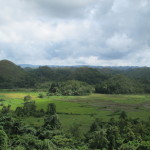 Politics aside, in typical Boholan fashion, over the last decade or so the island had reinvented itself as a tourist destination. As a consequence, after lagging economically for so many years, it became one of the most successful provinces in the country. Resorts and dive centers proliferated as the island began to lure visitors to its extensive beaches and underwater attractions. It helped, as we discovered during our tour of the island, that Bohol featured a host of natural attractions above the water as well as below, particularly the diminutive Tarsier monkeys and the knobby Chocolate Hills. (See our subsequent post for more about these.)
With all these offerings – historical, cultural, natural – travelers have a lot of reasons to come to Bohol. Unsurprisingly, the earthquake scared many away, but with little damage to the beaches and resorts Bohol would have rebounded quickly.
Even Typhoon Haiyan slipped by the island with little direct damage. Ironically, however, it ended up punishing Bohol for its adoption of green energy. The island had become a prime user of geothermal power from volcanic sources in Leyte Island to the east, as well as investing in supplemental hydro power at falls above rivers like Loboc. The typhoon unluckily damaged distribution lines carrying the power here from Leyte.
So, now much of the island is dark at night; power to urban areas and villages is rationed. Yet, ever resilient, Boholans have spread the power delivery well enough to keep most things going as needed. We visited our travel office when its section of Tagbilaran City had no power but, with mobile telephone service still functioning, office workers kept tapping rapidly at their laptops in the waning afternoon light before the batteries drained. Residents have deployed low power LED lights and hooked up car batteries to power them. Small restaurants heat their stoves with wood fires. As for the tourists, independent generators at most of the resorts mean that most visitors would barely notice the impact, except perhaps for a few hours a day.
Word is that the power lines will be restored by early next year, or maybe even by December, the busy season for tourism. In the meantime, Boholans will continue to defy the dark.
(Also, for more pictures from the Philippines, CLICK HERE to view the slideshow at the end of the Philippines itinerary page.)