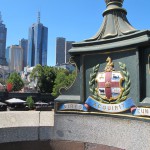 We felt nostalgic and saddened as we prepared to leave our home in Melbourne and the country of Australia. We've loved all the quirky charms of the city – its trams, its hidden laneways, its mash-up of new and old architecture, its myriad sources of arts and music, its liveliness, its cycling trails, and especially its friendly people.  We've had fun times with the good friends we made here, cooking dinners for each other as well as dining at fine local restaurants, wandering the parks, yelling at footy matches, praying together and more.
But our visa was up, the end of our legitimate stay in Oz, so we've now jumped across the Tasman Sea back to New Zealand where the visa it issued is still valid.
Fortunately our last trip in Oz  – to Adelaide and Kangaroo Island in South Australia – gave us Australia in microcosm, prompting memories of all we have come to love about its wildlife, beaches, and forests.
We drove eight hours west from Melbourne, observing typical flatlands speckled with sheep or blazing yellow with flowering plants or dazzling green with sprouting springtime vegetables. Along the way, the irregular, low lying mountains of the Grampians jutted out of the plains. At the end, we dropped into Adelaide from high up on the eucalypt-covered hills that ring the city.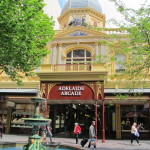 We planned on just a brief stay in town, but Adelaide proved immediately appealing (despite arriving on the city's early version of Halloween, zombie night). Unlike Brisbane, Adelaide is quite easy to get around since the central city is laid out with rigorous colonial discipline. The city's rectangular grid divides into four quadrants, each of which is centered on a large rectangular park. Oddly, the streets change names as you cross between east and west quadrants, but not north and south.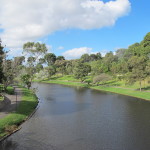 On the main entertainment street, Hindley/Rundle, bars tend to be to west of center, restaurants to the east. The surprisingly rich museums , convention centre, the venues of the famous Adelaide Festival, most of the historical buildings and other entertainment arenas line North Terrace at the top end of the grid, which doesn't change its name across quadrants. North of North Terrace, the Torrens River gently flows alongside paths for strolliing and at least 30 kilometers of biking.
With limited time, we had decided to skip other parts of South Australia, including the renowned wine districts of Barossa and McLaren Vale between Adelaide and Kangaroo Island, though we did not miss out on their wines. The island was our main focus, a ferry ride from the end of the rugged coastline and pastures of Fleurieu Peninsula.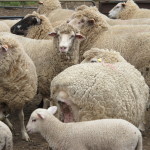 On the island, it takes less than two hours to drive from end to end. There are only three towns of any size, two on the eastern shore and one in the middle. Close by, specialty producers of sheep milk and cheese, Ligurian honey from Italian bees and other organic product – all offer their tasty specialties. Several seafood markets deliver the freshest local catch, such as delicious marron (crayfish), whiting, prawns, flake and oysters. Outside of the towns, you find seemingly endless hectares of scrub and grazing land. And you don't see a lot of people, other than around the towns or on the many bays where travelers and accommodations cluster.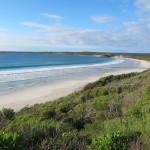 We started our week with a couple of nights near the small estuary at Vivonne Bay on the South Coast. Down here the sea is rough, not suited for swimming, but the beautiful sand dunes and shoreline reminded us of all those other magnificent strands we have visited around the country. As is typical, you can see none of the homes when you walk the beach, for they are kept invisible behind the nearest sand dunes. Most are scattered within the coastal woods that reach a kilometer or so from the shore to the main road.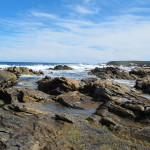 During our stay at Vivonne Bay, we walked several tracks through the nearby forest reserves, as we have done frequently around Australia.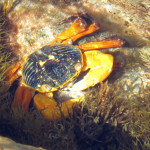 We eventually mastered the art of sand-boarding on the bare, dazzlingly white dunes of Little Sahara – a lot like those we had seen near the Pinnacles in Western Australia. We tiptoed near nursing sea lions and watched others surfing or feeding at Seal Bay, a reminder of all the marine life we have been privileged to share ocean with.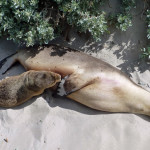 We relaxed for hours on the deck of our beach home, serenaded by invisible birds. The roads to the huge Gantheaume reserve were impassable after the heavy rains of the early spring, but we didn't feel we missed a thing.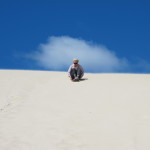 The next two nights we stayed at Flinders Chase National Park, another large tract with relatively unspoiled forest and sandy scrubland on the western end of the island. We occupied an old settler's home, Mays Cottage, whose whitewashed stone walls held in the heat of the fireplace at night and kept the heat of the day out.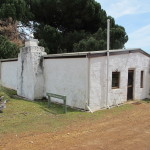 The interior blended modern touches and conveniences with century-old styling and fixtures, such as a very usable wood stove. To get to the toilet and shower, we had to walk outside among the squawking Cape Barren Geese, but those facilities were quite clean and new.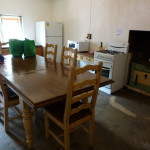 We knew we had to skip huge sections of the park accessible only by "corrugated" dirt road, those that are banned to standard rental cars like ours. But our two nights in the park let us experience the rest in ways that most visitors miss. Most of them drive several hours from the east coast of the island or bus thru on a day's tour of Kangaroo. Perhaps they catch a glimpse of the eponymous kangaroos and a glimpse of the wild western coastline, but mostly they can see only the two most notable features of the park – Admirals Arch and the Remarkable Rocks.
By taking our time, walking the rugged coastal cliffs and the garriguey hills close to those tourist sites, we found a lot more to enjoy: kangaroos hopping nearby then hunched over the best undergrowth, intriguing plants flourishing in the sandy hills and a rainbow of blooms.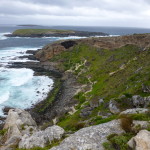 And we had two chances to see the arch and the rocks late in the afternoon when just a handful of other people were there. On the first visit, the weather had turned foul, blowing violently and showering.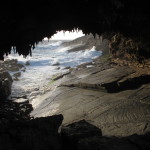 Through the gaping mouth of Admirals Arch, we viewed an ebony platform of rock constantly inundated by turbulent waves. Fur seals skittered about and navigated the froth. But we could barely stand the pounding of water from rain and foam. In those stormy conditions, we didn't even try to see the Remarkable Rocks nearby.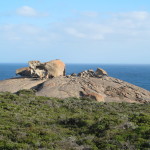 On the second afternoon, we returned in much milder weather, though seemingly no less violent a sea. The arch still opened onto the turmoil, but was a lot more pleasant to linger at, all by ourselves.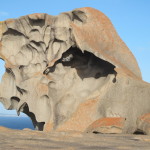 The Rocks, which are indeed remarkable boulders eroded into odd shapes, gleamed in the late sunlight and cast looming shadows onto the cliffs. Though quite unusual, they reminded us of the many wind-whipped shores and boulder-strewn pathways we had taken throughout Australia
Staying in the park also let us do a very pleasant nine kilometer circuit trail along Rocky Road creek.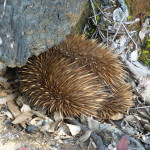 We may have missed seeing platypus yet again at the half-dozen "platypus creeks," but we passed dozens of indifferent wallabies, some shy echidnas as well as dormant koalas wedged into crooks of trees.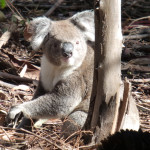 We even watched one industrious koala wandering about looking for a juicy-leafed tree to occupy, the first time we had ever seen one on the ground.
The visitors in busses could only imagine what they missed.
We ended our visit to Kangaroo Island with a lazy stay on the north shore, the more congenial coast for swimming when the waters get warmer.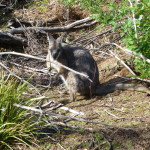 At Stokes Bay, we occupied a cute cottage located on a grassy field atop cliffs overlooking the ocean.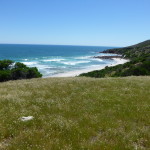 There some kangaroos hung about during the day, lolling in the cool shade, just as we did on our patio (except for our fly-swatting walk through a nearby preserve and a leisurely combing of the beach below). Each evening, over twenty kangaroos gathered around us, slowly eating their way along and occasionally hopping by to find some particularly appealing patch of clover – just as they did on our first sighting of wild kangaroos at Wilson's Promontory in Victoria.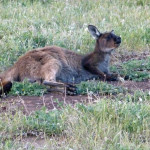 Then it was a short ferry and a long drive back to Melbourne to catch a few friends who were in town from Texas for just a day, followed by several days of goodbye lunches to celebrate friendship with those we have met here.
In Australia, the most common way to end a conversation, whether casual or commercial, is with the phrase, "See ya." This is akin to au revoir in French or asta la vista in Spanish. You might not see each other again, but you share the hope of visits to come.
Our friends, along with Kangaroo Island and its hopping marsupials, gave us a memorable send-off; the people of Australia and the things we skipped gave us a reason to come back. Now, as we jump to New Zealand once more, we sadly say "See ya" to it all.
(Also, for more pictures from Australia, CLICK HERE to view the slideshow at the end of the Australia itinerary page.)