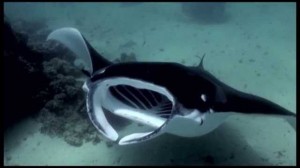 In this part, you can find out about a beach made completely of small cockle shells and what it's like to swim with grinning, four-meter wide manta rays.
Part 1 reveals what we call Western Australia's "Grand Ocean Road," with its colorful sandstone bluffs, and the amazing stromatolites, without whom this blog – or anything else for that matter – would not be possible. Moving northward…
Shell Beach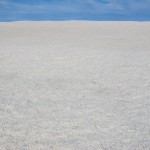 Continuing up the peninsula of Shark Bay, halfway between the stromatolites at Hamelin and Francois Peron Reserve at its tip, we visited an oddity we could appreciate almost more in concept than in actuality, though it was truly strange.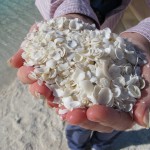 Shell Beach is supposedly one of only two in the world composed entirely of small cockle shells, each about a centimeter or two in size. And not just the shoreline, but the land back from it up to maybe a third of a kilometer. And not just a thin layer of shells, but a thick blanket of them up to 10 meters deep, stretching up and down the coast as far as we could see. The unusual conditions of the salty bay, in addition to keeping the stromatolites alive farther south, have let the little cockles run amok and then die piled up here.
The sight is literally dazzling, as the billions of bleached white shells seem to dissolve into an undifferentiated crunchy white surface almost painful to stare at in the sunlight. It's only by picking up a handful or digging around a bit in the "sand" that you begin to see the number of shells you're walking on, in their weird usurpation of this coast.
Francois Peron National Park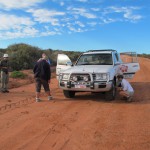 At the top of the central peninsula is the sandy, shrubby terrain of Francois Peron. This is 4WD territory only, not even all wheel drive, for the roads are just wide trails of soft red sand cut through the brush. At the entrance, 4WD drivers must even lower the air pressure of their tires by around a third to increase traction on the trails. We decided to go with a tour instead of worrying about getting stuck (a very expensive possibility way out here).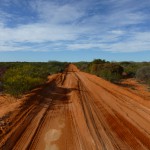 We were glad we did it that way. As with any good tour in unfamiliar territory, we saved a lot of time and effort, plus what we learned about the utility of various plants give a different texture to what might otherwise seem an undifferentiated mix of scrub. Our favorite tree provided shade for the heat, drinkable water collected in its roots, and edible berries in the right season. Another called something like "stop me now" was a spiky shrub that snagged passersby in a very uncomfortable manner, but had its own useful properties.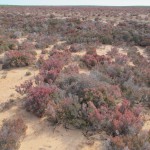 You see quite a bit of the landscape on the forty kilometer track to the tip of the peninsula. The desert was just beginning to flower, with bright yellows and the pinks of desert rose offset by the deep red backdrop of sand. We passed through birridas, sparse grey colored flats we had noticed on the highway because they looked quite different from the surrounding bush. We learned they were essentially sprawling dry lakes once filled by the sea and therefore so salty that only specialized plants could grow in them. One shrub, whose spiky leaf yielded a squirt of lightly salted water when eaten, has become a bit of a delicacy for cooking here and in France.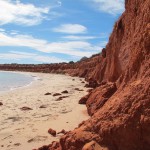 Yet the big attraction in Peron is the coastline, where at various stopping points we could relish its sandstone, red sand and red rock cliffs fronting impossibly clear bays. One of our favorite stops was a narrow strip of beach over which a great wall of red clay cliff loomed.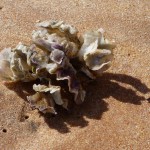 On the beach, oddly shaped clumps of the rock and lovely shells such as clustered barnacles kept us entertained for a long time.
Another favorite was the inlet at the northern tip, Cape Peron, a rolling set of red sand dunes overlooking the ocean. At a lookout, we enjoyed lunch. Below us, snapper and other fish clustered in pools amid the rocks, while a handful of fishermen pulled out large ones almost as soon as their bait began to dance across the water. A few brownish rays wallowed under water in the sands.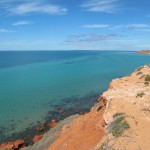 A bit farther out, the sea was dark green because of the extensive sea grass growing in the bay. Those iris-like plants attract other animals. Several sea turtles popped to the surface just below then wiggled toward the grasses in order to feed.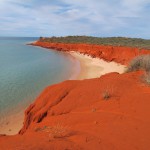 Two dugongs, manatee-like mammals apparently related to the elephant but with whale-like tails, glided by on a similar mission just below the surface, easing upward occasionally to pull in air with their blowholes.
At the other end of the inlet we walked high above the sea on the dunes, where we could still see the well-defined tracks of wallabies and lizards from the night before. Huge clusters of terns, cormorants and gulls waited calmly on the shore, along with a lone Australian shelduck seemingly lost among the shorebirds.
Monkey Mia (pronounced Monkey Maya)
We took a quick look at this highly touted resort on the same peninsula where you find Francois Peron. It is best known for the host of bottle-nosed dolphins that cavort and feed close to shore…and it's no wonder really since they are regularly fed at the resort so that people can pile into the water with them. It all seemed a bit, well, set up, like an open water Sea World. The place looked nice enough, and dolphins were indeed swimming back and forth close into shore even at the end of the day. We were pleased to see them, but glad to miss the morning zoo.
Manta rays at Coral Bay
Back down Shark Bay from the center tine of the trident, and then a long way north again up the eastern shore, we spent a number of days in Coral Bay. This small tourist town is the center for beach-goers, fishing aficionados and reef visitors, as is the town of Exmouth another hour or two north.  Though friending a massive whale shark was a special reason for ending up here (click here to see our post and the video), we would have come anyway to dive into the waters and see what the Ningaloo Reef had to offer.
We were not disappointed. Unlike the GBR (Great Barrier Reef), which requires hours to reach by fast boat, this western fringing reef is within minutes of shore. The reef is mainly hard coral, which is not as diversely colored as GBR coral, but forms delightfully diverse and intricate shapes. The fish that thrive here were just as colorful and plentiful as at GBR. Along with some old friends – sea turtles, reef sharks, sting rays, and various angel or butterfly fish – we saw species even we recognized as different, like the scorpion fish and the "wild cat" bunch: leopard sharks and lion fish. We also saw dozens of humpback whales a bit off in the deeper waters, doing some tail turning dives and lots of blows.
But the rich organic life of these waters also attracts the impressive, hydrodynamic manta ray. These are huge as well, up to 3 or 4 meters in wingspan. They tend to gather in certain good feeding areas so they are both easy to find and hang about for awhile. We didn't have to do a frantic chase, as we did with the whale shark. Instead, we dove into the waters inside the reef and settled ourselves for 45 minutes or so, observing three of these graceful swimmers.
We were fortunate also that they were actively feeding on the slight haze of plankton, krill and other tiny creatures within the otherwise clear waters. For the rays kept doing cartwheels beneath us, at times near the bottom, at times within a few meters of us. As they tumbled and turned upwards, we would be looking into their wide mouths, open to suck in the food, with the protuberant fins that flank their mouths sweeping food in. It was a bit disconcerting at first to hover over these oddly grinning fish as they rose up toward us, blithely feeding despite our presence, but it was a memorable sight, as you can see in this short video.
Manta rays, whale sharks, cockle shell beaches; dolphins and dugongs and whales, oh my; red red beaches, pink lakes, oxygenating ancients, sandstone cliffs in myriad colors, wide river gorges, sheep for the shearing. All among the curiosities we could see on Australia's west coast.
(Also, for more pictures from Australia, CLICK HERE to view the slideshow at the end of the Australia itinerary page.)