It seemed surreal, lying there about 10 meters off the road, legs pointing toward the sky. A large bull, clearly dead a while. Nor was that the only one we saw, dead or alive, during our 4120 kilometer traversal of the coastal regions and interior of Western Australia.
In the northern outback, two industries dominate. One is ranching of cattle, sheep and goats, all of which typically roam for food freely about the sparse landscape, often in company with the wild kangaroos, wallabies and emus. Ranchers need a lot of space for the animals to graze successfully in this dry land, an area far too large to fence. Besides, what fences exist are apparently hard to maintain, based on all the broken sections we saw. So, by custom, when it's time to herd the animals for slaughter or shearing (typically during the dry days of summer when water holes are few), they're yours to manage if they're on your land.
As we drove, we did encounter emus right on the road, goats and sheep just by it, plus crossing herds of cattle. They are fairly easy to spot and avoid during the day. But not in the dark. That's why, both here and in the Northern Territories (northeastern Australia), drivers of ordinary vehicles are well advised to bed down early, and not drive at night. As it is, in the dawn's early light, you'll see the sad debris of road kill from the night before. And you'll see nature's cleanup crews of ravens and raptors feeding on the often pureed remains during the long intervals between passing cars. The ravens are always quick enough to whirl out of the way; the hawks, however, reportedly engorge themselves so much that they often mistime their escape and become victims themselves.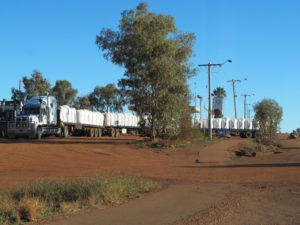 So why the morning road kill? We found out when we spent the night at the old mining town of Mt. Magnet, as road train after road train rumbled through the streets and continued along the 100 – 150 kilometer reach of highway to the next small town.
We had been warned about the road trains, a distinctive feature of northern Australian highways, alerts that evoked images of Mad Max mayhem or Spielberg's troubling trucker in The Duel.
Road train, road train, run so fast.
Road train, road train, tough to pass.
Please don't slide over in my lane,
Or I'll end up been and gone.
Road trains are trucks hauling three or four regular trailers behind them at allowed lengths up to 53.5 meters (about 175 feet). Though they do serve the ranchers and farmers up here, we observed that they are likely more critical for the really booming industry, mining. The main material is iron ore, whose red traces you see throughout the north – in the hills, gorges and dust coating your shoes. But the big companies extract other minerals as well, including gold, in a modernized revival of the century old gold rush in the area. We found out about gold mining in Mt. Magnet also, when we chatted at a bar with a few young workers in reflective yellow vests, standard uniform for all miners up here.
Yet, for all the mining activity, there are few train lines in these vast spaces, other than private rail transport for ore, conduits between the mines and the northern ports from which Oz primarily supplies China. Road trains efficiently do a lot of the other work.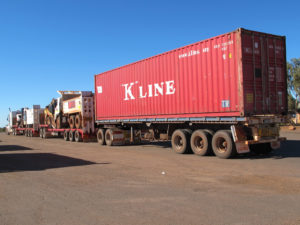 They are well suited to the mostly straight and flat two-lane roads across the region, like the Great Northern Highway, Route 95, running from Perth to Port Hedland. Tourist and casual traffic is sparse, and few cross-roads exist. Their powerful haulers can easily drag all that weight at or near the speed limit of 110 kph (about 70 miles per hour). Plus driving is pretty civilized here in Oz (and enforced by speed cameras all around): no one exceeds a speed limit by more than few kilometers per hour (except for some quick "overtaking"). So truckers don't have too many heavy footed folks itchy to pass; and they can likely pass any slow moving vehicles as well.
Road trains can be tough to overtake, especially in inclement conditions. You're often peeking down the other lane at other road trains hurtling toward you, with all that 53.5 long meters of exposure to clear. The back ends can fishtail threateningly when cross-winds hit. Rain, though infrequent, can blind drivers behind or beside them; fortunately, we saw none of that. Margins of error are slight too. Usually, just a sliver of asphalt (or what Aussies call bitumen) extends from the side lane marker. Then it's just flattened red dirt strewn with rocks, very slippery even in dry conditions. Nor are there any passing/overtaking lanes, as you find in more heavily trafficked parts of the country.
Nonetheless, the road train drivers are pros. They expertly maneuver their load around curves. They signal you when the other lane is clear and when it's safe to pull back in front of them. Even those that had to drive onto the rough dirt margins kept remarkable control of their enormous loads. In the end, we had few problems driving along with them and overtaking when we wanted to.
Besides, there are a lot of benefits to having them around. If you're in trouble, they can communicate by satellite phone when mobile phones don't work. The scattered towns, though remnants of better times, still offer basic services for the many truckers (and miners) passing through. When there are no towns, veteran road houses fill in, offering huge lots, beds, food and mobile phone services. Many dirt roads that connect the main highways are well maintained so that the road trains can speedily get through, even though you can often be delayed by traffic at the many road train assembly areas.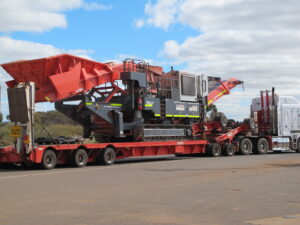 The real challenge, we discovered, even for the road train drivers, results from their trucking buddies, the ubiquitous wide-load haulers, who mostly seem to be supplying the mines with equipment and other needs – among the cargo muscling us off the road, we saw stocky pre-fabricated buildings, tall stacks of tires each as big as a car, front-end loaders larger than a house, massive diggers and other fancy new equipment.
The modestly wide ones have a demure yellow banner under their front grill gently warning you that they are a bit of a wide load. The seriously wide ones follow, and are followed by, pilot cars whose job it is to clear the road in front of them and warn those behind them. We eventually figured out how the system worked:
Wide load hanging somewhat outside the lane – pilot cars flash their lights and get your attention by driving near the dividing line.
Wide load taking up a large part of your lane – pilot cars flash lights and head directly toward you to move you off the road. In practice, we found, that means pulling onto the dirt margin and waiting till the thing galumphs by. The first time this happened we suddenly came across a number of cars pulled off to the side, passed them quizzically, and then suddenly realized what was looming ahead of us.
Passing the moderately wide loads takes some patience and control since you can't easily see around them and you just skirt the dirt margin while overtaking. Fortunately, we never needed to pass one of these super-sized loads. We figured that would have been impossible.
So, with these behemoths and the road trains capable of pushing aside anything that moseys into their path, it's no wonder that the highways display so much road kill. But perhaps it's not all a one-sided affair. We also saw a large number of cars by the road, some flipped over, some bashed up and burned out, their occupants hopefully unhurt from their apparent collision with some roaming animal.
Back at Mt. Magnet, we heard the locals discussing how cows could get caught under the front of a road train, raising its front end up helplessly and wrestling it off the road. A vivid reversal, and perhaps just a fanciful possibility fueled by schooners of beer, for we never saw any evidence of that wild spectacle out on the Great Northern Highway.
(Also, for more pictures from Australia, CLICK HERE to view the slideshow at the end of the Australia itinerary page.)