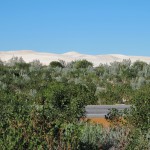 About an hour's drive north of Perth, you escape the sprawling northern limit of its farthest suburbs, and begin to travel through the outback, a desert of scattered trees and bushes, occasionally interrupted by mounds of fine white sand dunes.
Most people who continue up the west coast of Australia along Indian Ocean Drive (Route 60) do so for one of two reasons, either to fish in the rich waters of the Coral Coast's bays, or to enjoy its beaches and reefs.
The fishing visitors are equipped with boats of all sizes, as well as the trucks, 4WDs and SUVs that can haul the boats. They head straight to the few coastal towns, like Denham or Exmouth, where the fishing is best. Their evening ritual is gathering at cleaning stations for icy beer and fish cleaning.
The non-fishers troupe here in campervans or sedans. They seek out the inviting beaches and the extraordinary reef off shore, hoping also to catch sight of whales, dolphins, or sharks while here.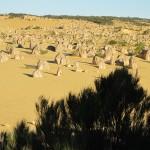 These visitors typically take the time to visit the remarkable natural sights along the way. One of the obligatory stops is Nambung National Park, two to three hours from Perth, and now visited annually by a quarter million people. The park's most notable feature is a section called the Pinnacles, an abundant display of spires poking from the desert sand. Here nature has crafted a place where the imagination or artistic eye can run free, especially if you slowly walk the three mile trail amid the spires, rather than drive.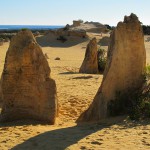 So imagine how these forms came to be.
Imagine pouring sand into a cave with innumerable columns of calcified pillars, then removing the top of the cave (very slowly…using wind and weather) so that the pillars just poke through the sand. Or imagine forming orange clay into endless mounds and statues, ranging from under a foot high to 10 feet tall, and plunking them randomly into the sand.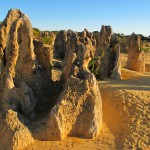 Or invent an aboriginal myth – for none seem to have survived – telling of the follies of some god-like predecessor in the Dreamtime, who spilled these forms onto the land. Or imagine a vast cemetery with red memorial stones placed across the landscape. Or the model for a surreal landscape by De Chirico or Dali.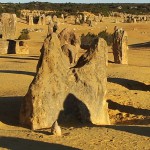 Wonderfully, even scientists are not sure how the pinnacles were formed, though the mounds seem to be the result of interacting vegetation, rain and limestone – mother nature using her own imagination to create unusual forms under unusual conditions.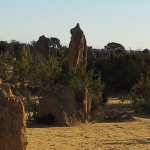 Whatever you imagine as the cause, it's difficult not to find a child-like delight in the many different shapes of these columns. Who needs clouds to fantasize about? Over there, can you see two seals dancing together? Over here, a transplanted statue of Horus? Isn't that one King Kong or the Incredible Hulk?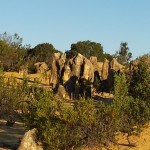 Aha, Rodin's Burghers of Calais? Isn't that the Wicked Witch? This, a woman at her dressing table? Or that, a skyscraping erection? Can you see the head of Napoleon carved over there?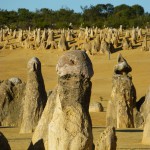 The shapes shift as you move about them and form new options in your head. Look down that row at the statuesque welcoming officials in line to greet a duchess.
Perhaps our pictures can stir your own imagination.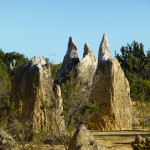 Better yet, come here in the early morning or late afternoon, as we did, so you can see the colors deepen and glisten. Long shadows accentuate the shapes as they creep along the sands. Even if you don't let your imagination range free, you can still feel the otherworldly character of this startling place.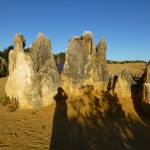 We were not alone feeling child-like in this wonderland. We watched a few young couples posing for pictures and laughing endlessly at what they called an emperor's throne upon a hill. Actual children gleefully ran amid the columns pointing here and there, calling names of shapes out to each other.
Even when finished with their own naming work, two others slid to and fro on some beaten sand as if they were gliding on ice.
(Also, for more pictures from Australia, CLICK HERE to view the slideshow at the end of the Australia itinerary page.)