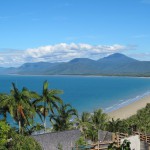 Most people don't get far afield from the palm-fringed tropical beaches of north Queensland or the underwater charms of the Great Barrier Reef. Many do find their way, at least, to tourist-friendly Kuranda, a rainforest theme park northwest of Cairns. You can get your thrill and rainforest fix all in the same place here. Just  to get here, you can drive the curvy hill roads, hop on gondolas skimming the treetops, or ride the rails among the hills. Just like a resort, Kuranda offers lots of places to stay plus heaps of shopping and eating, as well as a zoo-like experience of corralled butterflies, reptiles, marsupials and birds. It's apparently worthwhile, if that's what appeals to you.
However, if you have the time, you should do what a lot of locals do: tour the Atherton Tableland, southwest of Kuranda and west of Cairns. This plateau covers over 30,000 square kilometres of high hills up to 1300 meters, sprawling valleys, gorgeous gorges and waters of all sorts – marshes, swamps, rivers, creeks, crater pools, sizable lakes and innumerable waterfalls. Much of that water flows down off the central spine of the tableland, whose hills are largely national parkland of rainforest on the coastal side and dryer eucalyptus forest on the west side.
Even the air, we found, can be waterlogged. One day, with wet air drawn in from the sea, fog had drifted in across a great swath of the tableland, not just nibbling at the tops of the hills, but settling heavily into the dryer valleys as well. Trees and houses vanished in the distance.
All that water and the volcanic soil here make it an inordinately fertile terrain. Hundreds of Chinese came here at the start of the 20th century and started growing sugar cane, mangoes, etc., along with dairy farming. Milk still flows from those grassy fields laden with cattle. The tableland has long been the primary supplier of milk and other dairy products to northern Australia, but its premium product has come under pressure from both producer price competition and consumers who choose lower quality commodity product. Ironically, Chinese companies are reportedly buying some of this dairy land to ensure economical supply back home.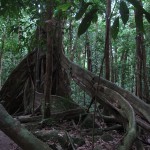 The mix of cultivated land and uncultivated gives a diverse beauty to the Tableland that is well worth days and days of visiting, from dairy tours and produce shopping to wilder pleasures. For example, we walked a bit of the extensive eucalypt forests here, partly to see some of the unusual trees. We were familiar with buttressing eucalypts, which have fins like rocket ships to hold them up and stocky serpentine roots stretching above ground for meters and meters. But they are fascinating at any time.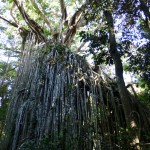 Here we also found a concentration of strangler figs, trees that germinate on other trees, then spread their roots downward to eventually envelop the host trees like slow-moving pythons. Some, over time, have continued to poke roots into the ground to create elaborate architectural forms: one ancient fig here shaped itself into a Gothic cathedral, another into a massive curtain wall, like a waterfall of roots.
Otherwise, while at the Tablelands, we spent most of our time among various forms of water that truly make this a wonderland – wetlands, river gorges, waterfalls and lakes.
Wetlands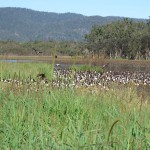 We headed to Hasties Swamp just south of Atherton, passing through hectares of sprawling farms. Down a dirt road, we rounded a bend and there suddenly on the right a lake packed with hundreds of birds.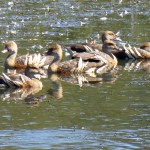 Two huge populations filled the water: magpie geese, white bodies bookended by black feathers fore and aft, and plumed whistling ducks, bronzed in the sun and adorned on their sides by cowlicks of gaudy feathers. Farther off, a flock of pink-eared ducks whirled in small gyres, their wedge-shaped bills plowing the water as if their steering wheels were stuck far right.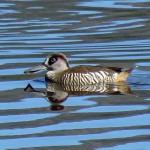 Overhead several harrier hawks and two stately sarus cranes flew by. Nearby at the double-decked viewing platform, other ducks dabbled about placidly in the sweeping blue of the marsh-fringed water.
Mareeba Wetlands, a much larger area saved from cane farming nearly two decades ago, offers two endemic environments. The first is a typical Australian savannah, a scraggly outback with scattered tapers of eucalypt trees, dusty scrub and termite mounds up to five feet tall; we found ourselves in it after following a bumpy dirt access road past irrigated farmland.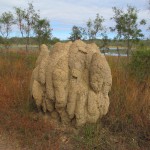 The other is a broad, shallow lake, now home to a wide variety of birds and re-introduced species like freshwater crocodiles.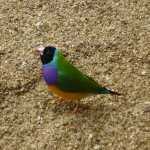 Since Mareeba was protected, conservation staff and a host of volunteers have helped it thrive. One of the loveliest examples of their work was alive in a sheltered space at the visitor centre: dozens of very rare Gouldian finches. The manager explained her labor of love to defy skeptics and successfully breed these finches. Soon, she bragged, they would be released into the wild, hopefully to bring the species back from extinction.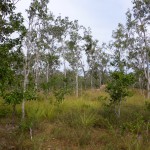 After enjoying the gracious viewing deck at the centre, we walked around the lake. Instead of flocks, as at Hasties Swamp, small numbers of unique species got our attention: the jabiru, or black-necked stork; a pair of lithe and elegant brolga cranes; the clown-faced double barred finch. A kite sat vigilantly atop one tree near the edge of the woods; an elegant darter kept watch from some dead limbs in the water.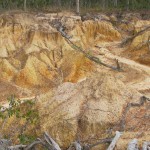 We shifted to a bush walk through the dry savannah. Passing over a ridge, we came upon a miniature of the Grand Canyon, a dry twisting ravine through multicolored clay, merely five or six feet deep. Then we returned to the water where bright green grasses teemed near the path and the forest thickened again.
Gorgeous gorge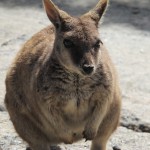 As in the American southwest, rivers in the Australian outback often cut deep channels through soft rock. That results in splendid gorges to explore, especially in the north of Australia.
Casual, lightly-touristed Granite Gorge here was a bit different, filled with massive granite boulders instead of deep ravines.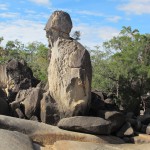 Over these boulders, friendly cute rock wallabies hopped about or shamelessly skittered up to us for a handout of the nibbles that were included in the price of admission. The main channel of the river flowed amiably around the boulders and meandered through farmlands.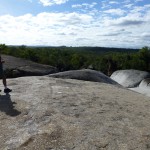 The rest disappeared quickly beneath the huge rocks and wound its mysterious path down below us as we too skittered and rock hopped for about a kilometer downstream. We passed numerous rocks in curious shapes, all named by some keen-eyed observer – Giant Turtle, Turk's Head, and so on.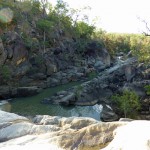 At the end of the boulder pile, on a point high above the reassembled waters, we could see the river continuing on away from us on its rocky course.
Waterfalls
Dozens of waterfalls dot the landscape of the tableland. You could spend several days here and not see them all. The two that we did visit could not have been more different.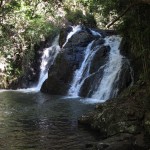 To reach Dinner Falls at Mt. Hypipamee, we followed a short trail thru thick rainforest. The trail traced a narrow rock-strewn river, running quickly at times, then pausing at calm pools. The water soon funneled thru a channel and cascaded down several levels for its picturesque drop into a lovely glen, where it created a 40-foot diameter pool deep enough for diving.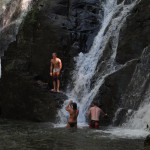 We had not realized you could swim here, and the water was frigid, but thoroughly enjoyed watching a gaggle of touring backpackers dive in where their guide directed, then climb triumphantly along the rock-face of the falls. One young woman near us wondered if she should dive in as well, so we advised her that, though she might be cold for a few minutes, she would always relish her willingness to do it. She took our advice.
In a less challenging moment nearby, we peered deep down into a massive hole appropriately called the Crater, hollowed out by a volcanic gas explosion and now partly filled with algae-covered waters.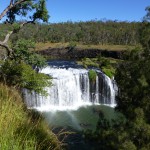 Far different was Millstream Falls at the southern end of the tableland. Here you descend steeply from the parking lot through open grasslands toward a wide river. Above the falls, it flows calmly through broad, open banks of volcanic rock, which look as if they had been scored by a giant with a huge fork. Just before it drops, the great flow of water splits at an island, with one part tumbling out of sight near the far bank, and the greater part spilling grandly over a wide scalloped ledge, looking a lot like a miniature of Niagara Falls. Apparently it is the widest falls in all of Australia.
Lakes
One of the biggest attractions for locals near the actual town of Atherton are several lakes, especially Lake Tinaroo, a reservoir created in the 1950s to ensure water for farming across the central valley of the Tableland. It offers all sorts of water recreation as well as walks through the adjacent woods.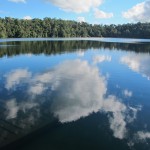 Trying to avoid such a busy place, we took an hour walk around Lake Eacham instead, one of two lakes here formed from volcanic craters. According to folk legend cited by Wikipedia, two campers on that spot angered the rainbow serpent by cutting down trees, then "the ground began to shake… the sky turned orange…the earth went from underneath them, sucked them in, whoosh, they all got drowned."
Eacham is not very large but you can boat there, or swim when the weather's a bit warmer. The lake was not quite as dramatic as the legend during our visit. We didn't even see the eight-foot python that regularly lounges in the sun near the access point. (Instead, we spotted another one at a wetlands near Cairns airport, of all places.) Still, the walk through thick forest was quite pleasant on a cool afternoon, with occasional views of the lake itself, the rustle of mouse-like critters near the trail and the calls of lyrebirds pinging upon the hills.
To return to Cairns and the coast, we drove up from the lakes and wetlands of the fertile valley, through the eucalypt forest and its fig trees, over the damp tops of the hills, then back down through dense, ferny rainforest. After the diverse delights of fresh water in the Tableland, we were back to the simple ones of the ocean.
(Also, for more pictures from Australia, CLICK HERE to view the slideshow at the end of the Australia itinerary page.)