A lament on not seeing a cassowary during our trip to Daintree National Park and Mossman Gorge. Click the link to read the prose version.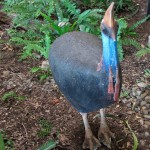 They tell you to be alert and wary,
When dining here at picnic spots,
Not to feed the cassowary.
Don't offer muffins, plum or berry
Or you will find a heap of trouble
With the pesky cassowary.
At six foot tall he can turn quite scary
For he claws and punches when annoyed,
That pugnacious cassowary.
Yet we tracked round ferns and woods, not leery,
Stirred by signs, in hopes to find
A wandering cassowary.
We passed dry creeks, they say, where he
Wanders down from hills to water,
That voracious cassowary
Huge strangler figs could make us tarry –
Strange roots baroque; we'd near forget
The invisible cassowary.
Massive bumps on roads through Daintree
Suggest we'd see this threatened bird;
Alas, the missing cassowary.
We saw some crocs patrolling free
Mid mangrove swamps on Cooper Creek
But not a single cassowary.
You'll still delight, if not contrary,
At forests, gorges, swamps – despite
That damn elusive cassowary.