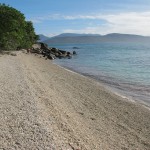 We stood on the shore and looked around the inviting bay of Fitzroy Island, a 45 minute ride from Cairns off the coast of Queensland and our home for three days.
Slight waves scratched the shore every few seconds. The wet brown sand recently washed by the waves and the dry white sand farther from the water both extended invitingly south to the island jetty; to the north, the sand led to a rocky outcropping capped by White Rock, a mound now whitewashed by the guano of countless birds such as the trio of brown booby in residence.
The few people on the beach relaxed on towels or splashed in the shallow water, stepping delicately on the rough rocky sea floor. Pleasant as it was, this delightful beach seemed to offer nothing special.
But there is a hint of something else here in the shards of bleached coral that cover the beach, at times heaped up several feet thick and clacking like metallic bracelets when you walk over them. You realize that it's coral, not stones, challenging the soles of people walking in the water. For, if you want to discover what's so special about this beach, you need to stick your head in the water and discover where this debris is coming from; you need to look below the surface of the sea.
And that's why several people on the beach have already donned snorkels and masks and paddle about within a few yards of shore, and why we did too.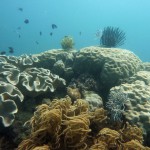 As our masks dipped below the surface and we headed away from shore, we found ourselves almost immediately in an extraordinary terrain of multicolored living coral – oranges, blues, olives, yellows, golds, peach – all less than a meter below us. As the water moved amid these organisms, some rippled and trembled like short hairs in the wind; some waved and twisted. Others seemed solid and impassive.
Their forms varied as much as their color: huge structures like giant brains or massive cylindrical drums; spiky stick figures like antlers; mounds with broccoli or cauliflower folds; stubby fingers; forested hillocks; and more.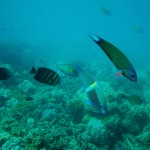 We were almost too distracted by the coral to notice the fishy glints of sunlight and rainbows. Most of us only know these splotches of color from aquariums, far from their true element.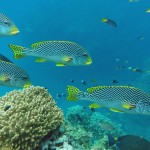 Here, at the reef, you're among the natives in their native land, wriggling along with them in and around the coral formations. Before long, we saw innumerable triggerfish of various stripings, bands and colors; butterfly and angel fish, yellow and striated and spectacled; large blue fish easing along and tiny orange fish pecking away at the coral. Our eyes darted this way, no that, trying to take it all in.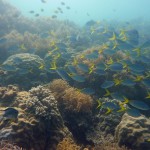 Every so often we would raise our heads out of the water, just to make sure the over-water world had not vanished. The bay and beach looked as mundane as they had from the shore – a lot of water, a swath of sand, some rocks. The life below remained invisible. With our heads back under again, however, the sea world teemed anew. An iridescent purple star fish, with one arm reemerging from its body, lay aglow on a sandy shoal.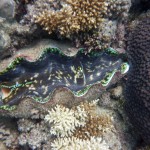 A four foot rock turned out to be a giant clam standing on its hinged edge. Staring down, we could see its wavy mouth ajar, sealed by a tight membrane punched through by several circular holes presumably to filter nourishment and water. The orangey flesh of the clam showed through. When we moved near the holes or waved hello, the seemingly immovable clam shell would quickly close halfway. A small camouflaged fish hid in one of its folds, eyeing us warily.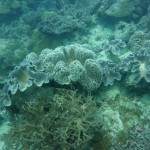 Another time, near an extensive rocky outcropping that marked the edge of this "fringing" reef around Fitzroy Island, we found ourselves amid a swarm of small silverfish, each with a black dot amidships. They darted and swirled around us, indifferent to our presence and never touching us despite our moving about. The school was so thick that it cloaked the reef and the larger fish until we found a way out of the swarm.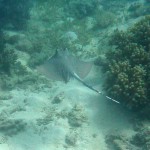 At the other end of the bay, near White Rock, a small (and unthreatening) reef shark suddenly appeared, then vanished to find lunch. We hovered over a three foot sea turtle as it munched on grasses and seaweed below us; soon two others drifted by. A sting ray greeted us as we grudgingly returned to shore – and the duller world outside the sea.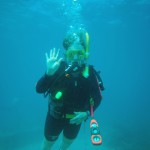 As bountiful as was the reef around Fitzroy Island, we thoroughly enjoyed our two explorations of the Great Barrier Reef about an hour further out from the mainland – one of us snorkeling and the other diving. We went there on one of the local cruise catamarans that cater to those who want to see the best of the world below the sea. Many of those on our catamaran would be staying for days aboard a stationary platform so they could dive at leisure.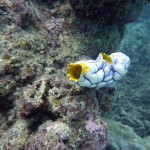 According to a marine geologist who went diving with Nancy, the coral out here differs markedly from that of a fringing reef. That's something we novices could not quite tell. But we could see that the barrier reef offered a literally breath-taking quantity and richness of life.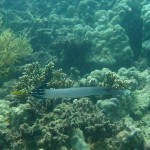 In addition to vast forests of coral and some beautiful fish we had already seen, we found many different fish feasting here, lined and splashed with brilliant paint, including the flute-shaped trumpetfish and the now renowned clown anemonefish (yes, Nemo…as in the movie).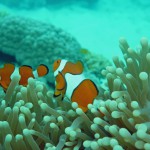 Near a terraced ridge of blooming coral, we spotted a big blue-green fish. For a few minutes, we followed this Humphead wrasse (an endangered species also known as the Maori or Napoleon wrasse) while it blithely navigated through coral canyons, and soon realized it was about as long as we were tall.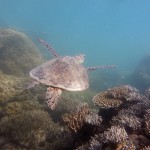 At another spot, we swam alongside a four to five foot green sea turtle treading water near the surface and poking his nostrils up for air occasionally. He cared even less than the wrasse about our presence, content to have us float along with him nearly arm in arm. We're told that they don't mind being petted, but we were happy just to pal around for a while without trying any flipper high fives.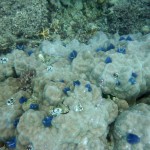 On her dives, Nancy noticed other unusual creatures like spotted sting-rays and a sleek four foot barracuda as they swam by. She spied shy purple Christmas tree worms shaped like fir trees, which disappear deep into the coral on which they sit, as you go by.  Upside-down jellyfish sprouted tentacles skyward from the sea floor. We both peered at wriggly black and reddish sea cucumbers, which emitted sticky threads like fishing lines to catch prey.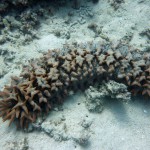 Two-thirds of the earth is covered by water, a vast living world you can only begin to discover by sticking your head in the ocean, whether at a World Heritage site like the Great Barrier Reef or at less famous underwater locales.
But do it soon. Sadly, many observers have documented the decline of the Great Barrier Reef, as well as the fringing reefs of these islands and others in the Pacific. And, as the reefs collapse, so does the food chain that more broadly sustains the ocean's fish. A few years ago, we toured the dying reefs around Costa Rica and saw the nearly dead sea that resulted. Natural disasters like cyclones cause much destruction, and their increasing numbers and intensity pose huge threats. The accelerating warming of waters can cook the coral, turning the living reef into skeletal remains like the beached debris on the island. More harm comes from man-made destruction through agricultural run-off (like that from the banana plantations of the Caribbean), increased shipping of oil and other resources from coastal ports (as here) and, yes, tourism. We saw too many people on Fitzroy Island unnecessarily standing on the living coral; even the most gentle of us can cause harm.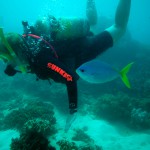 Still, you have to see what lies below the surface of the seas in order to appreciate and cherish that extraordinary world normally hidden to us. And there is no better place to do this than the wondrous reefs still aglow with sparkling fish and vibrant coral.
So, like Nemo, escape the mundane world. Make time to explore that precious underwater world normally hidden to us. Dive in, or don a mask and suck on a snorkel, then gently, very gently, stick your head in the sea.
(Also, for more pictures from Australia, CLICK HERE to view the slideshow at the end of the Australia itinerary page.)