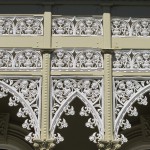 If you walk around the inner suburbs of Melbourne – such as Carlton, East Melbourne, Fitzroy, Richmond and others – it doesn't take long to notice the fancy cast ironwork and distinct style of many of the homes. These "filigreed" row houses , or terrace houses, date back mainly to the 1880s, though the style remained popular for quite a while and was pre-dated by similar row houses back to the 1850s, some of which are still around. While the style originated in England, the look reminded us most of those New Orleans' French Quarter houses decked in similar swirls of iron.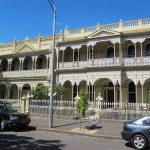 Walking Melbourne (www.walkingmelbourne.com) – a passionately collected bounty of information about what you see, well, walking Melbourne – claims: "Melbourne has more decorative cast iron than any other city in the world and much of this was used to decorate its terrace houses in the filigree style".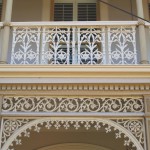 The late 19th century gold rush in the mountains north of Melbourne ensured enough wealth and a growing population to encourage extensive building of such "boom" townhouses. The very linear style also worked well in the city's flat terrain, though it is amusing to see how builders were able to adapt the look by adjoining homes in a stair step fashion where modest hills made tweaks necessary.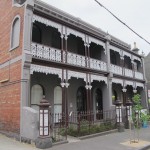 At first glance, the ironwork seems all the same, but then you notice the many different patterns, even on adjacent homes. Observing repeated ones and new ones can become a kind of treasure hunt on a walkabout.
Not surprisingly, both the city and its residents consider these terrace homes historically valuable. The heritage registry program sets many restrictions to make sure the buildings remain and are renovated authentically.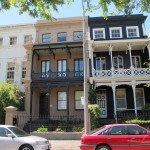 Sadly, as Walking Melbourne laments, in a story Americans will recognize from their own cities, many of these terrace homes were torn down in the 1950s and 1960s. Areas like East Melbourne had declined into slums, as the wealthier moved farther away from the CBD. As a result, according to Walking Melbourne, "many rows were substantially affected by widescale slum reclamation programs for public housing during the 1950s and 60s. Later private development of walk-up flats and in-fill development has further reduced the number of complete rows. As a result, streets and suburbs which contain large intact rows of terrace housing are now fairly rare. Suburbs such as Albert Park, Fitzroy, Carlton, Parkville and East Melbourne are now subject to strict heritage overlays to preserve what is left of these streetscapes. "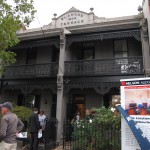 We noticed the spottiness of these vintage houses especially in East Melbourne, where blocks have become a jarring mix of some terrace homes, a number of undistinguished boxes for apartments and some sleek contemporary low-rise condos to which the well-to-do have returned. In Carlton and Fitzroy, we could detect the impact of changing fashions and simple lack of maintenance as much ironwork has disappeared.
Yet, the well preserved ones in such trendy neighborhoods can be quite pricey now. Part of Blanche Terrace, a diminutive 1904 row house we saw auctioned in Carlton, sold for over a million dollars (click here see the post about the auction).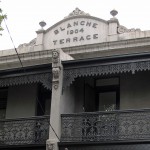 The style has a number of distinctive features beyond the ironwork, but one of them puzzled us. Centrally placed at the parapet atop the façade, on rowhouses with many homes or just a few, usually sits a kind of stuccoed cartouche or neo-classical aedicule (a fake portal) with the house name etched on it.
Why this passion for stuccoing names on top? No one seems to know for sure though the practice did start in England. Perhaps the nouveau riche of Melbourne also wanted to think of their homes like the named domains and castles of England. As one forum member at Walking Melbourne reported about a single street in St. Kilda, names proliferated and changed: a pair of terraces were "named St Leonard's House before the name was changed to Clendore," the name of Farndon was used for another terrace down the street, and an original owner James Hogan called a third one Findine. You wonder why they bothered with street numbers.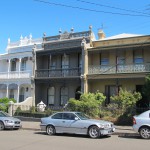 Many house names seem to be personal to the original owner: Byrne's Arcade Terrace (Richmond) for the shopkeeper Byrne; Ellen's, Eliza and Mary's Terraces as well as Blanche Terrace (all in Carlton); the intriguing adjacent homes of Casa de Maria and Casa de Juana built for Monsieur A. C. Allee (East Melbourne); or the more obvious Hope Terrace for a minister (East Melbourne).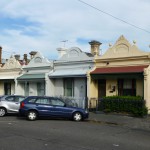 Even the lesser homes unable to afford the filigree could sport a vanity plate on the roof like these simple one-story terrace homes on Richardson Street in fashionable Carlton, where the Chester, Congleton, Bolton and Stockport families originally lived.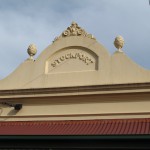 This naming thing seems to have become habitual; we're told by locals that Melburnians still like to give pet names to their houses, as people in other countries name their baches (holiday houses) and boats. They just tend to use a name plate by the front door, not stucco on the roof.
Other names we've seen suggest the developers just wanted to distinguish their terrace houses from the many others being built and, at the same time, use an attractive name prominently displayed as a marketing hook to increase curb appeal (before curbs, of course). For example, there's Royal Blue (Carlton) for the blue noses, Shakspeare (Richmond) for the literary crowd, and Hillside for those wanting something other than level ground. The latter is actually on a slope in Richmond. It eventually adopted the anomalous name of Hillside Flats when the 60 rooms became a combination hotel and brothel.  Or maybe developers preferred a tribute to themselves. On one street in Carlton, for example, a developer preserved his first name above the building as George's Terrace.
Locales in England like Canterbury (East Melbourne) seemed attractive, especially coastal towns whose names had been transplanted to Victoria's shore, as with Torquay and Lynton Terraces (East Melbourne) or Shoreham Terrace (North Melbourne). Meanwhile along the coast more exotic reference could be needed. A blogging resident of Mentone, like the Riviera's Menton/Mentone, notes old and new house names like Venezia Court, San Remo, Taranto, and L'Avenir on Port Phillip Bay.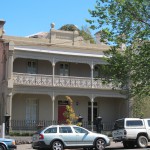 And some names just seem odd.  Along Hotham Street in East Melbourne, one 1854 house began life as Calthorpe, then became The Pines by the 1880s. By 1912, the the house turned into six flats for rent, while the filigreed ironwork balcony so typical of these gracious 19th century terrace homes seems to have disappeared, later to return on renovation . Plus, up on the parapet, the name had changed  to Halloween.
NOTE: Some background info came from a remarkable collection of notes on historic buildings offered online by the East Melbourne Historical Society  at www.emhs.org.au, as well as from Australian Terrace Houses at  www.australianterrace.com.
(Also, for more pictures from Australia, CLICK HERE to view the slideshow at the end of the Australia itinerary page.)