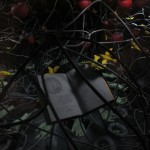 A six foot head of shiny dark metal lies on its side, as if the person to which it belongs is sleeping. As you move closer, the apparently solid head reveals windows and seams through which light flickers. Peer in the windows and you see a magical world where apples drop into hands and then into hats. Birds fly past after being caught briefly within the pages of scientific books. All is in movement. REM sleep reified? Subconscious dream worlds made tangible? And goodness, how did Gregory Barsamian create this illusion?
There is no better metaphor for the remarkable museum called MONA (The Museum of Old and New Art), just north of Hobart, Tasmania – of all places. Primarily a museum of contemporary art, it often juxtaposes ancient and primitive works in order to reflect the personal vision, the commitment to art and the ironic world-view of its creator.
His name is David Walsh, a Tasmanian who made many millions from gambling and poured a lot of those into building a rich collection of art and an artful space to display it. Though his ambitions might affront many – two parking spaces just above the museum and adjacent to a regulation tennis court are labelled God and God's Mistress – he has tried to craft a museum like an artist, giving form to his personal vision of art and his own psyche.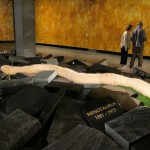 In this "subversive Disneyland," he believes that art must challenge, not soothe – challenge your preconceptions of belief, your sense of propriety, your expectations about art and artists, your self-satisfaction, your rational mind. Ironically, MONA has become a major tourist attraction for the middle class visitors to Tasmania. They come by the busloads because they have heard about its oddities, perhaps to be titillated, perhaps to learn, but also perhaps to say they have been.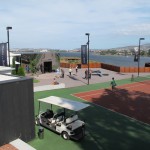 To see the art, you enter a bunker structure built into the river bluffs overlooking the Derwent, after you come over a slight hill that offers a sweeping view of the broad river and the surrounding hillsides. You then descend below ground by a circular staircase to any of three levels, and on through darkened hallways and atria. The walls at first are rough like excavated stone so you feel yourself going down through subterranean levels of what – local geology, consciousness?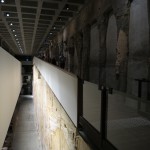 That first level features the "Death Gallery." The walkway at the second level (Catacombs and Cloaca) passes a roughly carved and vaguely defined set of columns like a newly excavated Petra. At the third level, smoothed sandstone walls suggest the inner depths of a pyramid. Moody contrasts of light and dark dramatize your journey. You half expect Rod Serling to step before you, intoning: "You are travelling through another dimension, not only of sight and sound, but of mind; a journey into a wondrous land whose boundaries are that of imagination."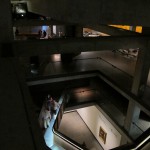 So throughout the museum you find surrealistic imagery, abrupt juxtapositions, dark settings and occasional bean bag recliners, all to stimulate perhaps subconscious explorations or sleep states.
By contrast, the collection embraces technology, both those that artists use and those that define our contemporary culture. One of the first pieces you see, if you start at the bottom level, is a large scale work by Julius Popp, that engages everyone.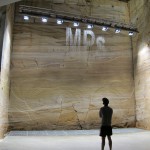 bit.fall drops a controlled spray of water from misters to display seemingly digitized words drawn from a current news item on the internet. Just like content we access daily, the watery words quickly disappear in falling – challenging all the visitors' cameras to catch them as they pass.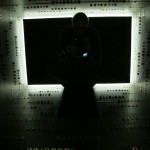 In another work, a kind of labyrinth, you explore how information can be a path to knowledge. You move sequentially through two dark narrow passages that enclose an inner chamber. The walls are adorned with digital code of 1s and 0s, as well as words like "hear" and "see". The audio, meanwhile, progresses from foreboding bass to an excited epiphany as you finish the journey in a tall pyramid with a glass roof reflecting… yourself.
Clearly, the crafty gambler has left little to chance, except the ways that visitors respond to the provocative works. Much of their reaction is captured by your only source of information about what you're seeing, the ipod they hand you. This updates the works nearby as you wander, offering summary descriptions, as well as "Ideas" about what the work might say to you, "Art Wank" (some learned "masturbation" on the piece), "Gonzo" (something related, like a poem or piece of fiction), plus occasional audio/media like an interview.
More to the point, you can vote to love or hate a work, and after doing so you learn what company you keep. For example, just 5% of visitors loved one work depicting inverse bestiality with a naked man and mounting dog, while the other 95% or about 10,000 hated it. In this process, you shape your own version – or vision – of the museum, a map of what affected you, that you can retrace later online. Not surprisingly, the symbols for your choice (X and +) define a sort of logo for the museum on all its printed materials.
What You See is What You Get
You can get a sense of Walsh's various obsessions in the selection from the permanent collection, which he calls Monanism, a reference to the biblical masturbator Onan – a wry comment perhaps on Walsh's (or any museum's) own pretensions as well. Almost all the second floor broods on themes of impermance, death, and our deep fears as we grapple with the often unappealing and deceiving physical pleasures of life, and death. A pinball machine sits on a gurney pumping fluids; nearby old Roman coins remind us of the death of cultures – and their legacies – as well.
Adjacent to these, however, sit affirmations of the organic essentials of the living (including extensive sexual imagery and a hanging garden in malformed lucite bowls).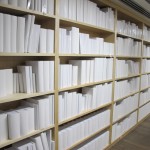 Large scale works can be thrilling. A neon-lit reading room displays on its white shelves hundreds of blank volumes in white bindings; open books on the tables are blank white pages. It's disturbingly post-nuclear holocaust, threatening the disappearance of the printed word, or knowledge overall, but a kind of holy sacramental paean to the book as well.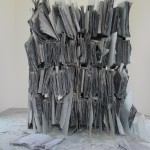 A complex piece by Anselm Kiefer in its own pavilion presents massive ashen tomes on groaning shelves amid shards of glass, threatening us with loss but easing the pain with its solidity, and defiance.
A equally provocative temporary exhibit, occupying the whole bottom floor, echoes the obsessions of the main collection. Theatre of the World, or Teatrum Mundi, takes as its model the 18th century compilations of curiosities that delighted the kings of France and features cases filled with ancient and newly made artwork around a theme, a bit like the cabinets of Joseph Cornell.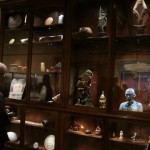 Some of the rooms and cabinets centered on eyes and vision (you look at the works and they look back at you); others on corpus/body with extensive images of sexuality, the body beautiful and ugly, including a grand four poster bed at the foot of which a video of a couple French-kissing repeats endlessly. An otherworldly section began with a painting suggestive of ghost photographs and a darkened circular room with a candle magically creating it's own halo like a painting of Gerhard Richter, but live. Then you move into houses of death, with Egyptian mummy cases and funerary urns, Damien Hirst's glistening black relief of thousands of dead flies, and a tricked out miniature of a Mercedes with the title of "You Can't Take it With You."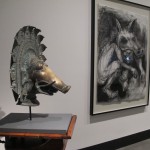 The suggestive turns into the aggressive with images of violence and brutality, such as the 1956 Bosch-like work called "Hungary" depicting a war-devastated panorama of Melbourne, or like the suspended carcass of a dead horse.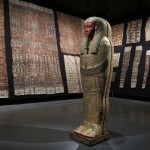 But there are moments of transformation and beauty as in Sydney Nolan's series of meditations on Leda and the Swan, or the huge room displaying floor to ceiling hangings of dozens of Samoan garments and wraps in colorful patterns, presided over by an elaborately tattooed Egyptian mummy case.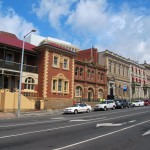 The same day we visited MONA, we walked through nearby Hobart, with plenty of modern commerce in its main streets, but with architecture mainly out of the past. The central streets make you feel like you are in olde England, filled with Victorian era structures, neo-classical buildings, mid-nineteenth century cottages on Battery Point, as well as an impressive number of Georgian stone-block houses.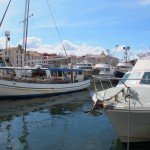 Even the modernized wharf area around the harbor and the revived blocks of Salamanca Place have mostly re-worked the old warehouse and commercial buildings into contemporary retail. You couldn't find a worthy new building anywhere in town. Even the current festival celebrated the venerable local tradition of making wooden boats.
MONA, upriver and far out of town, is a very different kind of place.
(Also, for more pictures from Australia, CLICK HERE to view the slideshow at the end of the Australia itinerary page.)