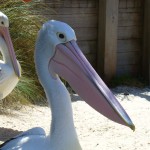 We had planned to visit the much praised Melbourne Zoo earlier this week, but heat and various responsibilities got in the way. On Friday we thought it was about time, despite continuing heat, especially after our US insurance agent mentioned that the zoo was his favorite excursion when he lived here. In the end, we gained a fresh appreciation for the impact a zoo can have, as well as the perils of toilet paper.
You can easily get to the zoo by tram, but it's also a short bike ride, so we hopped on our new bikes instead. Melbourne is so bike friendly in its street design, though we've been warned that its driven commuters might not be so bike friendly. Dedicated lanes criss-cross the city and nearby towns, many painted in sparkling, reflective paint to make them more noticeable and many protected from car traffic by curb-like bumpers. On Swanston Street, one of the main north-south arteries of the CBD, it's like zipping in your own corridor down Broadway in mid-town Manhattan or LaSalle in Chicago.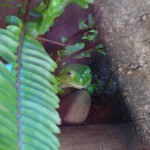 After about 20 minutes of gradual uphill, we reached the zoo entrance. Cooling off for a few minutes, we pondered the cost, an individual admission at $26 (seniors at $23), a very high price from our experience. Once we were inside, however, we came to appreciate why this zoo was worth it: the artful creation of habitats that bring you and the animals close, the ample space in which the animals can roam and the great diversity of species must cost trunkfuls of cash to maintain, let alone to build. And then you need at least four or five hours to see it all; a whole day is even better. That's not a bad price for such an engaging experience. We were never bored or even too hot as shaded pathways kept things relatively cool.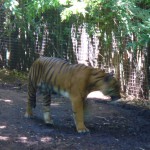 And we were constantly surprised. We had been concerned that the animals would be dormant and near invisible on a hot day like today. We just couldn't find the Tasmanian Devil – a curse on him – but we saw almost all the animals we tried to see, often more active than we might have hoped. The Sumatran tiger paced back and forth, pausing occasionally to assess the passers-by as potentially tasty or not.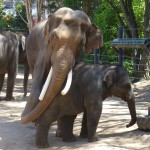 The elephants jostled each other. One young female kept backing into the giant papa elephant, like a child who keeps doing what you just ordered her to stop doing, and he regularly shoved her forward to stop her.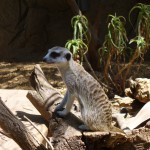 The meerkats burrowed, skittered from spot to spot, or stood up oh so cutely and looked about.
Sure we caught many snoozing, as they would in the wild too, like the three bushy-maned lions, or all but three of the kangaroos, or the gorillas – one imposingly unmoved on a hillock like a statue of Buddha, the other who merely shifted from resting to curled up on its side for a nap – and most definitely the hairy-nosed wombat.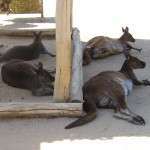 His lair exemplifies the special qualities of design at the Melbourne Zoo, and why we could view all the activity, and even the sleeping. You can look for the wombat in his wooded enclosure, but you can also go behind that enclosure via a darkened tunnel that appears to be dug underground (though a stucco construct). In the human tunnel, windows reveal a wombat tunnel system mimicking its natural burrow. In one of those windows, there he was, all three or four feet of him, splayed out on his back, comatose, dreaming of well…whatever wombats do for fun when they're not sleeping. We let sleeping wombats lie.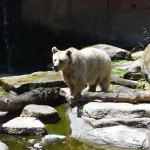 Similarly, throughout the zoo, the habitats are designed so that you seem to be able to circle them completely, though you know rationally that can't be so. You get multiple angles on their space, and it seems that their favorite spots are cleverly positioned near the viewpoints. As a result, you get very close to so many of the animals, far closer than you ever would except on jeep safari in far-off lands, or most zoos in our experience.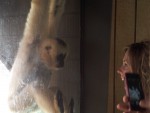 Open viewing areas from above give way to glass panels lower down, making the whole terrain visible as you pass. Among the capuchins and other primates, the glass panels were positioned at treetop height so the monkeys could stay amused by looking at amused humans.
Oddly the intimacy can be startling at first, as we think the zoo recognizes. For example, typical tropical habitat of bamboo and rainforest palms connects the Asian animal spaces so that you seem to be walking right onto their turf. We found ourselves looking side to side to make sure we hadn't missed some crouching tiger or munching gorilla near the path. Like a village guru, zookeepers have added signs warning you that the animals may be lurking in the area, or cautioning you to be quiet as you approach. Engagingly disconcerting.
The oceans that completely surround Australia were not forgotten either. You could go below the waterline and admire the seals torpedoing toward you, then veering at the last second away from the glass. Manta rays and small sharks popped to the surface of their glassed-in pool to surprise those who dangled fingers in the water, then glided back below. Sea horses fluttered their wings amid the weeds.
The many young children we passed during our stay seem to love all this intimacy, just like we did. And the zoo gives them plenty of tactile experiences as well, such as life-size statues of gorillas and kid-size statues of elephants.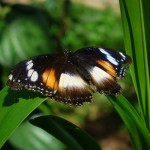 This effort to put children and adults within the animals' environment proves especially successful in two areas. One is the butterfly enclosure. In other zoos, we've experienced the thrill of walking among fluttering butterflies, flapping around your head, alighting on your shoulder, or sucking up nectar from plants and feeders. Here the variety of color and species was magical, the butterflies numberless, as our eyes flitted restlessly from here to there to here in awe at the winged spectacle. Smiles multiplied as people passed through.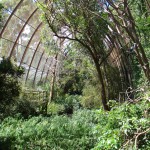 The other is the impressive Australian bush area. There you begin with an enormous iron mesh structure shaped like a Victorian conservatory, but without the glass. Inside a quarter-mile long walkway passes midway up the trees along a section of native forest, then crosses a stream and wetlands.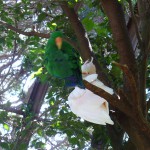 Here you see dozens of different native species of birds, including parrots, ducks, cassowaries, doves, stilts and honeycreepers, often at eye level. The experience is again startlingly authentic except for the density of birdlife, though not unlike what we've experienced near feeders at preserves like Zealandia.
After the bird enclosure, you pass through some gates and wind through an open dusty terrain, a typical outback where kangaroos live. Here there's no barrier at all, as presumably the kangaroos are considered a lot less dangerous than tigers. In the heat of the day, most were languishing under canopies, but when active they would be as likely to cross your path as the cautious, but impassive emu we encountered just past the gate.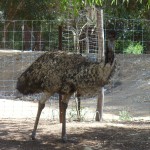 Of course, in attempting to give you the feel of the animals' environment, the zoo sometimes goes a bit far. You reach the elephant habitat through a vague recreation of an Asian village, complete with huts and thatched-roof areas, and with wry cautionary signs in Thai as well as English. That's a bit too Disney World for our tastes, as the largest hut turns out to be a food counter selling curries and stir-frys as well as the ever popular packaged ice creams so beloved down here – soggy cones with precisely shaped vanilla wrapped in conical paper. Fortunately, the elephant family itself at the end of all this is worth the cheesy access to it.
Still, that excess is excusable given the pleasures of the rest. And there is a much more disturbing side of this Edenic world where people and animals gather: the ubiquitous messages about the endless dangers these animals face in the wild, from poaching for tiger skins or ivory, to environmental changes or damage, to removal of habitat for agriculture or mining. Posters everywhere alert you to the dangers. Huts are filled with pamphlets and multimedia information about threats, as well as steps you can take. The confluence of the major pathways features a big sign about endangerment and audio entreaties for action.
The details assail you. The Sumatran tiger numbers have halved in less than a decade to 300. The Lord Howe Island stick insect – no really, it's rather cute hiding among stick-like branches – is virtually gone except for heroic zoo efforts including changes of diet, injections and various forms of intensive care.
Yes, even the animals within the zoo need a lot of care. Around the back of the lowland gorilla and tamarin monkey habitat, you find a kitchen whose steel counters and sinks seem part of a food prep area for a large restaurant. Press a button and a recording explains what these animals normally eat. A tamarin in the wild loves high energy foods, like mealworms and fruits and occasionally lizard. The zoo does all it can for the tamarins here, with substitutes like eggs, yogurt, baby cereal and dry dog food, among other things.  Apparently, it's hard to get good mealworms these days at the market. On the wall of the kitchen, a whiteboard listed all the daily medications needed to keep each gorilla healthy. It looked like the nurses's board in a busy hospital ward. All is not well, in the wild or even in the zoo, with these animals we love to see.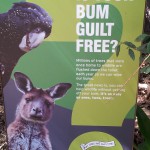 The most confrontational warning of threats to the animals appeared in the kangaroo outback terrain. At the entry gate, posters accused our butts (or rather bums, in the vernacular) of causing great harm. What was the problem, we wondered. Too much methane gas? No, apparently a lot of toilet paper in Australia is produced from grinding up gum trees, one of the most important and sustaining of the native trees. OK, we agreed (knowing we always buy recycled paper products), we'll be careful what we use. Lest we forget, the kangaroo trail was dotted with gleaming white toilet bowls, each alerting us again to the danger of inattentive wiping.
Suitably warned and happily reconnected to the wondrous, but threatened, animal world around us, we remounted our bikes for the ride home. It was rush hour, yet the bike lanes were free and open even with people scurrying every which way. Some carried grocery bags without, we hoped, toilet paper made from gum trees. We were back in the habitat of our own species.
(Also, for more pictures from Australia, CLICK HERE to view the slideshow at the end of the Australia itinerary page.)