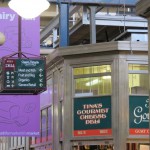 In Wellington, our closest shop for any food item was a pocket-sized "dairy," or convenience store, just a few minutes walk from us. Remarkably, you could get almost anything there except fresh produce or meats, though they offered canned, preserved or frozen versions of those too. The nearest real grocery store was about 15 minutes walk distant, or 25 minutes to its larger brother, and a lot of uphill stairs back.
Melbourne, however, is much more densely populated, even though you can also traverse the central city in about 45 minutes. Its delights and entertainments still prove to be a strong attraction for locals to live within it, as well as for tourists to explore. High-rise apartment buildings continue to sprout all over town, most recently in the austere Docklands area at the western edge of the city, attracting young workers in the government, financial and other corporate offices. Older buildings have been restored or repurposed. Our "heritage" building was once a print shop before conversion, and we recently passed another printery that was similarly rebuilt. Older people also have flocked here from outlying areas to take advantage of the attractions of this beautiful town and its ease of access to anywhere else.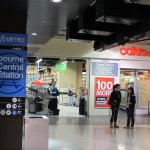 As a result, in the center of the CBD, we've plenty of food shopping resources: two highly competitive chains have stores right across a street from us. The Coles store is below ground adjacent to the Central Rail station, with a huge new self-contained shopping mall plunked on top of it, all crowned by a massive glass cone visible all around the city.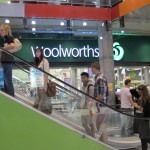 The Woolworth's sits underneath the newly redeveloped block of the QV Market, a commercial smorgasbord of food stalls, high end fashion shops, plus retail outlets for liquor and office supplies and a self-contained central square of upscale restaurants. All that retail space is topped by dozens of floors of apartments where buyers live.
Early on, it's hard to tell Coles and Woolworth apart in quality or offerings. The Woolworth's is substantially larger, but confusing to negotiate. Why are the sugar and oils far apart from flour and other baking supplies? Why is the dairy dispersed around three separate locations? The Coles bustles with the transient traffic of people shuttling through the rail station. But the produce is quite good in both, the meats high quality, and you couldn't go wrong with either.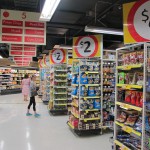 But they are still grocery stores, full of worthy items yet in a somewhat sterile and faceless environment.
We prefer to head to the open-air Queen Victoria Market, about 10 minutes from us. You'll rarely speak to a Melburnian about the interesting sites of the city without hearing encouragements to head to the Victoria Market.
In essence, though, this daily market is not that much different from similar markets around the world. We think that a large part of its attraction here is that its style matches that of Melbourne: orderly and jumbled, open and approachable but with hidden treasures everywhere, bustling and varied. (See our post on the Quilted City.)
Aptly the Market is wedged into the angles formed at Victoria Street by the meeting point of the CBD street grid with the misaligned street grid of the adjacent districts.  Its position makes the market central to shoppers from the CBD, North Melbourne, West Melbourne and Carlton, as well as populous outlying areas via quick tram ride.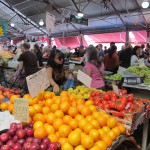 In the rectangle that aligns with the outlying street grid, you can find produce sellers of diverse ethnicities – Asian, Italian, Scotch-Irish, Middle Eastern – all set up behind long tables stretching from one end of the open air building to the other. Each table offers virtually the same items as dozens and dozens of other vendors at adjacent tables or nearby in numerous parallel rows, with the produce arranged in seemingly random fashion. The oranges sit next to the celeries; the cherries next to the corn. The idea, it seems, is to tempt you with some other interesting item, even if it isn't on your shopping list.
Within the narrow aisles, during the week, you mainly find yourself elbowing locals who are shopping for the next few days and pushing past tourists who flock here for the experience or perhaps to grab a snack of inviting grapes. On the weekends, the place is filled with locals who could not shop during the week and even more tourists – all making the aisles impassable at times. As in the old days of street stalls, vendors loudly and seductively call out their specials, revving up the racket: "Blueberries here! Fresh blueberries! Only three dollars for two. Blueberries. Try them and see. Blueberries."
In the jumble, you need the memory skills of a Vegas card counter to remember where you bought something the last time, or even compare the prices among the tables. After a few visits, we found ourselves returning to some familiar vendors, when we could find them again, or just stopping when a particular item on our shopping list looked good.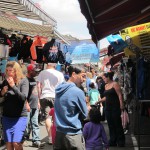 Tourists seem particularly drawn to another part of this open air fiesta, the equally extensive stalls of goods – leather bags, souvenirs, luggage, socks, jewelry, shoes and more – which constitute an ongoing rummage sale at the Market. Locals frequent the nearby wholesalers to buy goods in quantity. We just discovered one outlet across from the leather stalls, offering deals on nuts, spices and grains.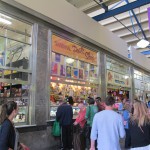 Across an open space from the produce and goods vendors is the section aligned instead with the CBD grid, dominated by the original brick building at the Market that houses the meat, poultry and fish vendors. Their fancier counters offer dozens of different fish options from each of four vendors, many different cuts of chicken from three others, lamb and pork cuts of all sorts at several more counters and a host of beef purveyors mixed in.  Here too, the aisles are always bustling and noisy as the the buyers yell their choices and vendors roar. "Scotch fillet fresh today. Get a whole tray of Scotch fillet. Ten for ten dollars!" In a different hall of the building, counters that look more like Parisian storefronts each offer the crowd dozens of different cheeses, various sliced meats and sausages, olives and pastes from everywhere, diverse pates, bulk wines and on and on.
It's just as busy around the periphery of the building where local families and tourists alike are tempted by the plentiful stalls offering prepared foods and meals. The outdoor tables are jammed with people as if a grand party was in the works. Put these in the mix of commercial activity and visiting becomes as much a festive outing as a shopping experience.
This fizzy atmosphere throughout amps up your shopping time in a way that the poor grocery store never will. But the pleasures come with a bit of risk. Keep a sharp eye on what's going into your parcel: the chops you wanted might be pulled from a different tray than the one you're looking at, or the cut of cheese you receive could turn out to be a bit slimmer than the promised one. With so many vendors, few expect to see you again unless you prove to be a regular local or purposely build a relationship with them. They know you're just as likely to pick up a melon from a vendor on the fourth row over, third table down if you happen to see it and it looks good. Or, conversely, as likely to pick up those never-to-be-ripened avocados next to the good looking, well-priced oranges at their table. We found ourselves with avocados that could still pass for major league baseballs a week later. And with so many tourists flocking there, well, caveat emptor.
The Market is not quite a place where you someone offers you  "a genuine Rolex," but it's a lot closer to that than a grocery store gets. The good marketing people at the grocery store work hard to build a relationship with you for they expect you will return and buy more if they offer good enough product at pretty good prices. Like MacDonalds, they aim to be predictable and safe. If you want an easygoing time, they're for you.
Instead, back at the Market, you get a little more risk, but a lot more return. The free-range chicken we bought was delicious and tender, the lamb chops down the aisle at Jimmy's even tastier than in New Zealand, and the creamy blue cheese over at Tina's deli counter melts in your mouth.
We'll always avoid the Rolex guy, and we may still buy the soap at the department store, but we're suckers for the experience, the mélange of options and the challenge of retail combat at Melbourne's Queen Victoria.
(Also, for more pictures from Australia, CLICK HERE to view the slideshow at the end of the Australia itinerary page.)