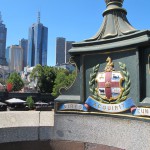 Like many cities, Melbourne comprises a patchwork of small neighborhoods that once were separate towns. But their layout here is somewhat odder than usual. The streets of the central district or CBD form a grid bordering the Yarra River, incongruously skewed to the northwest. Wrapped around the CBD grid in all directions is a much larger grid skewed 45 degrees clockwise off the CBD's angle and containing numerous distinct districts. Strangely, the CBD grid continues briefly south of the river before it abuts at yet another angle a narrow grid forming St. Kilda district and running southeast along huge Port Phillip Bay. It's all very orderly and very jumbled at the same time, somewhat quilt-like, an apt metaphor for the city we've been experiencing.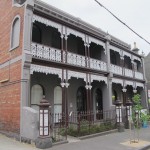 In our first week, we've walked north to trendy, yuppie Carlton, where Italian restaurants cram blocks and blocks of its main street, interrupted only rarely by an odd fish place or Thai restaurant snuck in somehow. The old townhouses on its side streets are typically decorated with railings of iron filigree that reminds one of the French Quarter in New Orleans. And we've gone northeast to Fitzroy, which features some equally upscale streets, but otherwise seems a bit downtrodden. It clearly houses more indigent immigrants from many countries and reportedly artists and artist collectives as well, seeking inspiration and cheap digs.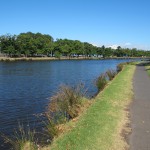 We've gone south across the Yarra by foot and by bike, along the first part of its 20 mile riverside trail, then through the tranquil, resuscitating 19th century public gardens, near which squat the contemporary Southbank cluster of museums and theatres.
And we've headed west along the river past the inviting outdoor restaurants of the modern bankside development and several large hotels like the Crown Casino, which sprawls a city block and hosts all the big tennis stars.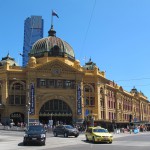 These gaze north across the Yarra at the Moroccan colors of the 1909 Flinders Street rail station and a backdrop of central district skyscrapers.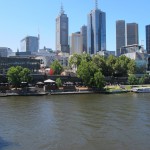 From there, we angled northwest through an older district past the grand rippling entrance to the new Southern Cross Rail station, which waves at 19thcentury hotels across the street, before we slogged through the massive new development of the uninviting Docklands.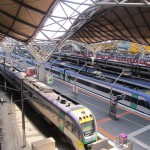 There unimaginative corporate and high rise apartment buildings eschew jumble and make the revived harbor a lot less inviting than we had hoped, though lined with restaurants and bars. And we almost got an apartment there!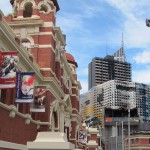 Otherwise, Melbourne, we've found, loves its old buildings while everywhere erecting often daring new ones. On Swanston, just north of the landmark neoclassical State Library sits one building wrapped in lime green splotches and a taller one with multi-floor holes in its sides as if an explosion created them. Right near our apartment, a new structure is rising in the same space where crews have carefully preserved the old facades of a street block. These juxtapositions are discordant at times, but add a lively visual flair to the eye.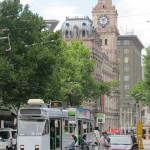 Even the streets of the CBD are somewhat of a hodgepodge. Here we've discovered four different kinds.  There are, first of all, the tree-lined boulevards that look like parks and, second, the more practical wide thoroughfares that move the bulk of traffic around, all criss-crossed by an extensive network of rail lines guiding the town's narrow clanging trams every which way.
Running east-west, you find many narrower and quieter streets that surprise you with their architecture or their entertainments. These are the "Little" streets – Little Lonsdale, Little Bourke, Little Collins (the main home of Chinese restaurants and community organizations), and anomalously Flinders Lane – all of which run parallel to their big sister streets of Lonsdale, Bourke, Collins and Flinders.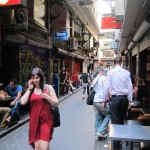 But we like the fourth type of street best of all: the narrow pedestrian alleys and lanes that mostly cut north and south from these other streets. Many of these like Degraves Street or Hardware Lane are lined enticingly with numerous open-air restaurants and bars, charm-magnets for travel book writers and teeming with locals and tourists throughout the day. If you stop at an eatery, overhead you'll see the narrow balconies of the apartments above and catch the occasional drips of their air conditioners, while enjoyable watching the constant stream of people. Every local has a favorite spot on an alley. Our second night in town, one woman said we shouldn't miss a French breakfast place near us on her favorite alley.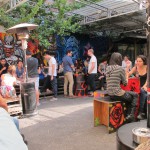 Other lanes prove to be dead ends or reveal hidden places. While wandering nearby on one lane, we stumbled upon an outdoor bar whose seating consisted of plywood platforms and barrels, set on a tiny canvas-topped parking lot. When we found it again, a young crowd filled the seating, kept humming by the mellow vibration of contemporary music. The lot faced the iron balconies of a tenement-style, three story brick building that housed the restaurant to which it belonged, a restaurant offering only one type of food, frankfurters of different configurations. No, it's not in our guidebook.
So the city flaunts its evident charms and keeps many others secret, waiting to be explored.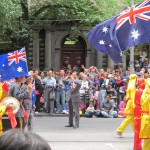 Just as Melburnian was the official parade celebrating Australia Day, the day in 1788 on which the first British ship sailed into Sydney Harbor and asserted its primacy. The celebrations all around the country have now been rebranded a bit as Australia Unity Day, in recognition perhaps that the aboriginal people have remained displeased for being so displaced by Europeans and to acknowledge that otherwise this has been and continues to be a nation of immigrants.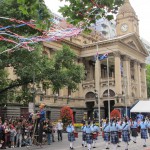 Early on Australia found interest among the Scottish and Irish as a new frontier for them to start a somehow less fettered life. Later, large numbers of Italians came, forming the ethnic community in Carlton where that overload of Italian restaurants still testifies to their numbers. More recently, Asians of all sorts have come here to trade and work, with levels increasing rapidly with Australia's growing importance as a resource for China's growth.
Though Melbourne's metropolitan area includes 4 million people (with 100,000 in the City itself), the parade here was exceedingly casual and quaint, much more like a small town celebration. There were no big floats or oversized balloons, no trucks or trailers, no tossing of beads, no corporate sponsors. The parade just consisted of people representing a wide variety of interests and ethnicities, a stew consistent with a Unity Day.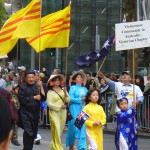 Marching in colorfully dressed groups were Chinese, Thais, Vietnamese, Koreans, Malaysians and Karen tribespeople, as well as others from Pacific Island nations like the Solomon Islands. From farther west, Pakistanis and Indians trooped by in groups not quite so close together. British colonialists and bagpipers trooped by. Red-robed Ottomans swept down the street amid various eastern Europe and Middle East groups from Lebanon, Iran, Slovakia and the Ukraine. A three man group from Islam Australia stepped by quietly, two of its members filming continuously with point-and-shoot cameras. The cheery Danish ("not pastry," the sign said) rolled past, followed by the grim-looking Laughter Club.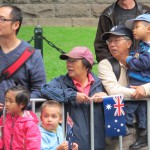 And, representing all those Italian settlers, a Sicilian group marched as well ("Oh, it's the mafia," exclaimed a woman nearby). Joking, she might have hit on another lesson of Australia Unity Day, that the country may be a melting pot but the contents don't quite melt all the way. Sadly, you couldn't help but notice who was missing from the parade, the aboriginal people whom the Europeans pushed aside once they found Australia worth taking.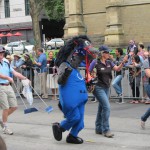 Other paraders affirmed their often quirky special interests. We watched the knitting society go by with women and men actually knitting. Nancy cheered the dog walkers of Victoria, who demonstrated their craft by actually walking dogs within the parade. We were puzzled a bit by the Melbourne Costume Association, whose many members were dressed as film characters from Star Wars, the Hobbit and other fantasy films. We were entertained by the strumming of the Melbourne Ukelele Society as it tiptoed by. Riders of old bicycles wheeled past. We enjoyed the fervor of the Buddha's Light celebrants (though as Americans the nameunfortunately reminded us of a beer, rather than a set of believers); we sang along with the whirling members of Hare Krishna, as if we were back in the 70s.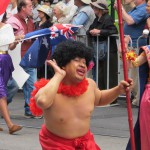 The charitably inclined reminded us of other high purposes, like the group that offered pony rides for disabled children, featuring a man in a pony costume followed by another with a scooper – as well as actual ponies.
Diverse, colorful, orderly but also all jumbled up with ethnicities and cultures as well as juxtapositions of old and new…and nothing but delightful. That's how we see the quilted city of Melbourne so far.
________________________________
Some other people on Australia Day:


(Also, for more pictures from Australia, CLICK HERE to view the slideshow at the end of the Australia itinerary page.)